Alerts.
Set up alerts on any Westpac account to help you stay on top of what's happening with your money.
Benefits.
Get notifications when your account balance goes above or below a certain amount.
Help avoid fees - get notified when payments don't clear or when a credit card bill is due.
Get alerts when there's activity on your account, such as a login to your Westpac One® online banking.
Set up & manage alerts.
It's easy to set up alerts in Westpac One by following these steps.
1. Login to Westpac One and click here:
2. Tap 'set up and manage alerts' here: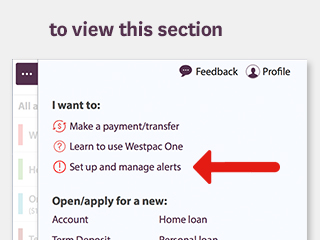 Don't have Westpac One?
Call us on 0800 400 600 and press 6 or visit us in branch and we'll get you set up.
Things you should know.
Account terms and conditions apply.