Relationship Management.
A dedicated team who focus on deeply understanding you and help to unlock opportunities.
Our approach.
As relationship managers, we can tailor bespoke services and solutions that meet the specific needs of your organisation, right now and into the future. We provide banking services to New Zealand exporters and importers, financial institutions and multi-nationals with New Zealand subsidiaries. Their needs are global - and so is our representation - through the wider Westpac Group. Westpac Institutional Bank has people in New Zealand, Australia, London, New York and Singapore.
Within New Zealand, we embrace a "pan bank" strategy: get the right people with the right skills around the table, to deliver the right products and services. As a team, we want to help deliver you the best outcomes for your funding, liquidity, payment, cash management and financial risk management needs.
What sets us apart is the value we bring to your business outside of our core products. We aspire to help you drive sustainable returns, using the breadth of our organisation to connect you with leading industry and product experts.
Industry expertise.
Our industry specialisation focus means our relationship managers, analysts and global network has deep industry knowledge and expertise across a range of sectors, including:
Large corporates
Consumer, retail and wholesale
Infrastructure, utilities, telecommunications, technology, media and property
Financial institutions, multi-nationals, health and local government.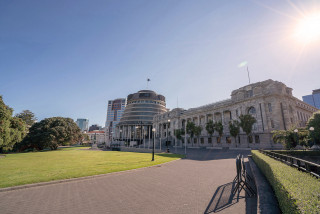 Government Banking.
At Westpac, we have a proud history of working with the New Zealand Government as its banker since 1989. This has underpinned our very broad relationship with the public sector, and we understand the sensitive and complex needs of the sector and its stakeholders. Our relationship with the sector spans core agencies, Crown entities, tertiary education, schools, territorial authorities and government employees. For more information, please click below:
Government Banking Homepage
Forms.
Please visit our tools and resources page for useful forms and articles.
Get in touch.
Andrew Dick
Head of Large Corporates
Brent Chalmers
Head of Public Sector
Callum McKain
Head of Financial Institutions and Healthcare
Gerry Symonds
Head of Infrastructure Resources and Utilities