WHEREVER YOU'RE HEADING, LET'S DO IT
TOGETHER.
Imagine $50,000 off your first home loan.
There are 5 chances to win as a first home buyer. Terms & conditions apply.
Learn more
¹Min 20% equity, plus salary credit to a Westpac transaction account. Not available with any other Westpac home loan offers, promotions or package discounts, or the Westpac Choices Home Loan with Airpoints™. Loans for business or investment purposes excluded.
 If you don't pay amounts when they're due, your home loan account may exceed its limit and the rate of interest that'll be applied to the overlimit amount will be the interest rate + 5% p.a. Lending criteria, terms and conditions apply to home loans. An establishment fee may apply. A low equity margin may apply.
Interest rates are subject to change without notice.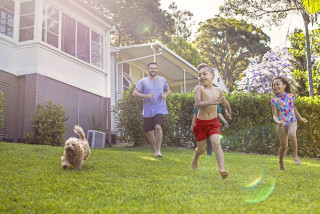 Moments that matter.
It's your life, and your money. Whether you're starting out, coupling up, or having financial difficulties, we're here to help you.
Learn more