Accepting payments.
Get paid with ease - on the move, in your shop or online.
Ways of accepting payments.
API products.
We aim to provide new, innovative and cost-effective payment solutions for our customers. Payments technology is rapidly evolving, and we're here to keep your business at the forefront.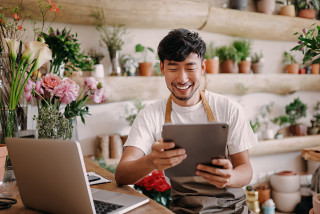 Merchant risk hub.
Get help with accepting card payments safely in your business. Our merchant risk hub gives you practical information and tips on meeting your compliance requirements, protecting your business against card fraud, managing payment disputes and keeping card payment data secure.
Go to hub
Merchant agreements.
The legal agreements between us and our merchant customers that operate Westpac merchant facilities to accept EFTPOS, Mastercard®, Visa and UnionPay transactions can be found below.
Things you should know.
The information on this page is a guide only. Participation in a Westpac Merchant Credit Card Facility Agreement is subject to Westpac's approval. Westpac's current lending criteria apply. Terms, fees and charges apply to Westpac products and services.
Mastercard® is a registered trade mark and the circles design is a trade mark of Mastercard International Incorporated.