Westpac Airpoints™ World Mastercard®
An Airpoints™ World Mastercard® gives you access to credit up to an agreed limit, so you can pay for goods or services anywhere Mastercard is accepted, all while earning Airpoints Dollars™ and Status Points¹.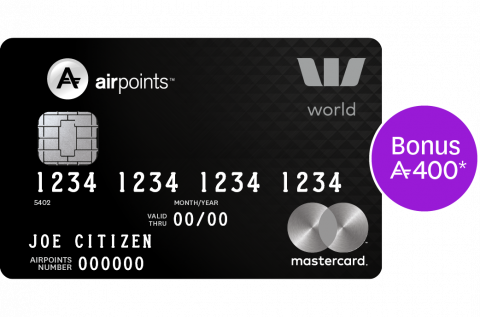 Benefits.
400 Bonus Airpoints Dollarsᵀᴹ with a new Westpac Airpoints™ World Mastercard®*.
Earn one Airpoints Dollar for every $70 spent on your card

on eligible purchases

1

– our fastest Airpoints earn rate.
Earn one Status Point for every $225 you spend on your card

on eligible purchases

1 and climb Air

points membership

tiers to enjoy exclusive travel benefits.
Two complimentary Valet Parking eVouchers each year2.
Priority Pass lounge access to over 1,300 airport lounges around the world3.
Koru membership joining fee waived, plus get a $145 discount off a 12-month individual membership4.
Up to 120 days of overseas travel insurance per round trip5.
More benefits.
Extended Warranty Insurance of up to 12 months for goods purchased on your Airpoints World Mastercard, plus 90 days Purchase Protection that could cover loss, theft or accidental damage5.
Six monthly account fee of $155 waived if you spend $50,000 or more between your fee charges6.
Access to a wide range of travel experiences and privileges with Mastercard Travel and Lifestyle Services. Hotel, flights and card programs especially curated for you by Mastercard7.
Up to 44 days interest free on purchases when you pay off your balance in full by the payment due date8 (more about credit card interest-free periods

)

.
200 Airpoints™ Dollars Advance available to you if you're a little short on what you need for a reward9.
Make contactless payments without a PIN for transaction amounts up to the local country limit.
What is a credit card?
A credit card gives you access to credit up to an agreed limit, so you can pay for goods or services anywhere Mastercard is is accepted.
With a credit card, you should aim to pay the balance owing in full each month to avoid paying interest on your purchases. There are other fees and charges that apply which are outlined on our website.
If you're looking to use a credit card for a large one-off payment, it might not be the right product for you. You can talk through your options with someone in our team either at your local branch or by giving us a call on 0800 400 600.
If you think a credit card is right for you, the next step is to decide which type of card to get. To help you decide which credit card is best for you, compare our cards.
24/7 protection
With CardGuard® you're protected 24/7 from fraudulent activity11. So you can use your card anywhere, anytime, and leave your worries behind.
How CardGuard keeps you safe
24-hour assistance
Whether you have lost your credit card or it's been stolen, we're always on hand to help. You can also apply a temporary block in Westpac One® online banking.
Help with lost or stolen cards
Safer online shopping
Mastercard® Identity Check is an extra layer of security that helps us make sure it's definitely you that's using your card online.
Mastercard Identity Check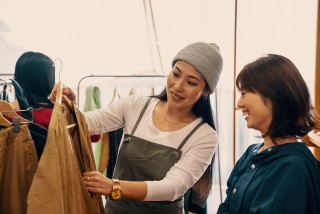 Smart ways to pay.
Enjoy all the benefits of your Westpac credit card by using your mobile device with Apple Pay¹².
Your digital payment options
Rates.
Interest rates are subject to change.
Fees.
Fees are subject to change.
Some overseas banks and ATMs may charge an extra fee for a cash advance.
Things you should know.
*Offer available on new accounts applied for between 27 September 2021 and 22 December 2021, subject to any extension or withdrawal at Westpac's discretion without further notice. The offer is only available for the card types specified. Customers who currently hold or have held a Westpac Airpoints credit card in the past 18 months are ineligible for this offer, unless an Airpoints Business Mastercard holder opens a personal Airpoints Platinum Mastercard or a personal Airpoints Platinum Mastercard holder opens an Airpoints Business Mastercard. Limited to one Bonus Airpoints allocation per account. Excludes transfers from any Westpac credit card to any Westpac Airpoints credit cards. Cannot be used in conjunction with any other promotional offers except balance transfer rates. $1,000 minimum spend requirement must be met within the first 3 months of the new card opening to qualify for the bonus points. Balance transfers, cash advances and any retail purchases that have been made and then reversed within your spend period will not count towards the minimum spend requirement. Bonus points will be paid 5 weeks after the spend criteria has been met. Your Westpac Airpoints credit card account must remain open and not in default at the time the bonus Airpoints Dollars are paid.
1 The following purchases and transactions do not earn Airpoints Dollars™ or Status Points (see the applicable Credit Card Conditions of Use for full details): cash withdrawals, tax payments, payments for cash equivalents (e.g. travellers' cheques, money orders and gambling chips) and business-related purchases made with a Westpac Airpoints credit card other than a Westpac Airpoints Business Mastercard. Status Points earned on applicable credit cards only. Airpoints Dollars and Status Points will be earned on the first $60,000 of eligible spend in each relevant month only. The relevant month is the statement period set out in your statement. Any spend over $60,000 on eligible purchases in each relevant month will not earn Airpoints Dollars or Status Points.
2 Valet Parking eVouchers will be automatically loaded and stored in your Airpoints Account, and are valid for a 12 month period. Each eVoucher entitles you to 24 hours complimentary Valet Parking at Auckland, Wellington or Christchurch Airports. For more details refer to https://www.airnewzealand.co.nz/airpoints-credit-card-benefits.
3 Use of your Priority Pass card and access to Priority Pass airport lounges are subject to the Priority Pass Terms and Conditions. Airline, airport and other travel industry employees or contractors may not be eligible for access.
4 May only be used in conjunction with Koru Individual Memberships. Koru programme terms and conditions apply. Koru joining fee and/or Koru annual membership fee will not be refunded if it has already been paid to Air New Zealand.
5 Terms, conditions, exclusions and eligibility criteria apply (see applicable policy document for details), including a minimum spend for business travel. Travel, Extended Warranty and Purchase Protection Insurances arranged by Westpac and underwritten by AIG Insurance New Zealand Limited. Westpac does not guarantee the obligations of, or any products issued by, AIG.
6 $310 per year. Fee charged in advance in two six-monthly instalments of $155 each. This is refunded when you spend $50,000 or more in the previous six-monthly period.
7 Any costs incurred by using the Mastercard Travel and Lifestyle Services are at the cardholder's expense.
8 Interest free days give you access to interest-free credit - if you pay off your balance in full (excluding balance transfers) by the payment due date. Cash advances are not purchases and have no interest free days. See credit card interest-free period page for how it works.
9 For details on Airpoints Dollars Advance and Airpoints Dollars expiry see airnewzealand.co.nz/airpoints.
10 Transaction fees do not apply when using ATMs within the Global ATM Alliance in the respective country shown. Institutions participating in the Global ATM Alliance are subject to change but currently include Deutsche Bank (Germany), Bank of America (United States), Scotiabank (Canada), Barclays Bank (United Kingdom), BNP Paribas (France), Westpac (Australia) and Westpac (New Zealand). The NZ$3 for debit card international transaction fee saving applies to Westpac customers only, and is subject to change. All other international and standard fees apply including foreign currency conversion fees apply – see the Transaction and Service Fees Brochure for details.
11 Provided you notify us as soon as possible, have not acted fraudulently or negligently, and have complied with the card's Conditions of Use.
12 Apple Pay is available to all eligible Westpac debit and credit Mastercard customers. Excludes Mastercard BusinessCard, Westpac Business Prepaid Mastercard, hotpoints Visa, hotpoints Gold Visa, hotpoints Portfolio Gold Visa, Prepaid and Global Currency cards. Customers also need a compatible Apple Device. For a list of compatible Apple Pay devices, see Apple Support. Terms and conditions apply to Apple Pay see Westpac Apple Pay Terms and Conditions for more information. Conditions of Use for the applicable card also apply. If you only make the minimum repayment each month, you will pay more interest and it will take you longer to pay off the unpaid balance. Apple Pay, Apple Watch, Face ID, iPad, iPhone, MacBook Pro, and Touch ID are trademarks of Apple Inc., registered in the U.S. and other countries.
13 Rate will apply to balance(s) transferred until that balance(s) is paid off. Balance Transfer Terms and Conditions and lending criteria apply. All applications are subject to Westpac approval. You cannot transfer a balance from a Westpac card or loan. You can transfer up to 95% of your available credit card limit. Your card must remain within its credit limit after the balance has been transferred. Balances cannot be transferred to a Mastercard® BusinessCard/Purchasing Card. Balance transfers do not earn Airpoints Dollars™ or hotpoints®. Payments you make to your Westpac credit card will first go to charges and interest accrued, then to cash advances and purchases, followed by balance transfers as they appear on your last statement. Payments will then be applied to transactions that have not yet appeared on a statement in the same order. If you have multiple balance transfer rates, payments will first be applied to the balance transferred on the highest interest rate. Interest rates are subject to change without notice. All new purchases, cash advances and any unpaid interest or fees will incur interest at the standard interest rate in accordance with the card's Conditions of Use.
You must be a member of Air New Zealand's Airpoints™ programme to earn Airpoints Dollars. Airpoints terms and conditions apply.
Mastercard is a registered trade mark and the circles design is a trade mark of Mastercard International Incorporated.
Terms and conditions
Eligibility criteria, lending criteria, terms and conditions apply. See:
View terms and conditions for all our credit card products here.