Tell us your story.
Westpac's Your Story is designed to help us understand your financial situation and your life stage so we can work as a team to help you grow beyond the money alone.
Why do we do it?
Your Story is all about helping us help you to capture a holistic view of your story today through a needs-based conversation. Your own journey is ever changing and it's something that our bankers hope to build on as we form a deeper, longer lasting relationship with you.
What can I expect from a Your Story appointment?
To help us understand you better and create tailored banking solutions, we will spend 15-20 minutes to ask questions focused around you; your current and future goals and how you like to spend your time. Whilst some people want to be growing a business, others want to spend more time with family or indulging in personal hobbies and some just really want to get into that new home. It's up to you how much detail you want to provide – the more you tell us about you the more we can do to come up with the best solution for you.
The structure of a Your Story conversation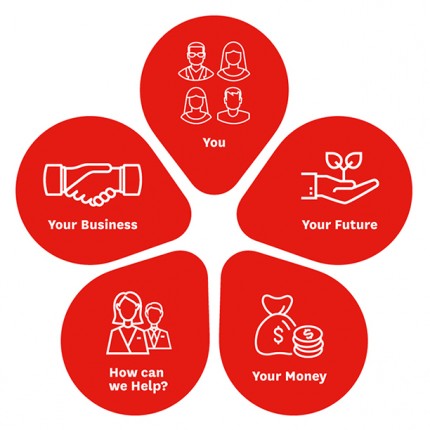 You: tell us about what has brought you into the branch today
This is where you'll start your conversation, usually it's chatting about what has brought you into the branch today such as saving for your first home or travelling? This provides us with the opportunity to get this sorted straight away.
Your Money: how do you like to do your banking?
We want to know how you best like to work with us. Online banking, via phone, in branch – what suits you best for your needs. We'll also look into your current finances and any insurance policies you have in place.
Your Future: this is all about your future goals and planning for them
We'd like to understand what your goals might be and show you how we might be able to help you achieve them. These can be short or long-term goals.
Your Business: this is with our Sole Traders and SME customers in mind
This will be used by our business bankers as well as our branch team members when business team members are not available. This helps us build a picture of a small business and its potential needs.
How Can We Help: this is the final part in a Your Story conversation
This is about summarising Your Story and providing you with options for tailored solutions that should meet your needs already discussed.
Book a Your Story appointment today
To book a Your Story conversation, it's best to visit or call your local branch to book an appointment. Find your local branch contact details
More details.
Who is going to see this information?
Not every Your Story conversation will happen with the same bankers but we understand that you don't want to be asked the same questions by different people.
To make this as seamless as possible we need to capture your conversation so that when you talk to us again, we are prepared and ready to go. All information captured in Your Story will remain strictly confidential between yourself and Westpac. Your information will never be shared with any 3rd party entities.
You have the right to request access to, and correction of, any information you provide as part of Your Story. Details on how to request your information, as well as more information on how Westpac collects, stores, uses and shares personal information can be found in our Privacy Policy.
Should I bring anything with me for my Your Story conversation?
Please bring your personal identification with you. This could be either of one of the following:
NZ Driver License
NZ or Overseas Passport (current)
NZ Firearms Licence
NZ Certificate of Identity
NZ Emergency Travel Document
Overseas National Identity Card.
Why do you want me to complete a Your Story conversation?
To better equip us to provide for all your financial needs (both now and in the future) we want to better understand what is important to you, how you like to bank and what your future goals may be. A great Your Story conversation will build a better understanding of all these aspects of your financial life.