Understanding credit card statements.
Here's a guide to help you understand the key elements within the statement and a closer look at some transactions you may see.
What does it all mean?
Here are some of the key things you'll see on your credit card statement. If you have any further questions, call us on 0800 888 111.
You can also download our PDF guide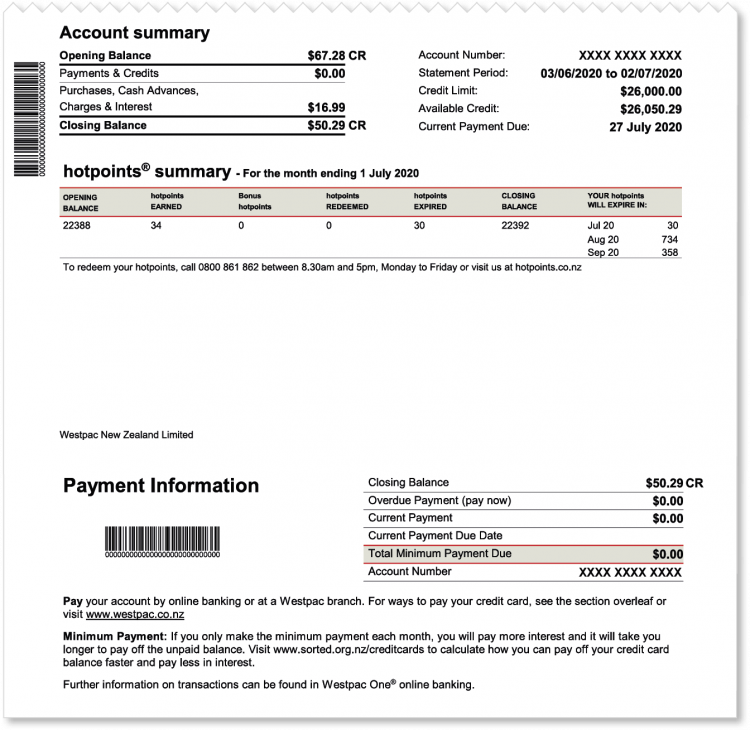 1. Account number
This is the account number for your credit card account. However, you may have more than one card, with a unique card number, on your account (e.g. for joint or additional cardholders). Your statement will show the transactions for each card under your account.
2. Statement period
The transactions you've made between these two dates will be shown on this statement.
3. Available credit limit
What you have available to spend on your credit card. Just remember this may not include transactions that are still in the process of being posted to your account. Or transactions you made after the last day of the statement period.
4. Payment due date
This is really important. Please make at least the minimum payment by this date, if you only make the minimum payment each statement period, you will pay more in interest, and it will take you longer to pay off the unpaid balance.
5. Opening balance
The outstanding balance at the start of the statement period.
6. Closing balance
The outstanding balance at the end of the statement period. This is the total payment due.
7. Rewards points summary
If you have a hotpoints® credit card, this shows the details of any hotpoints you've earned in the last calendar month, not the Statement Period. If you have an Airpoints™ credit card, your Airpoints Dollar™ summary will be shown here.
8. Important messages
Any important messages relating to your account will be shown here.
9. Overdue amount
This is any amount overdue from your last statement and is due immediately.
10. Minimum payment due
This is the minimum amount you must pay by the payment due date. But remember, if you only make the minimum payment each statement period, you will pay more in interest and it will take you longer to pay off the unpaid balance.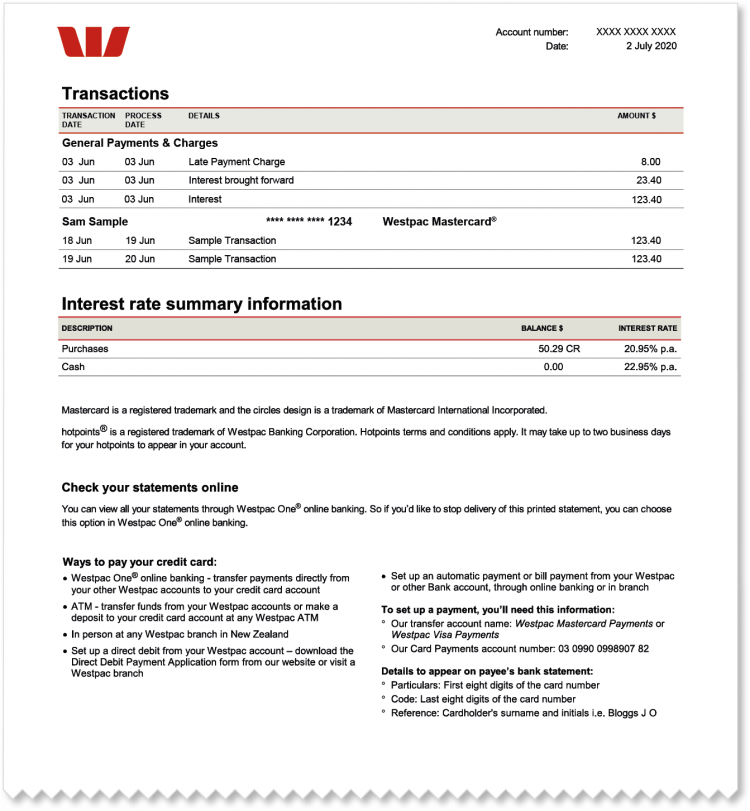 11. Transactions
A list of all your transactions, charges and payments.
12. General payments and charges
Details of any fees or interest you've been charged.
13. Interest brought forward
Interest on purchases from your previous statement that have not been paid in full.
14. Transaction date
When the transaction was made.
15. Process date
When each transaction was processed to your account. This may be different from the transaction date due to merchant delays, weekends or public holidays.
16. Card number
For security we'll only ever display the last 4 digits of this on your statement. The purchases and cash advances made from this card are listed underneath. Transactions from other named cardholders on this account are shown in a separate list.
17. Name of retailer/merchant
The name or company name of the retailer where you made your transaction.
18. Interest rate
The interest rate that currently applies to your purchases, as well as the closing balances that are subject to those rates.
19. Cash advance interest rate
If you withdraw cash from your credit card, this is the interest rate you'll be charged on that amount. Interest is charged from the day you make the withdrawal (no interest free days) and is at a higher rate than the interest rate for purchases.
20. Ways to pay
All the different ways you can pay your credit card.
Unusual transactions on your statement?
Pending transactions & refunds.
Pending transactions
If a transaction is listed as pending within your transaction list in Westpac One® online banking, it means that the retailer is either requesting to withdraw funds from your Westpac card, or the merchant is checking your details.
Pre-authorisation holds: Hotels, petrol stations or booking agencies may apply a 'pre-authorisation' or a 'hold' on your account for a deposit or for a security bond. They're checking you have enough money in your account to pay for the goods or service, and then will bill you the final amount later.
Verifying details: A hold may be placed on your account for a small amount – like $1 – while the retailer verifies your card details, for example online grocery shopping. They will then process the full transaction amount. It may take a few days for the hold amount to disappear from your transactions list.
Out of hours: If you've made a payment to your credit card after a certain time, it will remain as pending until it is processed the following night.
Refunds
When you return goods to a retailer – such as an online clothing store – and they refund you through the Mastercard or Visa systems, you won't see the refund until it has been fully processed by the retailer. This can take up to five days.
Turn off paper statements.
If you are receiving credit card paper statements and would prefer to receive your credit card statements digitally, just log in to Westpac One online banking. You'll find a PDF version available within Westpac One whenever you need it.