Loan & ownership options.
As a property investor, you have a few options to consider around the best way to structure your loans.
Loan options.
If you're already a homeowner, you're probably familiar with home loan options like fixed or floating rates, or even splitting your loan across both. The floating portion gives you the flexibility to make lump sum payments without prepayment costs while the fixed portion helps to spread risk if interest rates go up or down. To help demonstrate this, here are a few different examples of how you might split your loan between fixed and floating rates.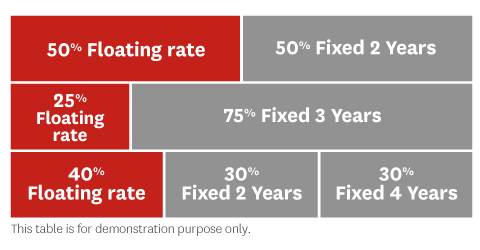 Types of ownership.
There are different ways in which property ownership can be structured, you may not own your investment property in the same way you own your home. You might consider owning your investment property:
Individually or jointly
As trustees of a trust
Through a company or other entity such as a partnership.
Choose the ownership structure that suits your individual circumstances and goals. Your accountant, lawyer and/or Financial Adviser can help you decide.
See IRD's website for information on tax treatments for different ownership types.
Other considerations.
Tax
There may be tax implications from owning a residential investment property. Talk to your accountant, tax adviser and/or lawyer for financial, taxation and legal advice for your circumstances.
Keep records
Keeping accurate records of your property is essential. This includes records of ownership, renovation work, and management of your tenants. You should also keep proof of your income and expenditure for tax purposes.
Calculators.
Find the best option for you with our home loan calculators.
Get in touch.
Talk to us
Call us from 8am to 6pm Monday to Friday, 9am to 3pm Saturday.
Call 0800 177 277
Apply online.
Existing customers can apply for a home loan via Westpac One® online banking.
Things you should know.
The material on this webpage is provided for information purposes only and is not a recommendation or opinion in relation to property investments or home loans. The information on this webpage does not take your particular financial situation or goals into account.
Interest rates are subject to change without notice. Westpac's home loan lending criteria, terms and conditions apply. A low equity margin may apply.
Westpac accepts no responsibility for the availability or content of any third party websites to which this article may link or refer.