Split home loan.
Splitting your home loan between a floating rate and a fixed rate gives you flexibility as well as certainty.
Benefits.
Save on interest by paying off the floating portion as fast as you like without additional cost or combine with a Choices Everyday or Choices Offset loan.
Redraw on the floating part of your loan and use the money for something else.
Have peace of mind that repayments for your fixed portion won't change for the fixed period you have chosen.
Select different terms for the fixed portion, from six months to five years.
How it works.
A Westpac split home loan divides your borrowing across floating and fixed interest rates so you can enjoy the benefits of both. The floating portion gives the flexibility to make lump sum payments, while the fixed part helps to spread risk if interest rates go up or down. Here are some different options for splitting your loan between Choices Fixed, Choices Everyday Floating and Choices Floating home loan options.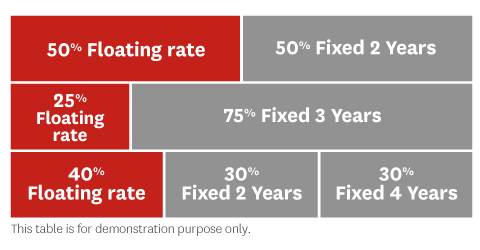 Get in touch.
Talk to us
Call us any time from 8am - 6pm weekdays, 9am - 3pm Saturday.
Call 0800 177 277
Things you should know.
1 Conditional approval requires a credit check and confirmation of the details provided in your application. Other conditions may also apply depending on the nature of your application.
Westpac's home loan lending criteria and terms and conditions apply. An establishment charge may apply. A low equity margin may apply. An additional fee or higher interest rate may apply to home loans if the application is accepted but does not meet the standard lending criteria.
Documents and fees
See the detailed terms and conditions, and fees, for our Choices Fixed, Floating and Choices Everyday home loans:
View terms and conditions for all our home lending products here.