First Home Loan.
It could be easier than you think to get into your first home. With a First Home Loan through Westpac and Kāinga Ora – Homes and Communities, you only need a 5% deposit.
Benefits.
Get into your first home sooner, with as little as 5% deposit.
Option to purchase a home with family or friends.
Choose from floating fixed and other home loan options.
Qualifying for a First Home Loan.
Your total annual household income before tax

is

$85,000 or less for one borrower, or

$130,000 or less for two

You will have to live in the home

Must be buying a first home

You are a permanent NZ resident or NZ citizen
You must be buying a home under the applicable cap for your region - see below for details
If you are a KiwiSaver member you might also be eligible for additional assistance.
How it works.
This loan can only be used to purchase an owner occupied property, which means you must live in the house you buy. A First Home Loan gives you the flexibility of being on a fixed or floating interest rate.
Regional caps
You could buy a home valued up to $650,000, depending on where you want to live.
Auckland: $650,000 for new properties or $600,000 for existing properties.
Hamilton City, Tauranga City, Western Bay of Plenty District, Kapiti Coast District, Porirua City, Upper Hutt City, Hutt City, Wellington City, Tasman District, Nelson City, Waimakariri District, Christchurch City and Selwyn District: $550,000 for new properties or $500,000 for existing properties.
All other parts of the country: $500,000 for new properties or $400,000 for existing properties.
First Home Loan regional house price caps are effective from 31 July 2016.
Note: when applying for a First Home Loan, you will need to pay a one-off Lenders Mortgage Insurance (LMI) premium1. Learn more.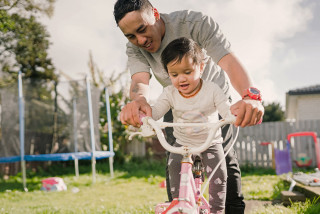 Not eligible? See Westpac HomeSaver.
Westpac HomeSaver is our special savings and home loan programme, designed to help you grow your savings towards your first home. 
Learn about Westpac HomeSaver
Calculators.
Find the best option for you with our home loan calculators.
Get in touch.
Talk to us
Call us any time from 8am - 6pm weekdays, 9am - 3pm Saturday.
Call 0800 177 277
Things you should know.
First Home Loan terms & conditions
1 A Lenders Mortgage Insurance Premium applies. Current First Home Loan and Westpac's home loan lending criteria and terms and conditions apply. An establishment charge may apply.
2 Conditional approval requires a credit check and confirmation of the details provided in your application. Other conditions may also apply depending on the nature of your application.
Westpac Homesaver Terms and Conditions apply. For more details, refer to Westpac HomeSaver.
General Home Loan terms & conditions
Interest rates are subject to change without notice. 
Documents and fees
View terms and conditions for all our home lending products here.