Everyday account.
A bank account for your everyday spending.
Benefits.
No monthly account or electronic transaction fees.
Bank on the go with  Westpac One® online banking.
Access your account with an EFTPOS or debit card¹.
24/7 protection and security with Online Guardian.
Access to our smart money tools to help you manage your account.
Smart money tools.
Track your spending
CashNav® is our free money management app that automatically tracks how much money you spend and then categorises what you spend it on.
Discover CashNav
Set up alerts
You can set up alerts on any Westpac account, to help you to stay on top of what's happening with your money.
Set up alerts
Split your salary
Automatically move your regular income into multiple accounts with Salary Splitter.
Find out more
Add a debit card.
Pay no annual card fee for the first year or if you're under 19 we'll waive it completely.
Pay with your mobile with Apple Pay or Google Payᵀᴹ².
Earn Airpoints DollarsTM on your day-to-day spend with New Zealand's only AirpointsTM earning Debit Mastercard³.
Temporarily block or unblock your card using Westpac One® online banking.
Overdraft.
An overdraft can help to cover unexpected expenses or gaps between pay days, by providing extra funds within your approved limit when needed.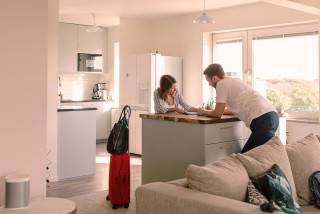 Earn Airpoints Dollars.
Get New Zealand's only Airpoints earning debit card, and you'll earn Airpoints Dollars every time you spend with it⁴.
Find out more
Fees.
Fee exemptions are available for customers 65 years and over, superannuitants and under 19 year olds. Service fees still apply.
If you become overdrawn without an arranged limit, the interest rate charged on the overdrawn amount is 19.95% p.a. (calculated on a daily basis). An unarranged overdraft fee will also be charged (see above).
1 The monthly charge cycle date is a consistent date each month selected by the system at account opening, aligned to the monthly statement date, which can be changed to a customers elected date.
EFTPOS cards.
If you don't need to spend online, an EFTPOS card is a good option. It's connected to your transaction account, so when you spend, you're using your own money. It's free to get one, and there's no annual card fee - ever.
Open an account.
New to Westpac?
You can apply online in minutes for a transaction account and debit card. Have your NZ Passport or Driver Licence on hand for verification.
Apply online
Already a Westpac customer?
Apply via Westpac One® online banking. If you're not yet registered for Westpac One, call us on 0800 400 600 and press 6.
Apply now
Things you should know.
1 To apply for a Debit Mastercard, you must be 15 years or older. For customers under 18 years old, a parent or guardian must complete a section of the application form and sign to accept the terms and conditions in person at a Westpac branch. Debit Mastercard Conditions of Use apply.
2 Apple Pay and Google Pay are available to eligible Westpac debit and credit Mastercard customers. Customers also need a compatible Apple or Android device
3 Eligible purchases exclude cash withdrawals, payments for cash-equivalents (such as money orders and gambling chips) and business-related purchases. You must be a member of Air New Zealand's Airpoints programme to be eligible to earn Airpoints Dollars. Airpoints terms and conditions apply – see airnewzealand.co.nz/airpoints-terms-and-conditions for details.
4 You must be a member of Air New Zealand's Airpoints™ programme to earn Airpoints. Airpoints terms and conditions apply.
5 EFTPOS Card Conditions of Use apply.
Westpac Everyday is our personal transaction account for everyday spending and is not available for business use.
Airpoints™ and Airpoints Dollars™ are registered trademarks of Air New Zealand Limited
Apple and Apple Pay are trademarks of Apple Inc., registered in the U.S. and other countries.
Google Pay is a trademark of Google LLC.
Mastercard® is a registered trademark and the circles design is a trademark of Mastercard International Incorporated.
The above rates are not available to financial institutions. Details of Westpac's General Terms and Conditions are available here or free of charge from any Westpac branch.