Low Rate Mastercard®.
A Low Rate Mastercard® gives you access to credit up to an agreed limit, so you can pay for goods or services anywhere Mastercard is accepted, all while enjoying our lowest interest rate and no annual fee.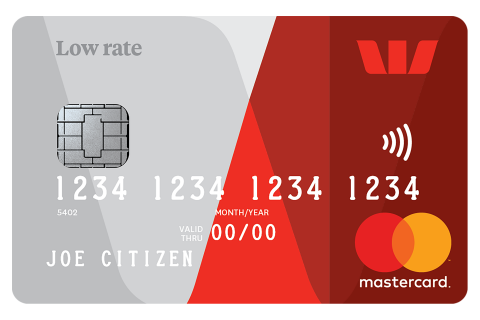 Benefits.
No annual account fee.
The lowest interest rate on purchases across all our credit cards, at 12.90% p.a.
Enjoy up to 55 days interest free on purchases when you pay off your balance in full by the payment due date¹(see how credit card interest works for more information).
24-hour emergency credit card assistance with CardGuard®.
Make contactless payments without a PIN for transaction amounts up to the local country limit.
What is a credit card?
A credit card gives you access to credit up to an agreed limit, so you can pay for goods or services anywhere Mastercard is is accepted.
With a credit card, you should aim to pay the balance owing in full each month to avoid paying interest on your purchases. There are other fees and charges that apply which are outlined on our website.
If you're looking to use a credit card for a large one-off payment, it might not be the right product for you. You can talk through your options with someone in our team either at your local branch or by giving us a call on 0800 400 600.
If you think a credit card is right for you, the next step is to decide which type of card to get. To help you decide which credit card is best for you, compare our cards.
24/7 protection
With CardGuard you're protected 24/7 from fraudulent activity3. So you can use your card anywhere, anytime, and leave your worries behind.
How CardGuard keeps you safe
24-hour assistance
Whether you have lost your credit card or it's been stolen, we're always on hand to help. You can also apply a temporary block in Westpac One® online banking.
Help with lost or stolen cards
Safer online shopping
Mastercard® Identity Check is an extra layer of security that helps us make sure it's definitely you that's using your card online.
Mastercard Identity Check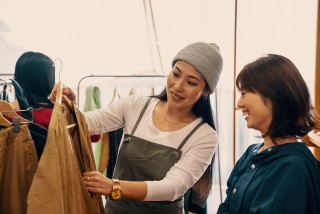 Smart ways to pay.
Enjoy all the benefits of your Westpac credit card by using your mobile device with Apple Pay³.
Your digital payment options
Rates.
Interest rates are subject to change.
Fees.
Fees on this page are subject to change.
Some overseas banks and ATMs may charge an extra fee for a cash advance.
FAQs.
More questions about credit cards? Get extra help.
​
Things you should know.
1 Interest free days give you access to interest-free credit - if you pay off your balance in full (excluding balance transfers) by the payment due date. Cash advances, balance transfers and interest and fees are not purchases and have no interest free days. See credit card interest-free days page for how it works.
2 Provided you notify us as soon as possible, have not acted fraudulently or negligently, and have complied with the card's Conditions of Use.
3Apple Pay is available to all eligible Westpac debit and credit Mastercard customers. Excludes Mastercard BusinessCard, Westpac Business Prepaid Mastercard, Prepaid and Global Currency cards. Customers also need a compatible Apple Device.
4 Rate will apply to balance(s) transferred until that balance(s) is paid off. Balance Transfer Terms and Conditions and lending criteria apply. All applications are subject to Westpac approval. You cannot transfer a balance from a Westpac card or loan. You can transfer up to 95% of your available credit card limit. Your card must remain within its credit limit after the balance has been transferred. Balances cannot be transferred to a Mastercard® BusinessCard/Purchasing Card. Balance transfers do not earn Airpoints Dollars™ or hotpoints®. Payments you make to your Westpac credit card will first go to charges and interest accrued, then to cash advances and purchases, followed by balance transfers as they appear on your last statement. Payments will then be applied to transactions that have not yet appeared on a statement in the same order. If you have multiple balance transfer rates, payments will first be applied to the balance transferred on the highest interest rate. Interest rates are subject to change without notice. All new purchases, cash advances and any unpaid interest or fees will incur interest at the standard interest rate in accordance with the card's Conditions of Use.
5. Transaction fees do not apply when using ATMs within the Global ATM Alliance in the respective country shown. Institutions participating in the Global ATM Alliance are subject to change but currently include Deutsche Bank (Germany), Bank of America (United States), Scotiabank (Canada), Barclays Bank (United Kingdom), BNP Paribas (France), Westpac (Australia) and Westpac (New Zealand). The NZ$3 for debit card international transaction fee saving applies to Westpac customers only, and is subject to change. All other international and standard fees apply including foreign currency conversion fees apply.
Mastercard is a registered trade mark and the circles design is a trade mark of Mastercard International Incorporated.
Terms and conditions
Eligibility criteria, lending criteria, terms and conditions apply. See:
View terms and conditions for all our credit card products here.