BusinessPLUS Mastercard with hotpoints.
Manage your business expenses and earn rewards on your business purchases.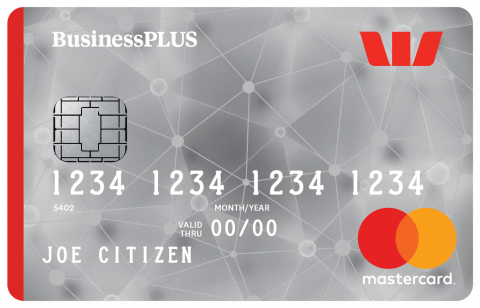 Benefits.
Separate business from personal expenses1 and manage your cashflow.
Get rewards quickly. Earn 1.25 hotpoints® for every $1 of business spend2.
Up to 35 days of overseas travel insurance4.
Pay in full each month or make the minimum payment5.
Add additional cards for a business partner or up to five employees.
No annual fee if you have a personal hotpoints Platinum Mastercard

®

.
Purchase protection4 up to 90 days, and extended warranty on purchases.
24-hour credit card emergency assistance.
Send your data electronically
Send your accountant your card data directly, via Xero or MYOB/BankLink.
No fees on overseas cash withdrawal
Use an ATM in the Global Alliance Group6 and pay no international transaction fees.
Choose how you pay
Pay via automatic payment, direct debit, bill payment via Westpac One® or Business Online, phone banking, funds transfer or at any Westpac branch.
Access all your accounts
Link your Westpac savings or transaction accounts to your BusinessPLUS Mastercard® with hotpoints for easy access at ATMs and checkouts.
Manage online
Manage your card through Westpac One or Business Online.
How it works.
hotpoints is our rewards programme. You earn hotpoints on your business spending using your BusinessPLUS Mastercard with hotpoints. Every dollar you spend on your card on eligible spends², earns you hotpoints, which you can redeem for rewards on the hotpoints website, or by using hotpoints Pay®⁷.

hotpoints Pay allows you to pay for your purchases wherever Mastercard is accepted, in-store or online.

Watch video
Rates.
Interest rates are subject to change.
Fees.
Fees are subject to change. Some overseas banks may charge an extra fee for a cash advance.
Things you should know.
1 You will be personally responsible for all credit extended by Westpac under a BusinessPLUS Mastercard and Airpoints™ Business Mastercard, irrespective of whether a business name appears on the card.
2 Certain purchases and transactions are not eligible to earn hotpoints. See the applicable Credit Card Conditions of Use for details.
3 If you have paid your last statement period closing balance in full, you will start your current statement period with a $0 balance owing. When you start your current statement period with a $0 balance owing, do not have a transferred balance on your credit card and pay your statement closing balance in full by its due date, you will get up to specified days interest-free on your purchases. Cash advances are not purchases and have no interest free days. See credit card interest-free period page for how it works.
4 Terms, conditions, exclusions and eligibility criteria apply, including a minimum spend for certain travel regions. Please see the Westpac Platinum Mastercard Insurance policy for full details. Travel, Extended Warranty and Purchase Protection Insurances arranged by Westpac and underwritten by AIG Insurance New Zealand Limited. Westpac does not guarantee the obligations of, or any products issued by, AIG.
5 If you only make a minimum payment each statement period, you will pay more interest and it will take you longer to pay off the unpaid balance.
6 Transaction fees do not apply when using ATMs within the Global ATM Alliance in the respective country shown. Institutions participating in the Global ATM Alliance are subject to change but currently include Deutsche Bank (Germany), Bank of America (United States), Scotiabank (Canada), Barclays Bank (United Kingdom), BNP Paribas (France), Westpac (Australia) and Westpac (New Zealand). The NZ$2 for credit card and NZ$3 for debit card international transaction fee saving applies to Westpac customers only, and is subject to change. All other international and standard fees apply including foreign currency conversion fees apply - see the Business Transaction and Service Fees brochure.
7 hotpoints terms and conditions apply. Eligible purchases exclude gambling chips or gambling transactions (including online gambling), cash advances, interest charges, or transactions on any nominated account(s) linked to your credit card or account, or any other purchase that Westpac deems ineligible for hotpoints Pay. Only purchases made with a hotpoints Mastercard can be used for hotpoints Pay.
Westpac is not the supplier of the goods and services that can be redeemed with hotpoints and does not guarantee the obligations of the supplier or any goods and services supplied. Any goods or services that are provided by a third party supplier may be withdrawn at any time.
hotpoints is a registered trademark of Westpac Banking Corporation.
Mastercard® is a registered trademark and the circles design is a trademark of Mastercard International Incorporated.
Terms and conditions
Eligibility criteria, lending criteria, terms and conditions apply. See:
View terms and conditions for all our credit card products here.