Business Prepaid Mastercard®.
Save time and have greater control by managing your staff spending in one place.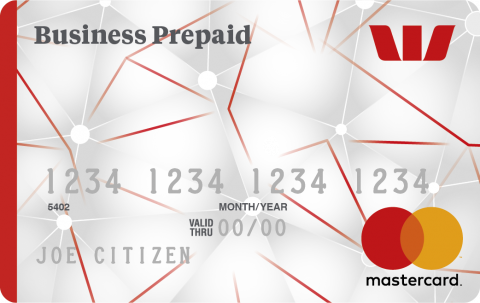 Our Business Prepaid Mastercard® programme allows your business to replace manual reconciliation processes while increasing control and compliance for business-related expenses.
A Business Prepaid programme can be used for business gifts and incentives, business travel, school trips, expense reimbursements, petty cash and more. With four prepaid card options to choose from, the programme can be tailored to suit your business needs.
Benefits.
Track spending on every card for easy reconciliation.

Eliminate cash expenses.

Great as gifts for customers, or as staff rewards.

Load funds from your Westpac business account.
Choice of cards
We have four options available: Gift Card, Single Load, Multiload, or MultiloadPLUS. Choose one, or all.
Learn more
Secure management portal
Administrators and cardholders can access cards through a secure online portal. Administrators can manage their own card programme and generate reports while cardholders can check balances, see transaction history, and more.
Customise your cards
Create your own unique branded cards for your company (minimum number of cards applies).
As many cards as you like
There's no limit to the number of cards your business can have. Simply add cards as your business grows.
How to apply.
Complete the registration of interest form, so we can find out more about your business needs.


Fees.
Account fees are invoiced and direct debited monthly from your nominated fee account.
Cardholder fees are deducted from the balance of the card at the time of the transaction.
Fees are subject to change.
Account holder fees - standard
Account holder fees - customisable (optional)
1 Transaction fees do not apply when using ATMs within the Global ATM Alliance in the respective country shown. Institutions participating in the Global ATM Alliance are subject to change but currently include Deutsche Bank (Germany), Bank of America (United States), Scotiabank (Canada), Barclays Bank (United Kingdom), BNP Paribas (France), Westpac (Australia) and Westpac (New Zealand). The NZ$2 for credit card and NZ$3 for debit card international transaction fee saving applies to use of Westpac Mastercards at ATMs belonging to any member of the Global ATM Alliance and is subject to change. Global ATM Alliance member banks are subject to change. All other international and standard fees apply, including foreign currency conversion fees - refer to the Business Transaction and Service Fees brochure for details. An ATM service fee may be charged by the ATM provider.
2 A foreign currency fee is charged when you make a purchase or cash withdrawal in a foreign currency and also applies to any fees and charges charged by the overseas bank or vendor in relation to the transaction. This fee is also charged when you make online purchases in a foreign currency.
Things you should know.
Mastercard® is a registered trademark and the circles design is a trademark of Mastercard International Incorporated.
Business Cards are only available for business purposes and not for personal, domestic or household purposes.
Terms and conditions
Eligibility criteria, lending criteria, terms and conditions apply. See: