Latest scams.
To help better protect you, this page provides information on some of the scams that are circulating at the moment.
August 2022.
Fake Westpac calls
The Financial Crime team have had reports of customers receiving calls from scammers posing as Westpac employees. Some of the calls appear to come from an official Westpac phone number, however the calls are not from Westpac.
Through the phone call, scammers are trying to gain information needed to access the victim's bank accounts.
Cost of Living Payment Scams
Our Fraud team is seeing several examples of text message scams based on the Government's Cost of Living payment. Embedded web links are used to steal personal information and banking credentials.

July 2022.
Phishing texts
The Financial Crime team have had reports of phishing texts stating that online banking has been deactivated. The embedded web link goes to a fake website, used to steal customers' credit card details and online banking credentials.
Cryptocurrency scams
We've seen an increase in cryptocurrency investment scams. Scammers will often try and convince someone to pay large amounts to "invest" with the promise of high returns. They'll often pitch these fake investment opportunities as being low risk as well. The victim may not know that they've been targeted by a scam until some time has passed, for example when they try to withdraw their funds.
Scammers will often claim to be financial advisors or investment experts, or claim to have made large profits investing in the scheme themselves. They may even create legitimate looking fake websites and prospectus documents or use celebrities' names and pictures to endorse their schemes.
May 2022.
WhatsApp scam messages
We've received several reports of WhatsApp scam messages. The messages are targeting parents. The scammer, who is pretending to be their child, claims they have recently lost or damaged their phone and is messaging from a new phone number. They ask for help buying a new phone by requesting credit card details.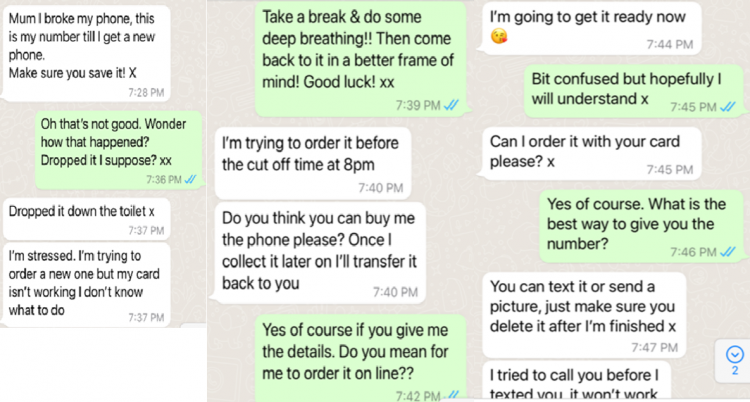 April 2022.
Phishing texts
The Financial Crime team have had reports of similar phishing texts relating to Wise, BNZ and ASB. The embedded web link goes to a fake website, used to steal customers' credit card details and online banking credentials. The texts are coming from different Australian mobile numbers.

January 2022.
Threat and penalty scams
The Financial Crime team are observing an increase in threat and penalty scams. Scammers are contacting people and claiming to be from the Police, another government agency, or a business, and threatening to take severe action or fine them unless they make payments or give out personal information.
There have been recent reports of scammers making contact by video call, posing as police officers in China and accusing the recipient of a crime. They threaten them with harm, arrest or legal action if they don't make payments to an overseas account.
Special deals
The Financial Crime team have identified several card compromises that appear to be linked to special deals being advertised on Facebook. Customers are responding to online ads offering these items for really low prices (e.g. $3 for a Smeg kettle, $2.99 for an iPad). Often they're asked to complete a survey and will be asked for personal and/or credit card details.
Scam calls targeting law firms
The Financial Crime team are aware of scam calls targeting law firms. The caller contacts the law firm claiming to be a Westpac staff member from the International Payments team and requests to speak with the firm's bank account signatory. They claim funds have been fraudulently withdrawn from the firm's account and that a block has been placed on the account. They ask the signatory to sign some forms to enable the block to be removed and the fraudulent payment to be reversed.
Westpac investment scam
We are aware of a sophisticated investment scam targeting customers which includes a fake Westpac Investment Prospectus.
Customers may find themselves targeted by these scammers when they do an internet search for term deposits or investments, and then click on fraudulent ad links that appear in the search results.
Report a scam.
Report to other agencies
Once you have spoken to us, you should report scams to other agencies so that they can take steps to prevent other people being targeted by them and losing money.