Transfer your Australian Super.
Find out if you can bring your Australian Super back to NZ with our guide to transferring to the Westpac KiwiSaver Scheme.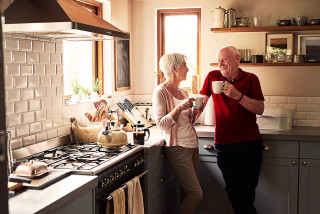 Bringing my Australian Super to New Zealand.
If you've worked in Australia at any time since 1992, you'll probably have Australian superannuation savings. Moving back to New Zealand means you may be able to transfer your savings to the Westpac KiwiSaver Scheme. Just note, we're currently unable to accept transfers from UK pensions.
Get started.
You may qualify if:
You've moved back to New Zealand (or emigrated here) from Australia; and
You've got savings in an Australian complying Superannuation scheme (self-managed super funds and defined benefit funds are excluded).
Should I transfer?
It may pay to consolidate your retirement savings into your Westpac KiwiSaver Scheme. Here are a few things to consider:
Easier to keep track of

Having all your retirement savings in one country and in one currency, means you'll always know where you're at.

One set of fees and charges

You usually pay management fees or charges on investments. Transferring and combining your funds may reduce the overall amount you pay.

Transfer fees and benefits

It pays to look into any Australian benefits you may miss out on through withdrawing and transferring, and any fees you may need to pay to your Australian provider/s. Westpac does not charge you any transfer fees.
Important to know:
Any money you transfer from your Australian Super to your Westpac KiwiSaver Scheme does not earn Government contributions
Transferred money cannot be withdrawn for a first home purchase
If you are emigrating to Australia, the money can be transferred to an Australian complying superannuation scheme
If you emigrate to another country (other than Australia) the money cannot be included in a permanent emigration withdrawal
Transferring your Australian money to a New Zealand KiwiSaver Scheme means you'll pay tax on your investment returns at your designated New Zealand rate. Check your PIR (Prescribed Investor Rate).
How do I transfer?
1
Join KiwiSaver before you transfer
If you don't already have a Westpac KiwiSaver Scheme Account, and you want to transfer your Australian Super to the Westpac KiwiSaver Scheme, you'll need to join before you can transfer your savings. You can join through online banking if you have Westpac One® online banking set up. Or you can find the application form at the back of the Westpac KiwiSaver Scheme Product Disclosure Statement.
Product Disclosure Statement
2
Contact your Australian Super provider(s)
They'll let you know what they need and can give you any forms or documentation. If they need any Westpac details, please call our KiwiSaver specialists on 0508 972 254. If you have more than one Australian Super account, you'll need to contact each provider.

Payment instructions for Australian provider by telegraphic transfer:

Bank Name: Westpac New Zealand Limited
SWIFT Code: WPACNZ2W
Account Name: BTNZ KiwiSaver Nominees Limited
Account Number: 03-0104-0588267-05
Payment Reference: Your IRD number and KiwiSaver member number (we need this to identify your payment).
3
Your account is set up
Once the funds have been transferred from Australia and have been deposited into your Westpac KiwiSaver Scheme account, we'll be in touch to confirm you're all set up.
Next steps.
Join the Westpac KiwiSaver Scheme
You'll need to set up your Westpac KiwiSaver Scheme account before you start the transfer process.
Get started
Talk to a specialist
Get in touch to talk about KiwiSaver with an expert.
Talk to us
Westpac KiwiSaver Scheme forms
Need something else? Simply download the form you need.
All KiwiSaver forms
Things you should know.
References to non-Westpac websites are provided for your convenience only. Westpac accepts no responsibility for the availability or content of such websites.
BT Funds Management (NZ) Limited is the scheme provider and Westpac New Zealand Limited is the distributor, of the Westpac KiwiSaver Scheme (Scheme).
The information above is subject to changes to government policy and law, and changes to the Scheme from time to time.
Investments made in the Scheme do not represent bank deposits or other liabilities of Westpac Banking Corporation ABN 33 007 457 141, Westpac New Zealand Limited or other members of the Westpac Group of companies. They are subject to investment and other risks, including possible delays in payment of withdrawal amounts in some circumstances, and loss of investment value, including principal invested. None of BT Funds Management (NZ) Limited (as manager), any member of the Westpac Group of companies, The New Zealand Guardian Trust Company Limited (as supervisor), or any director or nominee of any of those entities, or any other person guarantees the Scheme's performance, returns or repayment of capital.
For a copy of the Product Disclosure Statement or more information about the Scheme, contact any Westpac branch or call 0508 972 254 or from overseas +64 9 375 9978 (international toll charges apply). You can also download the Product Disclosure Statement.