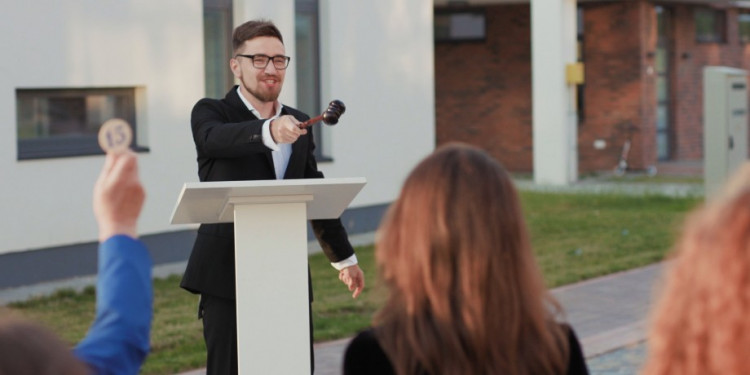 Advertised price, deadline sale, and 'by negotiation' are the most common methods of selling property in New Zealand, according to Settled.govt.nz.
Despite their popularity on TV real estate shows, in 2020 only 17% of new listings in New Zealand were listed as auctions, according to Realestate.co.nz.
The best option for sellers has a lot to do with the area in which the house is being sold and the market conditions at the time.
Ray White Sales Manager for the top of the South Island, Mark Nicol, says auctions let the market decide what the house is worth when demand is high.
"The three things that drive the real estate market are demand, supply and cheap money," Nicol said.
"Auctions are now becoming popular in parts of the country where they haven't traditionally been used," Nicol said.
"For example, deadline sales are popular in Nelson and Tasman, but that's almost like a pseudo-auction because you're inviting offers on a certain date, but it could be sold at any time up to that date.
"The downside of a deadline sale is that the offers are made in the dark - potential buyers don't know what others are offering and there's no social proof of what it's worth, as there would be at an auction.
"I see a lot of deadline sales where people have missed out because they don't know what the other person offered. They could constantly be making low offers without knowing and we (the real estate agents) can't legally tell them what the other offers are.
"Deadline sales happen a lot in the South Island and the bottom of the North Island, but that's slowly changing towards auctions," he said.
Mike Pero real estate agent Arron Cox doesn't believe auctions are the best sale method in every part of New Zealand though.
"The best method of sale comes down to which region the property is in, so what works here in Nelson, I wouldn't necessarily advocate in Auckland or Christchurch.
"In my experience, deadline sales without a listed price work well with unique properties that have an X factor. This method takes the pressure off the purchasers and the vendors and gives the purchaser time for due diligence.
"The vendor also has options because they can choose to take an all-cash offer that might be a lower offer or take a conditional offer that might pay more.
"I recently sold a property in Kina Beach, Tasman, which I had appraised at around $600,000. I had 10 offers on a deadline sale ranging from $500,000, up to $690,000, so it sold for a lot higher than my expectations.
"If the property didn't sell by deadline sale, I would still use that feedback to put a price on it and list it as 'enquiries over' or 'by negotiation'.
Where are the most auctions?
Gisborne has the highest percentage of auctions, with 59% coming onto the market listed as auction.
Gisborne also had the strongest price increase of any region in 2020 – prices were up 39.4% between February 2020 and February 2021.
Auckland is home to the second largest proportion of auctions, with 50.5% of listings over the last year being offered as that method of sale, according to Core Logic data.
So, why can auctions potentially fetch a higher price?
"Behind closed doors, people aren't comfortable offering as much," Nicol said.
"Each region of New Zealand is also influenced by the habits of their local real estate agents. Auctions put the spotlight on the salesperson and includes a lot of extra behind-the-scenes work, while their commission rate stays the same," he said.
"Auctions are not hugely popular in Wellington, which sees more price marketing and by tender sales.
"Palmerston North had almost no auctions before 2020, but now auctions are becoming more common, with one in three property sales being sold now by auction," Nicol said.
Listings by method for 2021 year-to-date, source Core Logic:
Do low interest rates and high demand impact what sales technique works best?
"At the moment, interest rates are low, which has driven up demand and house prices, so auctions can create a bidding war, but in a slow market they can still achieve great results," Nicol said.
"The number one fear people have is paying too much for a property, so an auction is a great leveler because the price of what others think it's worth is transparent.
"The auction has four bites of the apple - there's the pre-offer to stop the auction or bring it forward within three to four days of the offer, and that happens quite a lot and we open the bidding at that offer.
"If there's no pre-offer, you have the auction day itself. If it doesn't sell, there are usually conditional people interested. If it sells within 24 hours of auction will still say it sold at auction. If it doesn't sell, we put a price on it like a deadline sale would and other interested parties can make an offer at that point," he said.
Arron Cox believes in the current market deadline sale, tender or 'by negotiation' can be as successful as auction, while removing the stress that an auction can cause.
How each method of sale works:
Selling by negotiation and deadline sale:
The buyer makes a conditional or unconditional offer at any time during the period the property is listed for sale.
In a deadline sale there is a set period with a price set out in the marketing, commonly written as 'offers above $XXXX'.
Selling by negotiation is commonly used when it's difficult to estimate what the property will sell for. Potential buyers can make offers and the seller can negotiate that price with them and either accept or reject the written offer via the agent.
Selling by auction:
The property goes to the highest bidder at auction, once the reserve price has been met.
The reserve price is the lowest price the seller is willing to accept.
Pre-auction offers can be made before the auction, where the seller can either accept or reject.
If a pre-auction offer is accepted, the auction can be brought forward, and that price becomes the reserve.
In the instance of a pre-auction offer, this becomes the first bid and if no-one else bids higher, the sale goes to them.
If the property doesn't sell at auction there are usually conditional people interested or if there aren't, it can be sold like a deadline sale by putting a price on it.
Selling by Tender:
Prospective buyers make offers to the agent in writing before the deadline.
Offers can be conditional on finance and other details such as the settlement date and chattels to be included.
After the deadline date, offers will be considered by the seller, who usually has five working days to decide to accept any of the offers.
Negotiations can take place between the potential buyer and seller and legal advice is recommended.
Related articles:
Airbnb vs long-term rental: What's the best rental yield for your investment property?