As property prices increase, purchasing an apartment or unit could allow homeowners to buy in their desired location, rather than moving further afield to find a stand-alone house within the same budget.
But not all apartments and units are equal in terms of capital gains and rental yields.
REDnews analysed Core Logic data on the capital gains of two-bedroomed apartments, units and houses over a 20-year period and four-year period.
Auckland and Wellington properties have been categorised into two groups - 50-79sqm and 80-119sqm - to compare their capital gains.
Auckland and Wellington are the only two cities in New Zealand with enough apartments going back to 2001 to analyse.
Price increase of two-bedroom properties 2001-2021 (only properties that existed for the whole period have been included)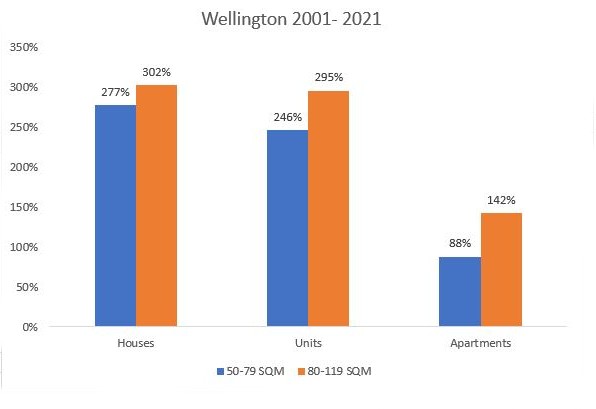 Price increase of two-bedroom properties 2017-2021 (only properties that existed for the whole period have been included)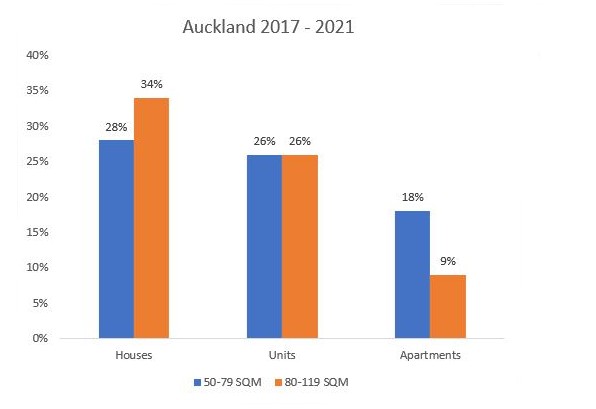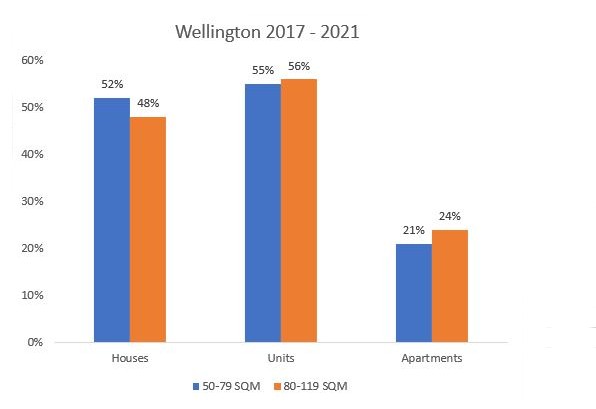 As the data shows, houses and units have out-performed apartments historically though the newer figures show apartments are beginning to catch up.
"Interestingly in the last year, 80-119sqm apartments in Wellington have outperformed both other property types," Head of Research at CoreLogic Nick Goodall said.
"But this was after no growth in the prior year, so it potentially played a bit of catch up," he said.
In the past year, from 2020 to 2021, 80-119sqm apartments in Wellington increased in value more than units and houses.
Since 2020, the capital's large apartments have increased in value by 20%, units by 15%, and houses by 17%.
In Auckland, large apartments over 80sqm increased in value by 13% in the past year, units by 19%, and houses by 24%.
Property Economist and Property Investor Ed McKnight says historically there has been a "capital growth discount" when you purchase an apartment.
"Capital gains compound over time, so in real terms over 20 years, the loss of appreciation on apartments is 25% compared to townhouses.
"However, location is a big driver and if you have a $1 million budget, you can't buy a townhouse in Auckland's most desirable neighborhoods, but you could buy an apartment.
"That could be your first foot on the property ladder or a lifestyle decision if you want to live in that city fringe area.
"If your main driver is capital gains though, you would potentially make higher capital gains on a unit/townhouse than you would on an apartment," McKnight said.
However, when it comes to rental yields, apartments can fetch higher yields than townhouses.
"Freehold apartments do grow in value, just at a lower rate, but you'd get a higher rental price out of the apartment," he said.
McKnight says Auckland's CBD has taken a hit from the global pandemic and the lack of international students has meant there's currently more supply than demand for central city apartments for rent.
"When we look outside the Auckland market, Wellington has a very robust apartment rental market because of the government sector.
"You've got people going to Wellington regularly for reasons other than tourism. People might be flying in just for six months to work in the public sector and you get good rental yields," he said.
"Buyers looking to get into the apartment market should also be aware that one-bedroom apartments appreciate at a much lower rate than two-bedroom apartments.
"You could still get a good rental yield, but they appreciate one third less per year than a two-bedroom apartment. A carpark in that apartment building could increase its value though," he said.
When it comes to on-selling, McKnight says that townhouses are also easier to sell than apartments.
"Apartments tend to have more investors buying them than owner occupiers, and right now there will be less buyers potentially because of the new government regulations and markets for renting apartments is weak," he said.
Related articles
More than 50% of building consents are now for apartment-style housing