Westpac Warm Up.
Beat the chill with a Westpac Warm Up loan. You could get up to $40,000 interest free for five years to invest in heat pumps, insulation and more.
Benefits.
A warmer, drier, healthier and energy efficient home.
Interest-free loan up to $40,000 for five years.
Choose a mix of insulation, heat pumps, double glazing, ventilation, wood burners, solar power systems and batteries, as well as electric vehicle chargers.
Flexibility to make lump sum payments or pay the loan off earlier without prepayment

costs

¹.

Westpac Warm Up is available for new or current Westpac Choices Home Loan customers.
No establishment fee applies.
How it works.
A Westpac Warm Up loan is available to people living in their own homes and to landlords. You can use it for any mix of insulation, eligible heat pumps, double glazing, ventilation, wood burners, electric vehicle chargers, solar power systems and batteries for storing power from solar (or other sources).
Professional installation
A professional installer must fit the items. If you apply for a Westpac Warm Up loan, you'll need to show a quote that is less than 90 days old to obtain a pre-approval from us.
Heat pumps
You can choose a fixed single-split heat pump system, multi-split heat pump system or a ducted heat pump system. Other types, such as portable heat pumps and heat pump water heaters, are not eligible. To find the most energy efficient heat pumps, use the Rightware tool by Energy Wise.
Wood burners
Please refer to the guidelines from the Ministry of Environment for information on sustainable wood burners.
Plans changed?
If you change your mind and want to fund additional eligible renovations, you can apply for additional Warm Up loans provided it does not exceed the $40,000 limit across all Warm Up loans.
Repaying your loan
A Warm Up loan is interest-free for five years. If you're unable to meet your repayments, a default interest rate of 5% will apply to your outstanding loan balance.
As a Warm Up loan is secured against a home or investment property, that property may be subject to a mortgagee sale if you default on your loan and it's not possible to work through a solution with our hardship or collections teams.
Qualifying for Westpac Warm Up.
Standard lending criteria
You must be an existing or new Westpac Choices Home Loan customer, meet standard eligibility and lending criteria and be able to repay the loan in full within five years.
Equity
If you're an owner-occupier, you'll need a minimum of 20% equity in your home or 40% for an investment property.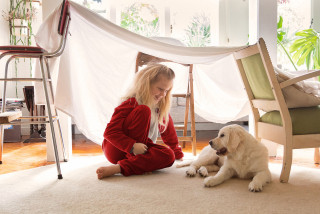 HomeFit certification.
You may wish to get an independent HomeFit assessment. An assessor will visit your home and assess how warm, dry and healthy it is.
If your home meets the standard, you'll receive a HomeFit Certificate that gives you, buyers or renters confidence in the ventilation, insulation, heating and energy efficiency standards of your home.
It will cost approximately $300 to get a HomeFit assessment and varies by HomeFit Assessor.
Get started with the checklist
Get in touch.
Things you should know.
1 Lump sum payments can only be made in branch or over the phone on 0800 177 277. They cannot be made online through Westpac One® online banking. A $2.50 manual transaction fee will apply.
Westpac's eligibility criteria and home loan lending criteria, terms and conditions apply. Product is subject to change or withdrawal anytime at Westpac's sole discretion.
Documents and fees
See the detailed terms and conditions and fees for our Choices Home Loan:
View terms and conditions for all our home lending products here.