Westpac Get Paid online.
Take secure card payments the way you want to, through your website, or by phone or mail order.
Benefits.
Secure, trusted solutions
Trust Westpac Get Paid online.
Choice
Your customers can choose how they'd like to pay you, online or over the phone. You choose the solution that suits your business best.
24/7 technical support
We'll provide technical support 24/7, whenever you need us, day and night.
Simplicity
Select your solution and get in touch, it's that simple. Westpac Get Paid is your "one stop shop" with easy to follow pricing options.
What solution is best for my business?

Westpac Get Paid from your website
Your customers can purchase from your website by credit or debit card, through your secure Westpac checkout page.
$25 per month and 10c per transaction* (ex GST)
Merchant service fees; 1.99% per card transaction.
Easy to integrate with your website.
Fraud protection built in, so it's secure.
At-a-glance dashboard and reporting via the merchant portal.

Westpac Get Paid Virtual Terminal
A great solution if you want to accept mail or telephone order payments.
$15 per month and 10c per transaction* (ex GST)
Merchant service fees; 1.99% per card transaction.
Process payments without having the credit card physically present.
User friendly merchant portal with dashboard, and reporting functions.
Access for multiple staff members.
Set up custom fields to collect additional customer information.

Westpac Get Paid By Link
With Pay By Link, simply send your customers a payment link. No terminal or webstore needed.
$ 15 per month and 10c per transaction* (ex GST)
Merchant service fees; 1.99% per card transaction.
Your payment request link goes via SMS or an email.
Track all your payments via the easy to use merchant portal.
Process refunds easy and quickly.
* Cost is exclusive of GST. Merchant Service Fees apply.
Looking for an instore or on the go payment solution?
Check out Westpac Get Paid instore or on the go.
Not sure what's right for you? Talk to the team.
It can be difficult to decide what solution is right for your business, Westpac can help. We can talk you through the options available, and give you the info you need to choose the right Westpac Get Paid option for your business.
Merchant Service Fees.
Westpac charges a percentage of each sale (the Merchant Service Fee) on certain types of card transactions put through your payment facility. This is for processing of your monthly transactions.
Your merchant service fee will vary based on what type of business you have, how many transactions you process, and what card types you accept. There may be other factors which affect your fee too.
Ready to get started? It's as easy as 1, 2, 3.
1. Tell us how you do business
2. We'll call you back to chat
You can talk to us about how you'd like to accept payments, and we'll put together a solution just for you.
3. Get set-up and started
Once you're ready to go ahead, we'll make sure you've got everything you need to start accepting payments.
FAQs.
What if I have an existing ecommerce solution?
Easy, we'll simply set you up with your Westpac Business Transaction account2 and merchant facility. Just give us a call on 0800 888 066 to set it up.
If I need technical help, can I get it?
Yes of course. If you need help, call us on 0800 888 066.
How long does it take to get an online merchant facility?
Once we have all the required information about your business we can generally set the facility up within 10 business days.
Which shopping carts does the Get Paid checkout integrate with?
The Get Paid checkout (a hosted payment page) integrates with the following shopping carts; Woo, OpenCart, Magento 2, PrestaShop, Salesforce Commerce Cloud and Shopify. If you don't have one of these, Get Paid from your website won't be suitable for your business.
Is there an instruction and user guide?
Yes, if you have some questions about how to use Westpac Get Paid online, you can download our user guide for Pay by Link and Virtual Terminal (PDF).
Once you've completed our onboarding process, we'll let you know what the next steps are and can assist you with integrating your payments page to your website.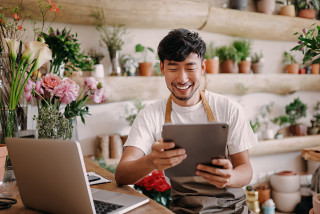 Merchant risk hub.
Get help with accepting card payments safely in your business. Our merchant risk hub gives you practical information and tips on meeting your compliance requirements, protecting your business against card fraud, managing payment disputes and keeping card payment data secure.
Go to hub
Things you should know.
The information on this page is a guide only. Participation in a Westpac Merchant Credit Card Facility Agreement is subject to Westpac's approval. Westpac's current lending criteria apply. Terms, fees and charges apply to Westpac products and services.
Westpac Get Paid® is a registered trademark of Westpac Banking Corporation.
Mastercard® is a registered trademark and the circles design is a trademark of Mastercard International Incorporated.
1 When you settle card transactions into a Westpac business account. Terms and Conditions, eligibility and credit criteria apply. Only for transactions on domestic cards, and customers on a blended pricing plan.
2 Account maintenance fee, transaction fees and service fees apply.
3 Set Up fees may apply.