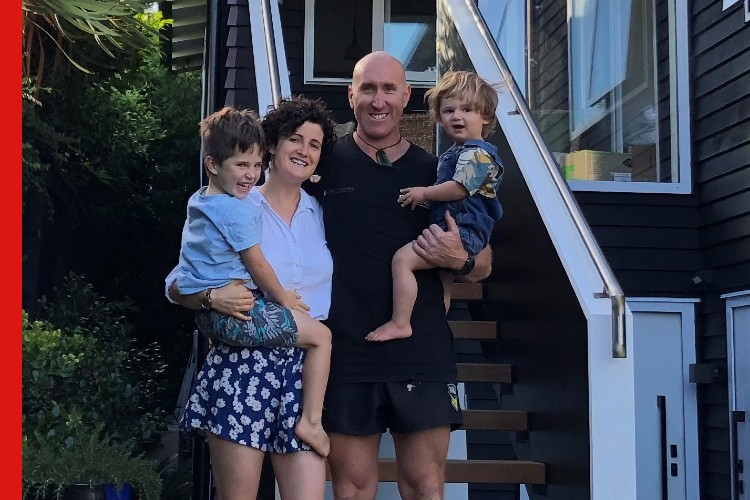 After 12 years in Auckland, Catriona and Toby Tilsley were craving a healthier, more sustainable way of living for their family.
In 2020, they decided to buy a plot of land in Raglan, move with their two young children, and build the highest-performing eco house possible.
The couple, who are co-directors of building company Craft Homes, hired sustainable engineers and building scientists to design a certified, ultra-low energy Passive House and started building the project in 2021.
The Westpac customers are now sharing their journey of building a Passive House through a YouTube series and they've just released the trailer.
The Passive House concept came out of Germany in the 1960s and is now slowly becoming popular in New Zealand.
Kāinga Ora recently announced a new public housing development in South Auckland that will meet Passive House standards for energy-efficient healthy living.
This style of certified homes creates ultra-low energy bills that are up to 90% cheaper than average through a combination of factors. The building envelope (floors, walls and roof) has a much higher standard of air tightness, as do the windows. This type of home also has mechanical ventilation and superinsulation.
Director of New Zealand engineering firm Sustainable Engineering, Jason Quinn, is a passive house designer and certifier.
"We also design houses and buildings that are high performance, but there is no actual definition of 'high performance buildings', whereas the Passive House Certification has criteria to meet.
"A passive house must use less than 15 kilowatt hours per square metre per year for heating, which is what saves you between 60% - 90% on your heating bills – depending on where you live," he said.
Passive House Features
Airtight Construction:
Airtight thermal envelope.
Minimum of penetrations.
Seals around joins/junctions.
Mechanically Ventilated:
Very quiet, continuous mechanical ventilation system with heat recovery.
Fresh, filtered air to all rooms.
Insulation:
Specially insulated pre-cast panel construction.
Insulation backed plasterboard on internal lining.
Fully insulated floor.
Structurally Insulated Panel (SIP) creating a warm roof.
High Performance Windows:
Thermally broken uPVC double glazed windows.
Catriona and Toby started their sustainable home building company, Craft Homes, five years ago and their own house will be a passion project.
"To achieve the Passive House Certificate, the building has to be thermally modelled by building scientists that look at the orientation of the home, the position of the windows and type of windows, the doors, the level of insulation and then they tell you if you meet the standards," Catriona said.
"We are using structurally insulated panels (SIP) from a company in Christchurch, which are prefabricated in a factory and then the house slots together like Lego bricks.
"It creates a very energy-efficient and healthy indoor environment with low humidity so mould can't even grow.
"Our little boy and Toby are both asthmatic, which is another driver for us to build this house, because it makes a big difference for people living with asthma," she said.
Return On Investment
Achieving certification as a Passive House costs at least 10-15% more in building costs, but the return on investment comes from lower energy bills and a potentially higher re-sale value, not to mention the health benefits.
To estimate the return on investment, Jason Quinn used a case study of a 150sqm house with a heat pump.
"If this was a passive house, you'd save approximately $2,230 per year on heating bills, assuming you achieve a 90% reduction in heating bills.
"The Passive House would cost approximately 10% more to build, but the ROI would be approximately 3.3% per annum, continually due to energy savings.
"One study in California found that Passive Houses sold for approximately 9% more as a re-sale value and I know of a Passive House in Auckland that was recently valued for an extra 12% because of these features.
"So that 10% extra would potentially be added to your re-sale value," Quinn said.
Designing A Passive House
Mark Goodison, of Goodison Architectural, designed the Tilsley's Raglan home.
"We are experienced with high-performance houses, but this Passive House project was unique.
"With a Passive House there's a higher level of scientific framework to follow and the architects work alongside a thermal engineer. There were also certain design rules on how to utilize a northerly direction and the sun to protect the house from overheating.
"The thermal engineers help modify certain parts of the design to meet that standard, which might just mean making the house face northwest a little bit more. Insulation values in this certification are well above New Zealand building standards, it's more of a European standard," Goodison said.
Goodison said he had seen an increase in demand for high-performance homes over the last five years and in some high-performance homes they're only around 5% off the performance requirements for being certified as a Passive House.
Catriona told REDnews she and her husband decided to create a YouTube series to inspire people to think about how their home can help their family thrive.
"Don't just think about how your house will look, think about how it will perform for your family as a place to keep them healthy," she said.
The YouTube series' first episode will be released on November 11.
Related articles:
How WFH is changing our housing demands and physical activity