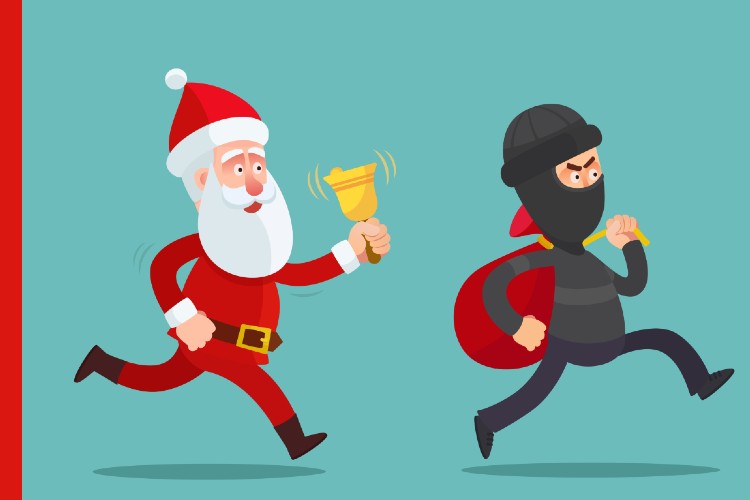 Our Fraud Prevention team will be busier than Christmas elves this year, working 24/7 to protect your money. But they need your help!
Each year scams and fraud increase over the festive season. Stay safe by looking out for these common scams and taking steps to prevent them.
This time of year is a great one for catching up with friends and family. Also make sure to share this information with them too.
#1 Online shopping:
Shopping online is a great way to avoid the crowds, but there are a few things we recommend to avoid getting duped or landing your credit card details in the wrong hands.
Tips to stay safe:
Purchase from established retailers.
Look out for offers that are too good to be true – this is a big red flag for a scam.
Visit the retailer's official website to confirm any specials or deals.
If you're shopping at an unknown or unfamiliar retailer, search for reviews outside of the retailer's site before going ahead with any purchases.
Check that the link is sending you to a website you recognise by hovering over it before clicking. Confirm the spelling of the URL is correct and what you are expecting.
We are also seeing a rise in scams on online marketplaces such as Facebook Marketplace and TradeMe.
Scammers can pose as both buyers and sellers, to try and scam you out of money, items you might be looking to sell online or your personal information.
Buyers may be tricked into paying for a product or service that does not exist or is never delivered. Sellers may be tricked into believing the buyer has paid in full, but later find the money was not paid into their account.
When purchasing at online marketplaces:
Don't rely on emails, texts or screenshots as proof of payment.
Always confirm the money is showing in your account before releasing goods.
Consider viewing the goods in person before completing the purchase.
Beware of unusual payment methods (such as cryptocurrency or overseas payments).
Reconsider trading if the seller's profile has been recently set up, if they have bad feedback, or limited friends or connections (depending on the platform).
Be wary if the seller applies pressure to complete the sale.
Look out for pictures or details that have been taken from other sites.
Be wary of any requests to complete trades or communicate off-platform or by means other than what is normal for that platform.
#2 Parcel delivery phishing
So, you've safely made your purchase and now you're eagerly awaiting its arrival. But you still need to be on the lookout as there has been a huge increase in parcel delivery text phishing scams. Unfortunately, they are more successful at this time of year as many people are expecting packages to be delivered.
The phishing texts usually contain information about a parcel that is due for delivery or a delivery that has been missed. The text contains a web link to track, reschedule or approve the delivery or pay a Customs fee.
Clicking the link could direct to a phishing site to steal your credit card details or prompt malware to be installed on your device which can be used to steal personal information and banking credentials.
Tips to stay safe:
Be wary of contact that is unexpected, whether by text, phone or email.
Avoid sharing personal information and contact details unless you can confirm there is a genuine purpose to do so.
Avoid clicking on links in emails or text messages. If you are awaiting a parcel delivery, contact the retailer or courier/ postal service directly to confirm any instructions.
Set up security alerts on Westpac One to keep track of online activity
#3 Investment scams
In the new year, people often start thinking about their financial wellbeing, which could lead to them to look at making new investments. Investment scams are on the rise and often result in large financial losses.
Due to the nature of investment scams, it can be extremely difficult to recover any funds once someone realises the investment is not genuine. If someone has made a significant financial investment, it can be very difficult for them to accept that it's not real.
People often think "just one more payment" and they will get what they were promised, but this is never the case.
Tips to stay safe:
Complete thorough, independent research on all investment opportunities.
Take time to consider what you have been asked to do and whether there is anything unusual about this opportunity.
Visit the Financial Markets Authority (FMA) website for information on the latest investment scams and how to protect yourself.
Be extremely cautious if the opportunity offers low or no risk and promises high returns.
Don't make payments or give out personal information for financial products or services that you have not sought out i.e., after being contacted through cold calls or unexpected emails.
Before making payments, confirm the payment account information (and other details such as the country the funds are going to) match the investment details.
If you are looking to invest, it's a good idea to seek advice from a qualified professional such as a Westpac Financial Advisor, who can help you make informed decisions.
#4 Romance scams
These involve a scammer claiming to be looking for love and/or a relationship. Scammers will steal images off social media and dating apps to build a believable and likeable character.
They take advantage of people looking for a romantic partner, friendship or relationship, by building up their trust and requesting access to their personal information or money.
Scammers use the festive season to exploit new people or to get more money from people who they are already scamming. They will always have a good reason for needing the funds, such as to help a sick family member, pay an outstanding bill or travel to be with loved ones.
Tips to stay safe:
Don't send money or provide personal or bank details to a friend or partner you have not met in person, no matter how convincing or urgent their story seems to be.
Take care when using dating apps or social media. Avoid sharing personal information online and with people you have not yet met in person.
Talk to a trusted friend or family member about who you are communicating with and what they are requesting.
Never agree to transfer money or goods on behalf of someone else.
Do a reverse image search of the person's pictures to see if they are associated with other names or social media profiles and if there are any details that don't match up – these are signs of a scam.
#5 Remote access scams
While our Fraud Prevention team are working hard this Christmas, guess what? Scammers will try impersonating them too! Remote access scams are used to gain access to a customer's computer or device, harvest personal information and access their bank accounts.
These types of scams are increasing as criminals try and find ways to get past banks' sophisticated fraud detection systems.
You might receive a call from someone claiming to be from a well-known business such as a bank, telco or government agency, asking you to download software to allow the caller access to your computer or device from another location.
The caller will have a believable story for this request, for example they may claim that your bank account has been hacked and they need access to help catch the hacker.
Tips to stay safe:
Be wary of cold calls from people claiming to be from your bank or another business or government agency.
If you are unsure if it's genuine, end the call.
If the caller claims to be from a legitimate entity (such as your bank), you can call back using the number on the official website.
Never share your online banking passwords.
Don't allow remote access to your devices or download software at the request of a caller.
If you have given someone remote access to your computer, or believe that your computer has been hacked, seek advice from a qualified and reputable computer technician.Various types of frauds and scams are on the rise. To help New Zealanders stay safe, Westpac maintains a list of latest scams and frauds.