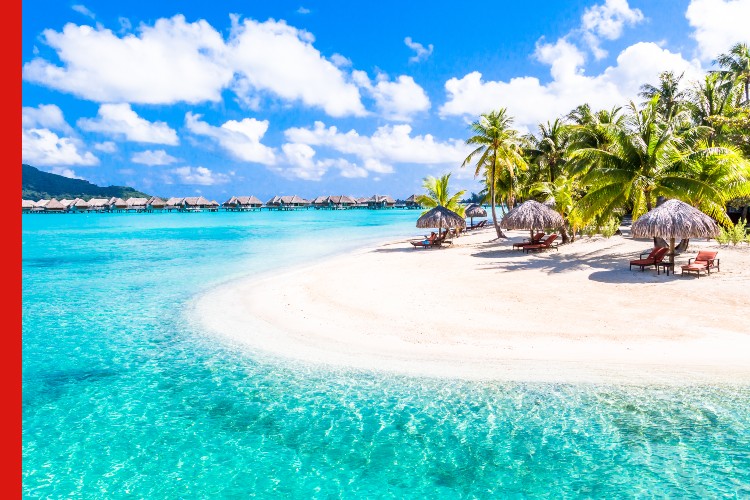 A travel expert who was made redundant in August 2020 has now resurrected her career as a travel broker and is slammed with business from Kiwis wanting to travel abroad.
"My first big booking in January was for someone wanting to go to South America for three months, which was my first realisation that travel was returning," Christchurch-based travel specialist Nicole Knapp said.
"Since then, I've had clients wanting to see family in the UK, visit the Pacific Islands, plan belated honeymoons and even someone who wanted to visit Mexico 'tomorrow'. One client also wanted to re-book their luxury trip to Africa that was cancelled with a credit valid until 2023," she said.
But now that international travel is back on the cards, Knapp says travellers need to be aware of the intricacies that have changed since last time most people went overseas.
REDnews sat down with Knapp and a travel insurance expert at AIG to find out the ins and outs of international travel in 2022.
What the travel booking specialist says
"It's quite a minefield trying to navigate current requirements in each location, so make sure you do your due diligence and keep your eyes on the destination you're traveling to, so you don't get caught out at check in or returning home," Knapp said.
With the ever-changing requirements for travel, Knapp says a travel broker or agent is more useful than ever before because they have their finger on the pulse and the resources to make last minute changes.
However, if you are booking your own flights and accommodation, here are her top tips:
Requirements for New Zealand and other destinations can literally change while passengers are in the air, so always keep up to date with the requirements of your destination.
Most airlines have comprehensive information available, so keep track of it.
Don't assume airlines are offering the same experiences they had prior to 2020 – many airlines have reduced their luggage capacity on standard routes, so double check all fine print.
Some airlines are increasing costs by 2% or more due to increased fuel costs and the fact that they have fewer aircraft in the skies.
While demand is surpassing the supply of flights, prices for long-haul flights could continue to rise in the short term.
Insurance is always recommended.
Knapp says she's never seen such a boom in travel demand like this in her 12-year career and advises people to have patience because some agencies don't have enough staff to manage the enquiries yet.
"The most popular destinations for Kiwis at the moment are England and the South Pacific islands," she said.
What the travel insurance specialist says
The global travel situation is still very fluid, so travelers need to be aware of the different restrictions and conditions that apply depending on where they're going.
"Travel insurance remains important to cover unexpected expenses if things go awry," Head of Group Personal Insurance at AIG New Zealand Matthew Abbott said.
"Normally, medical incidents are the cause of our most expensive overseas travel claims. Our policy has cover for emergency evacuation and medical expenses which are often the most difficult to manage, surprising in their overall cost, and the hardest to predict," he said.
All policies have their own terms and conditions, so Abbott recommends travelers carefully check the wording of their individual policies to ensure they are aware of what is and isn't covered. Booking flexible tickets with the airline is also an option to allow for last-minute changes or flight cancellations.
"Despite travel having decreased dramatically in the last couple of years we've still helped travelers when their overseas trips have gone wrong, from lost luggage to major surgery after snowboarding accidents.
"Due to all the uncertainty, having the support of a leading emergency assistance service is incredibly valuable and helps manage the pressure of those circumstances and co-ordinate incident response," he said.
Keeping track of your destination and travel documents
Air New Zealand's website has information on travel requirements and advises passengers to check updates regularly because they are subject to change.
Whichever airline you're flying with, make sure to keep track of their flight information.
When traveling internationally, the New Zealand My Vaccine Pass is not recognised overseas. Travellers need to request the International Travel Vaccination Certificate that meets the EU Digital COVID Certificate standards.
This certificate can be requested through the government website.
Many destinations will also require proof of a negative COVID test before traveling, as well as prior to your return flight to New Zealand if you're returning before July 31.
The New Zealand Government has said pre-departure testing to enter the country will be removed by the end of July 2022.
Foreign currency and payments
Nicole Knapp recommends buying your foreign currency before leaving New Zealand and picking it up from the airport on the day of your departure.
"In terms of cash, it's best to buy foreign currency before you leave New Zealand," says Knapp, travel broker with World Travellers.
There are some foreign exchange websites that allow foreign currency purchases online with a debit or credit card. The cash is then collected at your selected New Zealand airport on the day of your departure.
"Some providers let you order cash for your date of departure and exchange any left-over foreign currency back to NZD free of charge with the original purchase receipt," Knapp said.
Travellers are advised to research whether there are restrictions on how much currency can be brought into the country they intend to visit.
Foreign currency can also be purchased from a local bank branch.
"An alternative option is to get cash out via an ATM when you reach your destination, however this could potentially be more expensive than getting cash from a bank branch before you leave New Zealand," Westpac Chapter Lead Grant Penrose said.
"When using a debit or credit card to get cash out at an overseas ATM, the card scheme i.e. Mastercard or Visa, provides the exchange rate. The cardholder's bank will charge fees and the ATM provider may also charge a fee," Penrose said.
Penrose said splitting your travel budget across cash, debit and credit card could be the safest option.
That way you are not carrying too much cash in your wallet from a safety perspective, but you have enough security in case some merchants do not accept cards. If you are looking for a foreign ATM, it is also recommended to find one attached to a well-known bank's branch for increased security.
"Debit cards can be more advantageous than credit cards in the fact that you are using your own money to avoid interest charges. A lot of people do not have a positive balance on their credit card, in which case you would be paying interest on cash withdrawal," he said.
However, both debit cards and credit cards would use the exchange rate at the time of the transaction, which could fluctuate.
In contrast, a travel money card gives customers certainty by locking in a fixed exchange rate at the time of purchasing the foreign currency on the card.
"Customer preference between the debit card or travel money card depends on their appetite for certainty around the exchange rate. Both cards may have fees attached to withdraw money or make transactions," Penrose said.