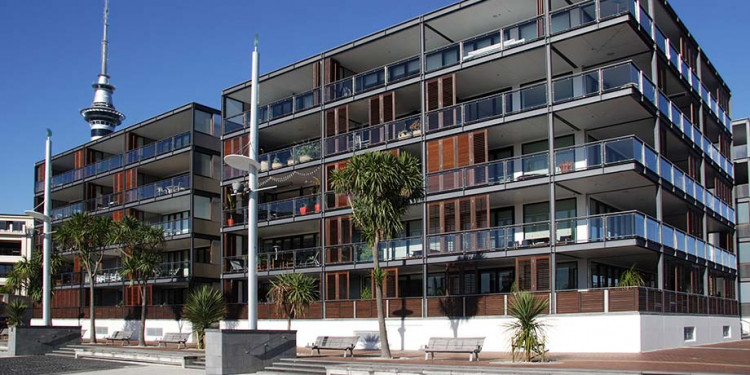 It's enticingly cheap and often in the most premiere parts of the city – but industry experts say purchasing leasehold property could have serious financial implications.
Core Logic estimates there to be roughly 17,000 leasehold properties currently in New Zealand with 5,660 located in Auckland (1,046 flats; 3,911 apartments; 591 houses; 112 residential other).
With banks being averse to lending on them, track records of exorbitant land rent hikes, High Court trails between owners and land vendors, as well as the Auckland and Queenstown Councils putting a bed tax on AirBnB vendors and charging commercial rates, the questions beckon – "Why would you want to own leasehold property?" and "What will happen to leasehold property in New Zealand?"
President of the Auckland Property Investor Association, Andrew Bruce, says it's the land rents that can be so unpredictable with leasehold, making it a significant risk.
"You've got a property cycle that works on a seven to 10 year cycle and history shows us that properties get close to doubling in that cycle. So if you've got a seven year rent review (on leasehold property), there's a potential that the land value could easily double meaning your outgoings will be doubling. It becomes a very significant number.
"People have got to be very, very aware of being tempted by, 'Wow, this is an amazing location, this doesn't look too bad of a price. You've got to be aware of all the facts.'"
In a recent article, The Guardian said leasehold property has become the number one concern for homeowners in the UK with a HomeOwners Alliance study claiming that many new homebuyers have been trapped by spiralling ground rents.
HomeOwners Alliance chief executive, Paula Higgins, said: "Unscrupulous players within the industry have turned what has been a form of tenure for centuries into a money-grabbing scheme that has left thousands of buyers across the country trapped in properties that are now essentially unsaleable.
"Leasehold houses, doubling of ground rents and unfair clauses are leaving homeowners in a nightmare situation and the government is clearly not treating the issue with the severity it deserves. These people need help and they need it now."


Leasehold owners in very hard situation
Banks also know the risks, and with a few exceptions, refuse to lend for leasehold property unless the buyer has a large deposit and substantial equity elsewhere.

Andrew says it's very tough to bring in legislation or regulation to stop major spikes in land rents with leasehold property.
"It becomes quite hard. How do you regulate something when they've already got a contract in place?"
He says it also becomes an issue on the flip side when selling leasehold property.
"It's a little bit like people that get caught with leaky apartments or buildings. Pretty much, if you're going to sell them, you almost have to sell to a cash buyer."


Real Estate agent: Leasehold market does still exist
But Sotheby's real estate agent, Pene Milne, says there still is a market for leasehold in Auckland but it's all in the way the vendor structures the outgoings.
Selling more high-end apartments in Auckland's upscale Wynyard Quarter, she says the psychology behind leasehold hasn't fundamentally changed over the decade or more she's been selling apartments.
"Yes the outgoings go up and they go up every seven years, and the capital growth isn't the same as freehold. But a person that would typically buy leasehold, views it on the basis of, 'Well, instead of putting $5million or $6million into a freehold apartment in the same or similar location, they'll pay say $1.75million and still have three and a quarter million that they'll invest in other properties that are growing in value or bringing in a large return for them.
"So it all works out in the wash for them."
She says lifestyle is a big factor.
"Once they live down there right on the water, they go, 'where else am I going to go?' I can never get this again."
She says some will own two and have one permanently rented out which brings in enough income to pay the Opex (Operating Expenditure Costs) on both apartments they own.
So there's all sort of different scenarios and it's all about meeting the lifestyle needs of people."
Pene believes it all becomes relative.
"People think, 'Well I can afford a $680K apartment, but I can't afford those outgoings so it's silly'.
"But it never was, in really true value, a $680K 100 square meter apartment on the waterfront with a car park."
She says investors buy these properties frequently.
"They use them as a base and where they can control rentals and do corporate rentals if it's not a permanent home and it's more a base.
"If the land rent was to go up significantly, it's not the big factor. They factor in what their outgoings or what their total package is going to be, and then they just work it out from there. Lifestyle is the driver here, not just the financial equation."
She does agree though that some leaseholds don't operate like this.
"If you were talking about leasehold across the board, that's a different conversation because there are examples, like the Scene 1, 2 and 3 Buildings on Beach Rd where values have somewhat dropped. It is a different conversation around how they would operate and how investors would structure them."