New Zealand's most eco-friendly hotel has just opened its doors in the centre of downtown Waterfront Auckland.
But how does a night in a 5 Green Star hotel differ from one without the eco-rating?
That was the question I set out to answer when I packed my overnight bag and checked into The Hotel Britomart.
Being wary of not adding any extra carbon footprint to the experience, I walked to the Britomart precinct (it's across the square from Westpac hq).
For guests who are not within walking distance, the Britomart Train Station, Downtown Ferry Terminal and multiple Downtown city bus stops will see you arrive at the Galway Street hotel entrance with ease.
The hotel also has its own collection of bicycles for guests wanting to discover Auckland on two wheels.
When I enter the hotel through its glass-paned double doors on Galway Street I am initially welcomed by an aromatic fragrance dancing through the air.
Kawakawa and green tea has been blended into a signature scent which is sprayed through the lobby, rooms and all public spaces to arouse the senses. The original mix has also been blended into a welcome tea, served on arrival.
Exposed brick walls and grand windows in the lobby are reminiscent of some of the trendiest hotels in New York's SoHo district.
I am greeted by hotel staff – all of whom are wearing organic cotton uniforms of course, which have been made by a Nelson designer.
The brick building that sits in the Britomart precinct and covers nine city blocks has a 5 Green Star certification from the NZ Green Building Council for its design and build process.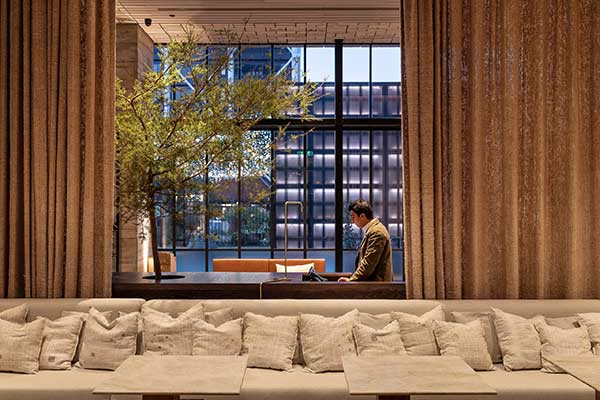 The building is made of 150,000 hand-made bricks and is home to 99 guest rooms as well as five luxurious large suites. The hotel sits alongside 140-year-old buildings in the precinct, but its contemporary design somehow fits in perfectly with its neighbours.
The concierge ushers me upstairs to my room while explaining the inspiration for the interior design – much of which has been influenced by The Landing in the Bay of Islands - a luxury lodge hotel, which is owned by the same company.
Peter Cooper, founder of Cooper and Company, is the California-based New Zealander who is responsible for the urban renewal and heritage restoration of the Britomart precinct and this hotel.
Cooper and Company, which is a Westpac business customer, own and manage the precinct, as well as The Landing – which is a thousand acres of farmland, coast and native bush alongside the luxury accommodation.
Photographs of native rock from the Bay of Islands location are displayed throughout The Hotel Britomart to showcase continuity between both sites and a passion for native heritage.
I enter my room – the City View Room – which overlooks Auckland's downtown skyline from the ninth floor.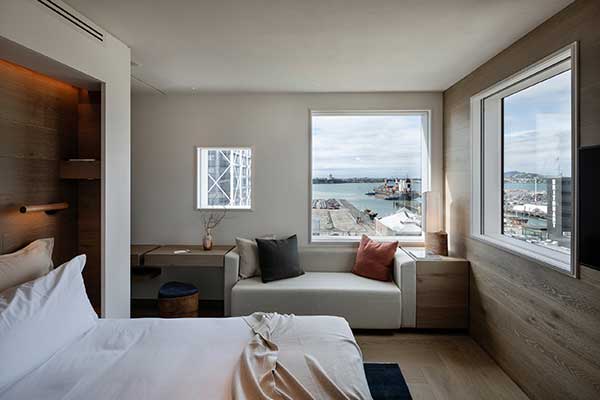 Native timber lines the walls, floors and shelving, which are decorated with hand-made ceramic vases, made by local artisans. The room exudes warmth and a feeling of nature, despite being in a 10-storey city building.
The New Zealand super king bed is the dominant feature of the 22 square metre room, which features organic cotton linen and pillows made from recycled plastic bottles - a feature that thankfully does not compromise on comfort.
Although the architecturally designed rooms (designed by Cheshire Architects) are not large, with the exception of the luxury Landing Suites, the idea of the hotel is to work in conjunction with the features of the whole Britomart precinct. Therefore, everything you need is literally on your doorstep, whether that's a café, restaurant, bar or designer boutique shop. You only need to step outside to Galway Street to have everything at your fingertips – or order room service from any of the restaurants.
Once I settle into my room, turn on the 49" Samsung TV and check out the locally curated mini bar, I decide to freshen up for the evening ahead.
I slip into the 100% organic cotton bathrobe and slippers and discover the organic hair and skincare products from Sans[ceuticals] sitting in the green-tiled bathroom.
The bathroom in fact, is one of the only hotel-features that is noticeably different due to its eco-status.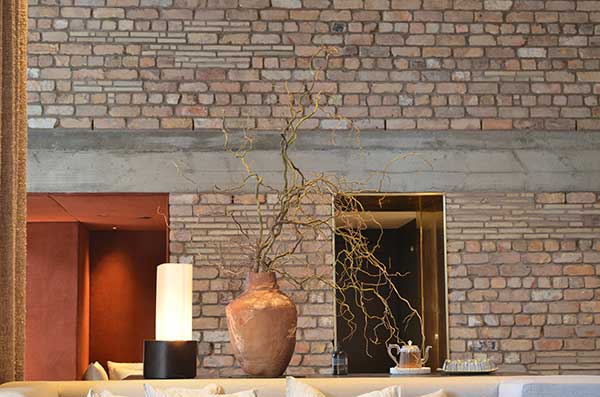 If you're someone who enjoys strong water pressure in the shower, then this is one feature that might disappoint. Guests are also encouraged to reuse their bathroom towels and bedlinen, rather than have them washed them daily. You also won't find any throw-away single use hotel toothbrushes or plastic-wrapped soaps.
Low water-flow systems are one of the features of the hotel that make up its Green Star rating, as do the LED lights, low or zero emission materials in the interiors of the rooms, insulation, double-glazed windows, efficient air controlled systems and window placement.
In fact, due to the window placement, extra lighting is not even needed until the sun sets across the city of sails.
Despite a low-flow shower, my skin still feels rejuvenated from the Sans[ceuticals] products and I'm ready to explore Britomart after dark.
I recommend making dinner reservations before you check into the hotel, because no matter which restaurant takes your fancy in the Britomart precinct, finding a table last minute is near impossible – especially on a Friday night.
Amano, Ortolana, Café Hanoi and XuXu are all within a two-minute walking distance from the hotel and then there is of course Kingi, which is part of The Hotel Britomart building.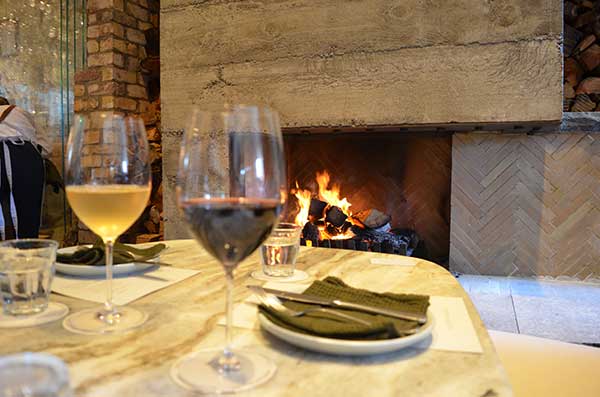 I take a seat next to the open fireplace at Kingi for a glass of The Landing Wines' Syrah – one of the boutique vintages from Peter Cooper's vineyard in the Bay of Islands. The wine is both full-bodied and peppery – perfect for a cool October evening by the fire. The bar has an extensive wine list and serves a special blend of Pinot Gris from the barrel, which is served on tap.
The natural décor is extended through Kingi, where the bar countertop is one large piece of Kauri that has been polished into a bar top. Recycled glass bottles have been sculpted into a fish-inspired light feature hanging from the ceiling. That is of course because Kingi (short for kingfish) is a seafood restaurant that serves a sustainable menu.
Kingi was founded by Tom Hishon and Josh Helm – the owners of Orphans Kitchen in Ponsonby – to create an all-day eatery in the cobble-stoned laneway of Galway Street.
Without a reservation, trying to get a last-minute table for dinner at Kingi is a challenge. Although room service is available, I decide to head next door to Café Hanoi where they squeeze me in at the bar for a quick bite. But seeing as Kingi is open all day, I would be back for breakfast the following morning.
When I return to my City View room, I say goodnight to the Auckland skyline by closing the electronic blackout curtains and jump into the super king bed.
Despite the central city location on a Friday night, I am barely disrupted by street noise and manage to get a full eight hours of peaceful sleep before I wake. It's as if this cocoon-like room is a city retreat in the heart of Auckland.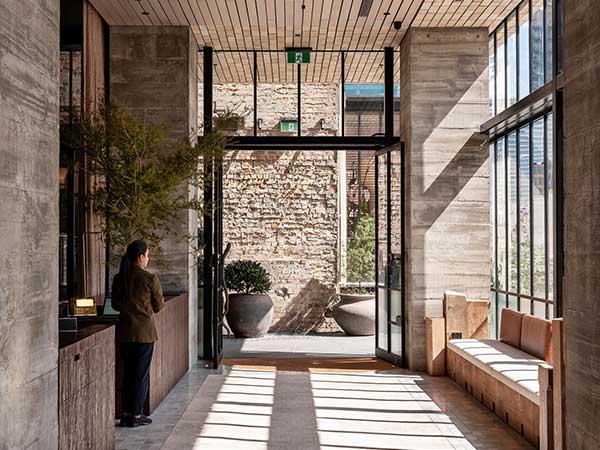 I finish my stay with breakfast a la carte at Kingi – where the croissants rival Amano's and the poached eggs on sourdough toast are naturally salted with sustainable anchovies and a sprinkle of chives and chili.
So, how does a night in a 5 Green Star hotel differ from one without the eco-rating?
My conclusion is that apart from the low-flow shower, it doesn't feel any different at all. Therefore, I hope other hotels join the 5 Green Star rating because The Hotel Britomart proves that luxury can remain high while the carbon footprint remains low.
What gave The Hotel Britomart a 5 Green Star rating?
Environmentally friendly building materials were used in construction.
Construction waste-to-landfill was minimised and recycled where possible.
Energy efficient air-controlled systems and energy metering are used.
Building features insulation, double glazed windows and LED lighting.
Low or zero-emission materials were used for hotel interiors.
Low water flow systems in bathrooms.
Accessible public transport creates sustainable travel routes.
5 Green Star accreditation granted from the NZ Green Building Council.
Room prices at The Hotel Britomart range from $279 to $499 per night on average depending on peak or off-peak season (Breakfast not included).
The luxury Landing Suites range from $1,575 to $1,895 per night on average depending on season.
*Special packages and corporate rates available.
Guests get 15% off plus a $50 Black Card to spend in any of the retailers, bars & restaurants in the Britomart precinct per night of their stay.
Read more about New Zealand's Green Star rating system on NZ Green Building Council's website.