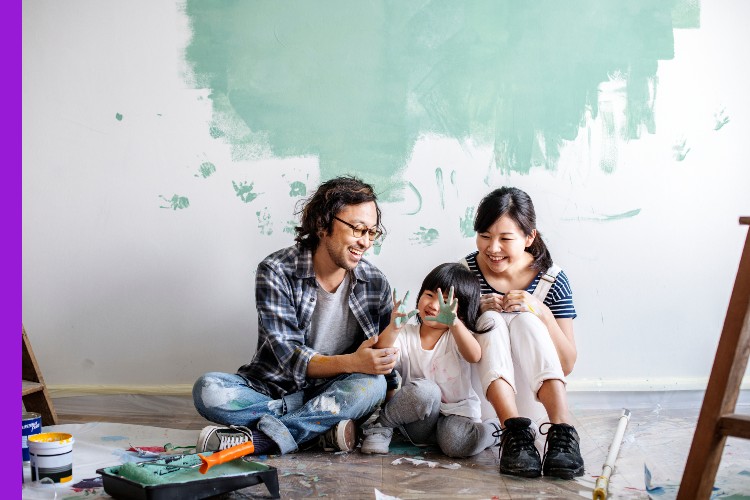 Your house might be in a brilliant location, but it just doesn't work for the way you live.
Perhaps you have a growing family, a parent moving in, or you're now working from home – sometimes you're in the right spot but not the right house.
To turn your current house into the home you want, you can undertake major renovations: extending out, building up, or completely reorganising your interior layout. Or you can go the whole hog: knock the house down and build a brand new one. Although a new build is usually more expensive, it comes with some major benefits, too.
What should you think about if you're weighing up this decision?
Renovating should be less expensive
Building new and renovating will both cost you around $3000 per square metre, so the more you build, the more it costs. A renovation should be significantly cheaper than a new build, although you'll also need to make more compromises to work around the existing part of the house. This can be the best option if you're short on cash or you're in a really special house.
"Sometimes your budget will be so small that renovation is your only option," says Brooke Cholmondeley-Smith, Director of Tawa Architecture & Design. "Other times you choose to renovate because the house has good bones and character elements that are worth retaining. If the fundamentals are right – if the entrance and garaging work well, if the kitchen is on the right side of the house, if it's light – then it's worth keeping those homes alive."
If you do choose to renovate, you'll need to be flexible on the budget and expect a few surprises:
"Decayed cladding that turns out to be worse than you could see from the surface, inadequate structural bracing, meeting new earthquake codes – there's quite a long list of what can go wrong on a renovation and cause costs to skyrocket. Also, once you see a nice new bit of the house, it can highlight the problems with the old parts; you can end up spending a fair bit of money."
The situation you really want to avoid is when your renovation becomes as expensive as a new build. This is not as unusual as you might think. All it takes is an overly optimistic starting price, a few nasty surprises uncovered along the way, changes of mind throughout the process and a loose hand on the purse-strings. Suddenly you've spent as much as the price of a new build, but you've missed out on all the benefits. Instead of a new, energy-efficient home, you've got a series of compromises and an enormous home loan.
A new build has some long-lasting benefits
Starting from scratch means you can get want you want with fewer compromises, although it is costlier. A knock-down-and-rebuild means you're adding the whole cost of the construction to your existing mortgage, which can be a bridge too far when prices are so high. On the plus side, though, there's a much lower risk of variations and nasty surprises so you should have some cost certainty from the outset.
"You may be better off rebuilding if your house is reaching its use-by date," Cholmondeley-Smith says. "You can make yourself a home with performance locked in that will last for many generations, one which matches how you want to live."
With some thoughtful planning and the right team, you can achieve a beautiful new house, with spaces that work for your lifestyle, a layout that optimises the position, and energy-efficient design.
Start by talking to council, an architect and a builder
If you're facing this kind of major decision, get some expert opinions, Cholmondeley-Smith recommends. Start with your local council, so you have an idea of what's permissible. Then speak to an architect for inspiration and a fresh approach, and a builder for a pragmatic approach to problem-solving.
"Get super organised, bring your Pinterest boards, write down the issues you have with your existing home – be clear on your parameters so you get the home you want."