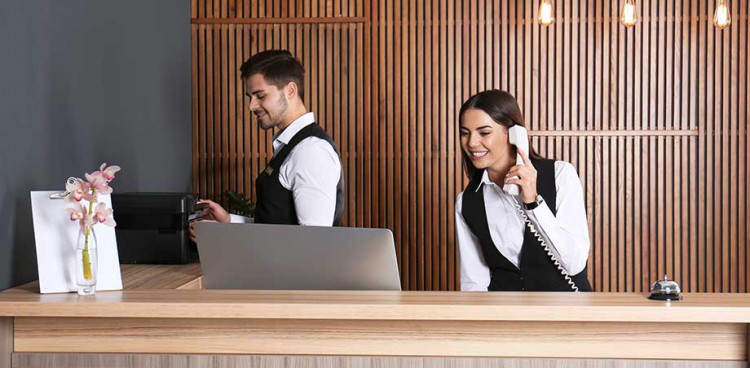 Refund fraud begins with an order placed using a stolen card. The order is later cancelled and money is returned to a different account controlled by the fraudster.
This type of fraud targets all types of businesses but Westpac's Fraud team having recently been seeing an increase in the hospitality industry, in particular.
Westpac Payments Tribe Lead John Forrester says it's important that any time you hand over goods, services or a refund to a customer, you have robust processes in place to protect your business from fraud.
"Businesses not only need to be vigilant during the initial transaction process, but also be aware that fraudsters will try their luck during the returns process too."
How it works.
The fraudster will email or call the business to make a booking or order goods. Their order may be larger than usual, and they may ask to split the payment between different cards.
The fraudster will then contact the business to cancel the order. The reasons for cancellation could vary from health reasons to being unable to travel, or any other reason.
The fraudster will then ask for the refund to be returned to a different card than they originally provided. They may have an excuse for this such as: "My card has been lost/stolen and there's a block on the card". They may also request for the refund to be transferred through a telegraphic transfer (TT) or an online money transfer service like Western Union.  
After noticing the unusual transaction, the rightful cardholder will notify their bank and a fraud-related chargeback will be initiated. If the chargeback is successfully processed, the funds will be recovered from the business and returned to the cardholder. The result is that the business suffers financial losses and potential reputation damage.
Fraudulent booking stopped in its tracks.
Forrester says a Westpac-banked business recently received a booking request through an online booking website. The booking was for an unusually large amount and made with a card issued in another country that was under prolonged lockdown due to COVID-19.
Fortunately, the business had robust fraud prevention processes in place and alerted their bank to this suspicious activity. The card was declined, and a potential fraud attack prevented.
Protect your business from refund fraud:
Don't split payments between several different cards.

Always process refunds back to the original card that you took the payment from.

Refunds can be made to lost or blocked cards.
Your merchant bank can help you with processing the refund to the original card.

Make sure you have policies or processes in place that meet merchant bank requirement.

Conduct regular staff training so that they can identify red flags such as:

purchases coming through at an unusual hour; payment being split between multiple cards; payments for an out of the ordinary large amount; email address changes throughout correspondence; customer requests to correspond via we-chat or other messaging services; name of customer not matching the email address; customers placing staff under time pressure for refunds.

If you're unsure whether the transaction is genuine, don't process the card.

Make a note of the person who contacted you and the name on the card, then contact your merchant bank.
What to do if you've been scammed.
If you suspect that your business has fallen victim to a refund fraud scam, contact your merchant bank straight away. They will advise you on next steps.
We also strongly recommend that you report the incident to the appropriate authorities. They'll be able to provide advice and use the information to help prevent future attacks.
File a police report.

Report scams and fraud to Netsafe.
Various types of frauds and scams are on the rise. To help New Zealanders stay safe, Westpac maintains a list of latest scams and frauds.
Things you should know. All intellectual property in this document, any trademarks or brands represented in this document or on systems, services and products described in this document are the property of Westpac. Nothing in this document will transfer or shall be deemed to transfer title to that intellectual property. The content of this document is intended for information purposes only and you should use your own judgment regarding how such information should be applied in your own business. We make no warranty or representation, express or implied, regarding the accuracy of any information, statement or advice contained in this document. We recommend you seek independent legal, financial and/or tax advice before acting or relying on any of the information in this document. All opinions, statements and analysis expressed are based on information current at the time of writing from sources which Westpac believes to be authentic and reliable. Westpac issues no invitation to anyone to rely on this material.