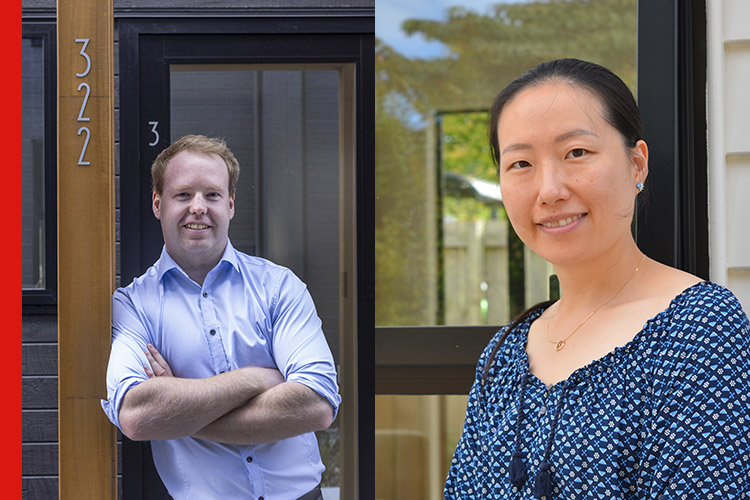 A shared equity scheme unveiled by Kāinga Ora late last year is already providing an accessible path to home ownership for Kiwis struggling to save a 20% deposit.
The First Home Partner scheme administered by Kāinga Ora supports Kiwis to purchase their first home by combining a buyer's minimum five percent deposit with an equity contribution from Kāinga Ora of up to 25% of the purchase price or $200,000 - whichever is lower.
They can then apply to Westpac for a home loan for the remaining portion to buy a new build or off-the-plans property (standard terms, conditions and eligibility criteria apply).
Since it launched in October, over 400 people have been confirmed as eligible to purchase their first home through the scheme, which means they are ready to search for a property and progress towards approval.
In addition, over 2,500 people have started the application process.
Kāinga Ora Manager of Home Ownership Products Jason Lovell said getting more New Zealanders into their first home is a collaborative effort.
"As one of the first lenders to support the First Home Partner scheme, Westpac is clearly committed to working toward better outcomes for first home buyers and we appreciate their support," he said.
REDnews spoke to two of the buyers who have already purchased with the assistance of First Home Partner.
Here's what they said about their experience:
Christopher, aged 29, bought a one-bedroom Christchurch townhouse for $499,000
Christopher, a solicitor, was living at home with his family to save for a deposit when he heard about the First Home Partner scheme.
Kāinga Ora had emailed the Christchurch law firm he works for to inform property lawyers of the scheme so they could pass the information onto their clients.
"I read through it and thought it was actually a great opportunity for me to purchase my first home," Christopher said.
"I thought it was great because it lowers the bank lending you need, takes the pressure off the debt servicing and makes it less of a financial burden to buy a property," he said.
The 29-year-old made some enquiries and found a suitable property.
He found an opportunity to take over a contract on a new build that was no longer able to be settled by the initial owner.
"I first went through the process of applying for the First Home Grant and bank lending. I then liaised with Westpac because they work in partnership with Kāinga Ora's First Home Partner scheme.
"I made an application for a low deposit home loan through one of Westpac's Mobile Mortgage Managers and set up a banking arrangement.
"The process through Westpac was straight forward. They were very helpful and let me know what I needed, and they made the process easy," he said.
Christopher purchased an off-the-plans turn-key new build, which saved the original owner from defaulting on the contract.
"The price had previously been set at the beginning of 2021, so, I got the one-bedroom townhouse in central Christchurch for $499,000. It's now valued in the mid-to-late $500,000s," he said.
The solicitor moved into his new home at the beginning of 2022 and says he loves having his own space.
"The townhouse is very warm, cheap to run and requires barely any maintenance," he said.
Christopher says he would recommend the scheme to anyone, likening it to having a student loan.
"It leaves less of a debt burden."
April, 36, bought a four-bedroom house with her partner in Papatoetoe for $1.14 million
April and her partner had been wanting to buy a family home for years but were struggling to save a 20% deposit.
That all changed in late October when she saw the new Kāinga Ora scheme in the media and thought it would be a great way to breach the deposit gap.
By using a combination of savings, KiwiSaver and the First Home Partner scheme, they could finally buy a home.
"The procedure is quite easy to follow online," April said.
"I submitted my application through the Kāinga Ora website. They let you know what else you need once you have submitted your documents and then they give you a pre-approval.
"I then contacted Westpac and really enjoyed the experience and support from them through the process. Once I got a mortgage pre-approval from Westpac, I sent that letter back to Kāinga Ora and then they inform you what price range you can afford," she said.
On Christmas day 2021, April found a property that fit the purchase lending amount and she and her partner submitted an offer.
The offer of $1.14 million went unconditional in mid-January and they moved into their standalone four-bedroom house in Papatoetoe in February.
"It's lovely and we have that settled feeling of knowing that we own our property. We really enjoy our home and now we don't need to worry about house prices going up or down anymore. We plan to live here for a long time to come," she said.
April has already recommended the scheme to three friends and hopes more people can use this system to make their housing dream come true.

Strong interest in First Home Partner
Kāinga Ora Manager of Home Ownership Products Jason Lovell said they were seeing strong interest in the scheme, which is making a positive difference.
"For us, the greatest form of feedback has been standing with purchasers outside their new home and seeing how proud they are of the property.
"Throughout the period of shared ownership, we will meet at least annually with the household to support them to achieve the goal of buying out the share owned by Kāinga Ora and becoming a full homeowner," he said.
Westpac NZ Acting General Manager of Institutional and Business Banking Andrew Bashford said the shared equity model has the potential to bring the home ownership dream within reach for many more Kiwi families.
"This is a great example of businesses working together with government to offer greater opportunities for our customers," Bashford said.
Details of the First Home Partner scheme:
Homes eligible for First Home Partner must be: a 'new' home, which means that the home is a new build that has not been previously occupied and has received a Code Compliance Certificate within the previous 12 months; or a home off the plan which means that you are purchasing a new home before construction has been completed; this must become your primary place of residence for at least three years.
Kāinga Ora will confirm how much they will contribute towards purchasing the home once you receive your pre-approved home loan from the bank.
Under the scheme, Kāinga Ora will take an ownership share of the home that does not incur fees for the first fifteen years and supports the new household to purchase the share back over time and become full homeowners.
Any improvements or renovations to the home require approval from Kāinga Ora.
You must have a total household income before tax of no more than $130,000 and have a good credit rating.
You will need to meet the lending requirements of a participating bank to receive a home loan and be able to contribute a minimum of 5% of the purchase price of the home.
For more information on the scheme go to Kāinga Ora's website.