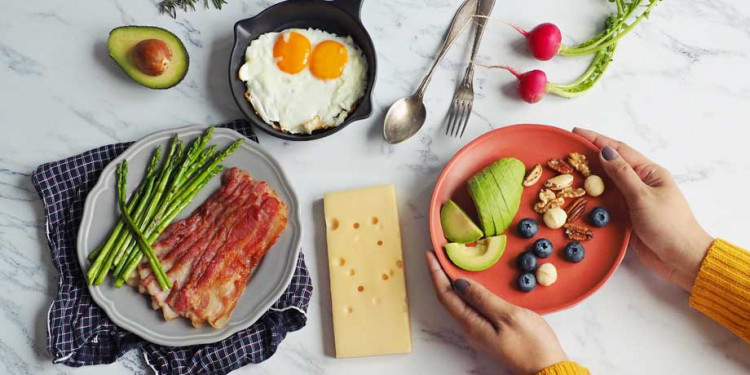 Study found the ketogenic diet improved daily function in Alzheimer's patients.

Quality of life also improved on the keto diets.

Keto diet did not have statistical or clinical significance in regards to cognition.

50% of patients in trial intend to continue their keto diet.
The ketogenic diet can improve daily function and quality of life for people living with dementia and Alzheimer's symptoms, a New Zealand study suggests.
The world's first randomised ketogenic dietary study investigating the diet's effect on Alzheimer's disease took place at Waikato Hospital in 2019 and 2020, led by neurologist Dr Matthew Phillips.
Westpac sponsored the Dementia Auckland Symposium in 2019, where Dr Phillips talked about diet and dementia as he embarked on his new research.
Dementia affects two out of three Kiwis and is a cause important to Westpac, New Zealand's first dementia friendly bank.
The study involved 26 participants aged between 50 and 85 years old with mild Alzheimer's and their study partners, who were typically their spouse, to support the process.
Participants were split into groups, half spending 12 weeks on a keto diet, the other half on a control diet using low fat recipes, they would then have a washout period for 10 weeks – going back to their pre-study diet. The groups then flipped, so the second group did the keto diet while the other group went on the low-fat diet, all while having their blood glucose levels measured daily.
While on the keto diet, patients achieved sustained physiological ketosis.
Dr Phillips spoke to REDnews after releasing his findings.
"The whole study took 40 weeks, including the washout diets in-between, and then we looked at three main outcomes – cognition, daily function, and quality of life," Dr Phillips said.
"Research had shown us that daily function and quality of life was valued highly for Alzheimer's patients, so we wanted to study this on top of cognitive function.
"We found that daily function and quality of life improved both with statistical and clinical significance with the keto groups.
"We measured daily function and quality of life using well-validated, Alzheimer's specific questionnaires, which asked questions about activities relating to daily function (such as walking, getting dressed, preparing meals, and shopping) and quality of life (such as physical health, energy, family, and relationships).
"In terms of cognition, we did not find statistical or clinical significance from keto.
"Then we looked at cardiovascular risk factors from the keto diet and found the diabetes marker (HbA1C) went down, high-density lipoprotein (HDL) cholesterol went up, triglycerides did not change but trended down and the low-density lipoproteins (LDL) slightly increased. However, we do know that ketosis does increase large buoyant LDL that doesn't cause disease in arteries. It's the small dense LDL that is dangerous," he said.
What happens now?
"You can never change clinical practice with the results of one study, you need numerous studies," he said.
"I'd like to see more research on this area of metabolic health in brain function, so hopefully these positive findings from our study are encouraging enough to stimulate other research to take place on the subject," he said.
The relationship between metabolic health and brain function is significant because brain energy metabolism is impaired in Alzheimer's disease – which may be mitigated by a ketogenic diet, the study hypothesised.
Dr Phillips says one of the appealing factors of this type of study is that it's self-empowering for patients involved because they are making these dietary changes themselves.
It's also a very cost-effective study style, with the entire trial only costing $25,000 to undertake - a fraction of the cost of pharmaceutical studies.
Patients bought their own food and Dr Phillips' team of nurses, dietitians, nutrition specialists, and medical specialists supplied online videos and supportive education for trial participants.
The $25,000, which was paid for by a study grant, was mainly spent on monitors for blood glucose strips to measure participants' blood each day – in order to track ketosis.
The study concluded, "Ketogenic diets may hold promise as viable and effective treatment strategies in Alzheimer's disease, but larger and longer studies are needed before this can be stated with confidence".
What is a keto diet?
A keto diet is very low-carbohydrate, high-fat regime that puts your body into a metabolic state called ketosis.
"Ketogenic diets induce metabolic changes throughout the brain and body which are in many ways similar to those induced by fasting, which can improve neuron energy production by stimulating mitochondria growth and efficiency," Dr Phillips says.
"The ketones produced from the ketogenic diet are also utilised by the neurons as an 'alternative fuel' in addition to glucose, which can improve their energy production.
"To me it's about the neurons needing a lot of energy and they don't have it in Alzheimer's, so if you repair the energy problems in these neurons, then maybe we can help them function better and improve the symptoms of the disorder at its core," Dr Phillips told REDnews in 2019, before the trial had started.
"Current Alzheimer's medication gives people a small symptomatic improvement that lasts about 12 months but then they're often 'back to where they started'. It masks the symptoms but doesn't cure the problem," he said.
Dementia affects over 50 million people worldwide, according to The World Alzheimer Report from 2019. The majority of people with dementia have Alzheimer's disease, resulting in progressive cognitive and functional decline, the study stated.
At the end of the trial, 50% of patients said they intended to continue the keto diet post study.
We are a dementia friendly bank — if you need help and support talk to our staff who are trained to help you:
Around 50,000 people living with dementia in New Zealand
The risk of being diagnosed with dementia increases with age, but approximately 1,000 of these people are under the age of 65
In New Zealand, two out of every three people are affected in some way by dementia*
These numbers are expected to triple by 2050.
*Survey conducted early 2014 (Alzheimers.org.nz)