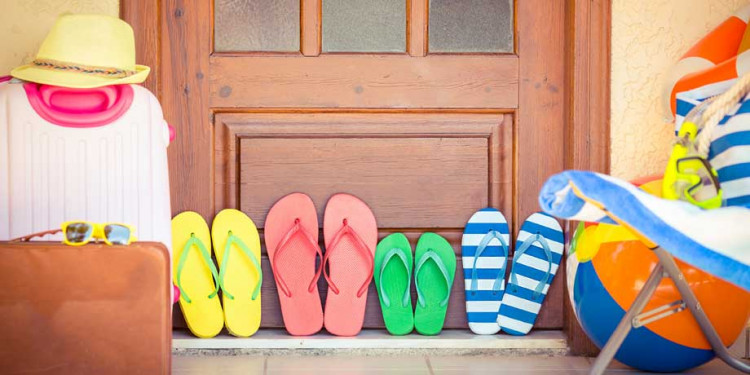 A family holiday home is an essential part of the Kiwi dream, but is it really a smart financial move to buy one? Can you buy a holiday house that is also a good investment?
REDnews looks at the pros and cons of holiday homes.
Can you pay the mortgage?
In order to afford a holiday home, you need to have a good income and the ability to pay the mortgage. Your bank isn't interested in unreliable rental income when it comes to calculating your servicing ability, says Squirrel chief executive John Bolton.
You will need to be able to show that you can afford to pay the mortgage using your own disposable income.
Bolton says most of his clients who buy holiday houses are Aucklanders with high incomes and houses with very high home equity levels, who can service debt levels of up to $800,000.
If you do have the deposit and you can service the mortgage, you can buy a bach on an interest-only loan. Combine this with optimal rental income, and it's possible – not easy, but possible – for your holiday house to cover most of its mortgage costs. To do that, you need to buy the right property, at the right price, and work hard to maximise your rental income.
How much can you make by renting your bach?
Renting out your holiday home can bring in a serious amount of money each year for owners who get it right – not enough to cover all the costs, but coming close to breaking even.
You will need to present your property beautifully, create an appealing listing, price it right and make it available during the peak periods.
According to data from HolidayHouses.co.nz, New Zealand's most popular properties are those in holiday hotspots close to major metro areas: the Coromandel, Bay of Islands, Wairarapa and Queenstown are all sought-after.
The places with the highest asking rates (the nightly 'from' price) are Queenstown, Auckland, Rotorua, Hawkes Bay and Northland.
If you want to buy a beach house that will make as much money as possible, you should choose either an all-year-round location, like Queenstown or Taupo, or a cheaper area with strong seasonal appeal, like Ohakune or Gisborne, says Rich Carey, marketing manager for Bachcare.
You can buy a three- or four-bedroom property in Ohakune for $200,000 to $350,000, he says, and expect to rent it out for at least 60 nights during the winter, at an average rate of $225 to $300 per night. That's an income of around $16,000, or about $1,300 a month spread across the year. While that sum won't cover all the property's costs (rates, maintenance, insurance, amenities, agents' and listing fees), it would cover the $1,000 a month you would need to service an interest-only mortgage*.
Eastland (the region around Gisborne) is another good bet if you're looking to maximise your income, according to Daniel Bridges, TradeMe's head of satellite businesses including HolidayHouses.co.nz.
Eastland ranks 6th on the site's nightly rate rankings, and 6th for number of enquiries per house, but it's much cheaper than other popular spots – 4th cheapest on TradeMe Property's price index.
For all-year-round appeal, this well-presented three-bedroom house in Taupo was occupied by renters for 158 nights during 2014, at a minimum rate of $160 and usually for much more.
A Queenstown apartment may also provide a relatively good return, with mid-range apartments selling for around $350,000 to $500,000 and renting for about $250 per night. Queenstown properties listed with Bachcare usually rent out for 90 to 120 nights per year, so again, you could potentially cover your mortgage**.
What about building a holiday home?
With coastal sections so affordable, it could make sense to build a spec home. New houses are among the most appealing for renters, with double glazing, full insulation and energy-efficient construction.
"We recently built two houses in a popular beach spot up North, beautiful little summer baches with three bedrooms, two bathrooms and decks," says Barry Walker, area sales manager for Keith Hay Homes.
"It cost $200,000 for each build, each section cost $160,000, and the owner sold one for $600,000 and kept the other one. He's got two more on the go right now. The beach bach market is a huge market for us, and a lot of people turn a quick buck on a holiday home."
Transportable homes, soon to be available with split delivery, make it easier than ever to build on tricky sites with narrow driveways and steep terrain. Alternatively, house and land packages, with favourable financing terms of up to 90%, are available from $400,000 in areas like Tairua on the Coromandel Peninsula.
But before you buy a section, says Walker, you need to talk to a building company: "You can get a really cheap section, but then you can't get resource consent because of the slope, or the developer won't sign off on your plans. Sit down with a builder and work out if you can actually put a house on it."
Sacrificing your own holiday
There's an obvious downside to making your holiday home available as much as possible: you can't use it during the peak periods. Depending on its location, this may mean not staying in your bach during the school holidays, the Christmas and New Year period, and major holidays like Labour Weekend and Easter – essentially, all the times you most want to use it. Most owners try to compromise by booking it out for their own holidays first, then leaving it free the rest of the time to see what extra income they can make.
There are other non-financial factors to weigh up, too. It's common to find you use your holiday home less frequently than you planned to, leaving you feeling guilty, and obligated to go there whenever you need a break.
Buying a bach may also leave you with less money to spend on more glamorous overseas holidays – Bolton's done his sums and he says he can easily rent holiday homes in different locations for two or three separate trips each year, all for the same price as owning and maintaining a smart beach house.
Plus, don't forget the cost of furnishing your holiday home. If you want to get as much rental income as possible, you'll need to furnish the property to attract the maximum number of holidaymakers. Your old worn-out furniture and mismatched bedspreads will not cut the muster.
Packing light and having fun
There are definitely some upsides, though, according to the owner of this holiday home in Turangi. She and her brother went halves on the house, which cost around $400,000, and is located halfway between Taupo and Whakapapa ski field.
"It's really good in that we can just leave our stuff there, even our dressing gowns, so we don't have to pack so much, and I love that," she says. "Everyone knows where we are, so it's a really social time over summer; I just have to keep the fridge and pantry stocked and people call in all the time."
Does she make any money? Not really. When she first bought the house 5 years ago it did rent regularly, but the owner admits that she hasn't spent any time making the listing more appealing – with 3 young children she's just too busy. Because the house has no mortgage, and the family uses it over the most popular periods, renting it hasn't been a priority.
"We have to put in about $150 a month to keep it going," she says, "and the occasional rental income we do get helps the bach to wash its face. But we'll be there for 18 nights this summer, and probably also in the school holidays during the winter. If we had to rent somewhere else it would be expensive, so it's paying its way if you think of it like that."
Will it increase in value?
Most Kiwi families have stories of the old bach in Russell that granddad bought for $5,000 that would now be worth a fortune, if only he'd kept it. But don't be fooled into thinking that you'll get rich with your coastal beach house. Unless you buy a house (not an apartment) in an extremely popular and commensurately expensive area like Omaha or Queenstown, it's unlikely you'll see any significant capital gains.
"You've got to remind yourself that there's no scarcity of coastal land," says Bolton. "Property investors love to say that property prices double every 10 years, but outside Auckland and Christchurch that's not really been true. In real [adjusted for inflation] terms, prices in lots of coastal areas have been falling."
Clients who have been buying holiday homes through Squirrel are sometimes amusingly apologetic, says Bolton, because they know they're not making a great investment decision; "But a beach house is part of the Kiwi dream. Own your house, own a holiday house, have a nice car, have a boat: once you've achieved all those things you're a successful Kiwi!"
Whether or not a holiday home is a good investment comes down to the value you place on the convenience and familiarity of your own bach, and how you like to spend your holidays.
It's only a money-making enterprise for the most dedicated of owners; for everyone else, it's a matter of adding up the costs, thinking about the advantages and deciding whether you want to own a little slice of the Kiwi dream.
*Assuming a $200,000 (80%) interest-only mortgage on a $250,000 property, at 6% interest.
** Assuming a $320,000 (80%) interest-only mortgage on a $400,000 property, at 6% interest ($1,600 per month) renting for 90 nights per year at $250 ($1,875 per month income).