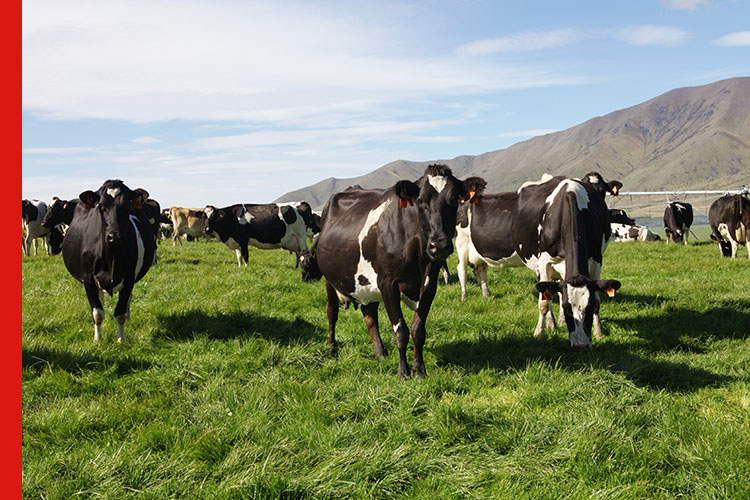 In the absence of tourism, agriculture is New Zealand's largest industry and despite lockdowns, the sector has proved its resilience with record high commodity prices.
"The importance of food production has been highlighted by governments around the world ever since the pandemic first broke out," Westpac NZ's Senior Agri Economist Nathan Penny said.
"People still need to eat and that means food demand is stable, from horticulture, to dairy, to meat, and exporting is essential to make sure the world has access to food.
"In New Zealand farmers are still farming, transport companies are still working to get food to the supermarkets and food is prioritised at ports along with medical items as priority goods that can jump customs queues," Penny said.
So, how have Aotearoa's farmers worked around Covid restrictions? REDnews spoke to some of Westpac's agri-business customers to see how they're doing.
Livestock Improvement Corporation (LIC) is an agri-tech and herd improvement co-operative, and the country's largest supplier of artificial breeding services.
The majority of New Zealand dairy farmers rely on LIC to impregnate their cows each spring. During this time, LIC collects, processes and dispatches up to 100,000 straws for artificial insemination (AI) each day. The co-op simultaneously tests for animal health, milk quality and DNA parentage; its workforce almost triples to 2,000 people nationwide to deliver these services, with most of the seasonal staff working in their facilities and labs in Hamilton.
"The business really kicks into overdrive from 1 September until Christmas," LIC Chief Executive Wayne McNee said.
"It's a huge time for us and our farmers, and it is really critical we continue to deliver. We are fortunate that many of our services are deemed essential and can continue to operate during lockdowns - but that comes with a big responsibility to keep our staff and farmers safe.
"When the August lockdown hit, we had already planned to be operating very differently this spring, with staff wearing PPE throughout our laboratories," he said.
Under Alert Level 4, LIC quickly implemented heightened safety protocols including masks, physical distancing, hygiene requirements, temperature checks, split shifts and workplace bubbles to limit exposure between teams in critical areas such as labs and farms. Meanwhile, non-essential staff worked from home.
Staff are also being encouraged and supported to get vaccinated.
"Although our staff are working in a different way, we are doing our best to provide a business-as-usual service. I'm incredibly proud and grateful for the LIC team, with the way they step-up in these difficult times and continue to deliver for our farmers," McNee said.
Inside other farm gates, normal springtime operations such as calving, lambing, sowing crops and late pruning has continued with heightened safety requirements introduced
But the farming sector has not been without increased stress.
Mike Salvesen, who farms deer, beef and sheep in Montalto, Canterbury, was impacted by the recent flooding and windstorms in the region, as well as Covid challenges.
"I wasn't sleeping very well in July after the devastating floods," he told the Ashburton Guardian after battling to keep his 1500-hectare farm running.
"It was probably the most difficult time of my farming life, but you've got to just keep carrying on," he said.
When talking to REDnews about the Covid challenges that followed, Salvesen said he adapted to the recent lockdown.
"It's been pretty much business as usual for us, we've been focused on zero contact outside the farm gate and just keep the farming operations humming through the busy spring period," he said.
Nathan and Erin Christian are sharemilkers in Winchmore, Canterbury, and say there was a lot of work in order to get their farm team ready for lockdown.
"There was a lot of work up front to implement strict protocols for safety, but we just operated as one big team in one big bubble and worked through the lockdowns with no major impact," they said.
"Our rural supply businesses have been excellent at maintaining continuity of essential farming supplies to us throughout lockdown," Nathan said.
While the agri-sector has continued to operate normally, one of the hardest facets of the industry has been the isolation and lack of social contact, impacting mental wellbeing.
The sector has ways for farmers to seek help for their mental wellbeing through services such as Farmstrong, the Rural Support Trust, Dairy NZ and depression.org.nz.
For support with grief, distress or mental wellbeing, you can call or text 1737 to talk to a trained counsellor for free, 24 hours a day, 7 days a week.
Related articles:
Student Volunteer Army supports vaccine rollout with 1,000 volunteers
How businesses can support payments through lockdown and beyond