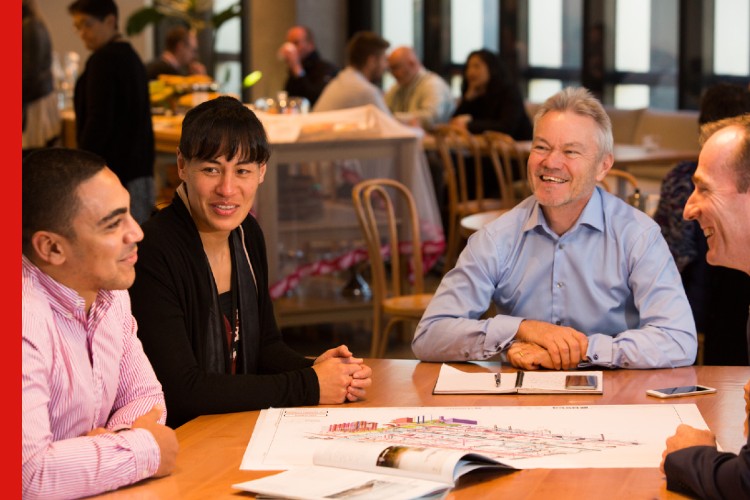 Engineering and consulting firm Beca Group has been in business for 100 years and part of their success has been attributed to its ownership model – shared together with its employees.
Thirty-five per cent of Beca's employees make up the majority shareholders at the privately owned company - creating long tenure and a collaborative culture.
"A unique part of our business is that around 1200 employees own all the shares except for a private company investor that has a 5% stake," Beca Group's Chief Financial Officer Mark Fleming said.
The Employee Share Funding Facility was set up by Westpac NZ 15 years ago, prior to that it was organised on a smaller scale internally.
Westpac has been Beca Group's business bank for 50 years and for the last 25 years Westpac's Simon Copeland has been their relationship manager.
"The share facility that Westpac provides allows the continual renewal of shareholder value, as well as providing working capital. It's one example of our multi-faceted involvement in corporate business," Copeland said.
Although Beca's share price is not public information, it has been in positive growth mode year on year and provides dividends to its shareholders, all based on the profitability of the business.
"The whole ownership model is about creating a culture where our people are more than just employees. Our staff that own shares take a longer-term view of the business and our staff turnover is low because of that. Having equity in the company adds another dimension to the business's success rather than concentrating on short-term bonuses," Fleming said.
"It creates a shared comradery and an ethos that we're all in it together.
"We need to work as a team, we don't have a franchise model, instead everyone shares in the group result which changes the culture and team. We also consult employees on significant matters that would impact the business," he said.
Eligibility for employees to buy shares is based on their sustained contribution to the business.
Those who buy shares, then sell them on retirement or when they leave the company. They sell their shares onto the new employees; therefore, the shareholder ownership transitions over time.
Former Group Director of the industrial team at Beca, Ian Bull, had been a shareholder for 30 years by the time he retired.
"I sold them down on retirement. When I first purchased them, it was because of the people I knew I'd be joining and working with. People do need to think of the risk and reward when buying shares. But the culture and collaboration is really driven by the shareholding scheme," he said.
The financial relationship between Beca, its employees and shareholders is carefully managed through Westpac as they continue to grow. And Beca has become one of the largest employee-owned professional services consultancy firms in Asia-Pacific.
"Working with Beca over many years has allowed a true partnership to form and we assist them to continue to grow as a business. Being an employee-owned business has been a fundamental pillar for their success and longevity," Copeland said.
"We speak to our Westpac relationship manager every week and they've also helped us through times of crisis, such as the global financial crisis and the on-going pandemic," Fleming said.
"Beca has always been run financially conservatively, so during these crises we just made sure we had additional liquidity and thankfully we managed to perform well. Covid has been highly disruptive for all businesses and the uncertainty remains. We're an international business with our clients and employees currently facing varying levels of lockdown across our Asia Pacific locations.
"The pandemic has challenged our way of working. At times we had 100% of our people working from home, tested our enterprise risk controls and mitigations, and business continuity plans that were already in place. Our employee shareholding means that we are 'all in', as we work together to thrive in the face of this pandemic," he said.
While past performance is no guarantee or indication of future performance, Beca has historically produced strong returns for its shareholders.
Related articles:

Inside the agriculture sector that's been business as usual during lockdowns