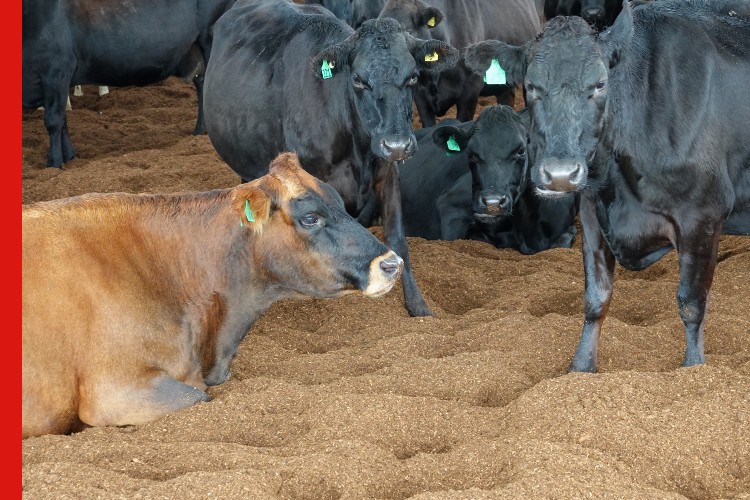 Dairy farmers have been adapting to meet new Government regulations to protect waterways with one successful innovation being the composting cow barn.
REDnews spoke to dairy farmer and Westpac customer Murray Coates who has undertaken a large-scale project to build two massive composting cow barns that will each shelter 400 cows on his farm on the South Island's West Coast.
The West Coast is the country's wettest region; rainfall can exceed 10,000mm of rainfall per year, with the majority of farmland receiving 3,000-4,000mm per annum.
"If the cows are grazing in muddy wet paddocks, they can be up to their knees in mud while defecating – all of which leaches into waterways, causing environmental damage," Coates said.
"We wanted to do something around the environmental issue and we found that composting barns would be a great solution.
"It's very effective during winter grazing and these barns comply with all the new regulations and guidelines set by the Government.
"I take my hat off to Westpac for looking at our project from an environmental point of view. We had good cashflow and had a good budget to work with, but Westpac first looked at our environmental offering before looking at lending," he said.
How composting cow barns work:
Composting cow barns are also known as 'composting Mootels', composting shelters and duration-controlled grazing as transformational technologies for dairying.
They are shed-type structures in which cows can rest, feed, defecate and urinate on their bedding, which is made from substances such as wood chips, sawdust or wood shavings – encouraging aerobic composting.
"The urine and dung in association with the bedding are transformed into compost, generating considerable heat, with the moisture evaporating and exiting predominately through a roof vent," Professor Keith Woodford of Farm Management and Agribusiness at Lincoln University, who has studied the science behind using composting cow barns, said.
"The bedding is tilled once or twice daily to create aeration and aerobic fermentation. In a successful operation, the bedding remains warm and dry, and can remain in place for a year or longer," he said.
After around a year and a half, the compost goes back into the soil as fertiliser.
The shed provides shelter from rain and cold temperatures in winter and extreme heat and sun in summer. The sheds also provide shelter during calving, which creates a healthy environment for the cows as well as avoiding nitrogen leaching (from cattle urine), phosphorus runoff (from cattle feces) and soil loss into waterways.
"There is also a likelihood that nitrous oxide emissions will be considerably lower than more traditional grazing systems, or indeed from other barn systems where nitrous oxide is emitted from effluent ponds.
"There is great potential for dairy composting structures in association with duration-controlled grazing to address current issues of environmental non-sustainability, together with animal welfare issues, plus mitigation of some greenhouse gas issues, and for all of this to be achieved in a way that is financially viable for farmers," Professor Woodford said.
The dairy composting technology isn't new – America's Mid-West developed the system around 20 years ago and dairy farms in New Zealand's Waikato and Taranaki adopted the system in the last decade.
But Murray Coates is the first dairy farmer on the West Coast to build the structure and they are starting to become popular in Southland.
"Currently in New Zealand, there are approximately 30 farms or perhaps a few more that have shed structures in which some composting occurs. However, in many of these farms the structures were not specifically designed to facilitate composting," Professor Woodford said.
Murray Coates met with Professor Woodford to speak to him about the environmental aspects as they took on the project.
"Professor Woodford would like the cows to stay in the barns for six to eight hours a day in autumn when it's cold and wet, so the cows don't leach nitrates on the pasture," Coates said.
Coates finished his first composting cow barn at the end of October and the second will be finished in 2022.
"This project we worked on with Murray Coates is an example of how we're assisting our customers to address climate change and adaptation to new regulations for better sustainability outcomes," Head of Agribusiness at Westpac, Tim Henshaw, said.
Cost benefit:
"The rough cost that includes clearing the ground, building the structure and depositing the wood chips costs around $3,000 per cow," Coates said.
"Our building is made of permanent materials such as an aluminium roof and wooden poles, instead of plastic so it's more expensive. And we have 400 cows in one barn, meaning one massive composting cow barn costs around $1.2 million.
"Our Aztec-style shed will have a life span of 50 years or more," he said.
And there is a cost benefit in utilising the barns – the cows produce more milk solids when living in this environment.
"I believe you can get a financial return from the barns and some farmers have seen their cows produce an extra 100kgs of milk solids or more per cow per year," he said.
Professor Woodford agrees that farms using this technology demonstrate outstanding physical and financial performance results, based on improved productivity.
With the price of milk solids on the rise, this increases profits for dairy farmers.
Westpac NZ's Senior Agri Economist Nathan Penny has forecast a record high of $9.00/kg milk solids for the 2021/2022 season.
Coates said his staff are also happier because the cows can go inside and not damage the paddock.
Staff will no longer have to go outside in the harsh winter conditions to check on calving cows or shift break fences - benefiting everyone involved as well as the environment.
Related articles:
Inside the New Zealand activewear brand that's regenerating rainforests