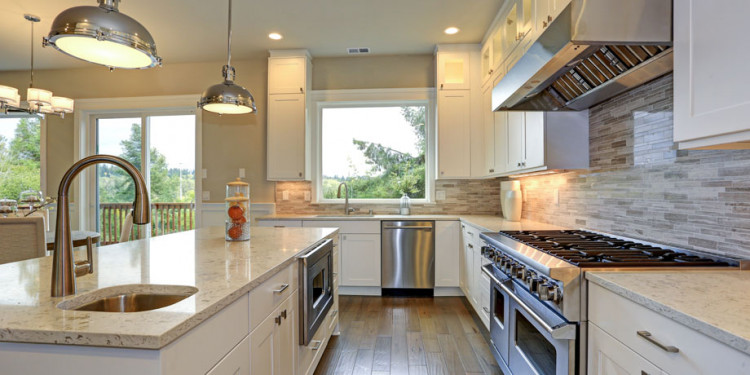 The kitchen is the heart of the home – and the biggest line item on your renovation budget. How can you save money and still have a beautiful and functional kitchen?
A quick kitchen refresh
At the lowest end of the budget is a kitchen 'refresh', which typically includes repainting cabinetry or replacing cabinet doors, new handles, probably a new bench top and splashback, possibly new appliances.
This only works if your cabinetry is in reasonable condition and you're happy enough with the existing layout. (As soon as you change the layout, you will push your budget up significantly, particularly when you need to move the plumbing.)
The cheapest option, DIY repainting plus new handles, should come in under $1,000, according to Jeremy Gray, marketing manager at Builderscrack, who has recently been renovating his own home kitchen.
On a medium-sized kitchen, new cabinet door fronts might add another $1,000 if you install them yourself. A new benchtop might be $2,000 to $3,000 for laminate or $4,000 to $6,000 for engineered stone.
Kitset kitchens and DIY installation
If you do want a new kitchen and you're on a tight budget, you could use a kitset and install it yourself.
"Kitset kitchens can be cheaper, but there are caveats," says Gray. "It places a lot of responsibility on the homeowner for getting the measurements right – as well as often requiring compromises on a 'perfect' fit. DIY installation saves time, but it requires tools, time and some experience."
Kitset cabinetry alone for a medium-sized kitchen might be around $2,000 to $5,000. To that you'd need to add your benchtop, appliances and any services like plumbing and electrical (plus a painter, tiler and plasterer if you don't want to do those jobs yourself). Don't forget to price in new flooring if you're planning to update it.
"If you opt to manage a kitchen renovation yourself, you'll want to ensure you understand what's required, and where specialists are needed - and organise these specialist tradespeople to take care to their individual parts," Gray says.
A kitchen company renovation
The price of a kitchen company includes overseeing your whole renovation, managing the trades and providing design expertise. If you don't have a lot of renovation experience and they do a good job at a reasonable price, this service can be excellent value for money.
For the cabinetry, installation and benchtop, excluding appliances and tradies, Gray provides some price estimates:
A one-wall kitchen, "good for tiny spaces", $5,000 to $6,000.
A galley kitchen, "efficient for small spaces and easy to use", $7,000 to $10,000.
An L-shaped kitchen, "great for open plan spaces", $11,000 to $13,000.
A horseshoe, "perfect for single point of entry kitchens," $14,000 to $20,000.
One of the easiest ways to go over budget is by changing your mind mid-project. That means careful planning and research are perhaps the most essential elements of a cost-effective kitchen renovation.