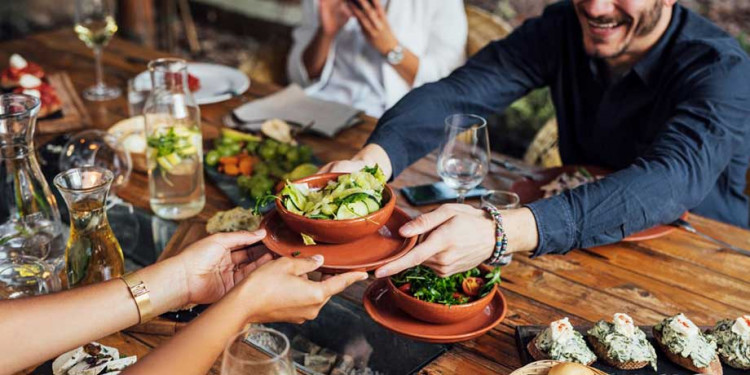 One-in-six CoGo users adopted a vegan or vegetarian diet since the carbon-tracking app was launched in the UK in May.
Cogo connects to a user's bank account and by tracking spending is able to estimate a user's carbon footprint. The carbon tracking feature has recently been introduced into CoGo's New Zealand app, powered by Westpac.
In the UK, where the carbon tracker has been live for five months, 8.2% of users have since committed to a vegan diet and a further 8.5% have committed to following a vegetarian diet in order to lower their carbon emissions.
The vegan group reduced their carbon footprints by a combined 105,248kg during that time period.
The vegetarian group collectively saved 75,728kg of carbon.
Farming of livestock is an emissions-heavy industry that the UN estimates produces 18% of global greenhouse gas emissions.
Overall, around 25% of the app's UK users have committed to changing at least one action in their lifestyle to lower their emissions. This could include anything from their choice of transport to the clothing that they purchase.
These figures show how tracking one's carbon footprint in real-time can influence and change behaviours.
So, how does the app work?
CoGo users' carbon footprint is tracked through banking transaction data.
It's just one example of how open banking technology can benefit society on a macro level.
For the New Zealand market, CoGo has partnered with Westpac NZ to allow users to securely link their transaction data from any New Zealand major bank to the app. The app launched on October 29.
"CoGo is in the market of supporting what is a massive opportunity in terms of consumers wanting to put their money where their heart is and spend it with businesses that are taking action on issues that they care about," CoGo chief executive Ben Gleisner said.
Gleisner was speaking at the inaugural virtual event Fintech Mission to Australia.
The CoGo CEO spent two years expanding the company in London before returning to New Zealand in March to offer the new functionality to Kiwis.
Diet is just one of the many of the ways to reduce a user's carbon footprint.
Consumers can also find switches in their fashion spending for second-hand clothing and will soon be able to track their carbon footprint on many more actions in their everyday life.
Businesses linked to the app can show consumers whether they pay the living wage, donate to charities or sell free-range meats.
"With Westpac NZ's support, we will empower businesses and citizens across the entire country to build the low-carbon economy we all know is needed," Gleisner told REDnews.