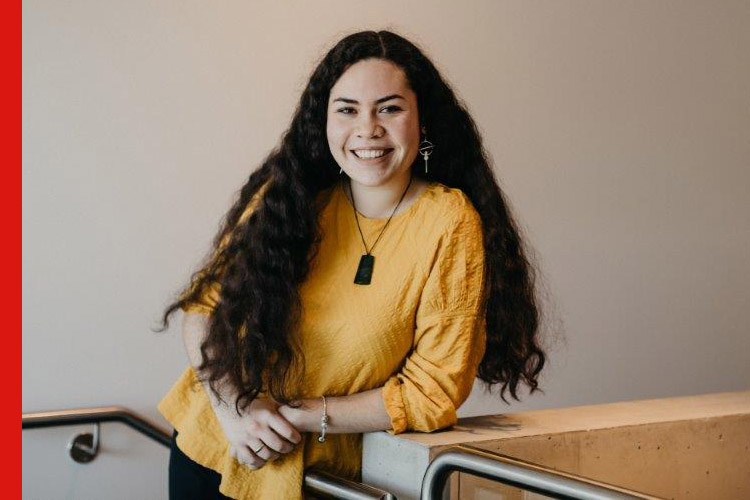 With the 2023 Te Waiu O Aotearoa Trust Scholarships application now open, REDnews spoke with 2017 scholarship awardee, Johannah Kātene-Burge about her academic journey, challenges, and achievements.
'A big thing in my culture is reciprocity'
"I just saw it on Facebook. Of all things, social media! I was scrolling through my phone right about the same time I was applying for university," Johannah said, talking about how she accidently discovered the scholarship.
Johannah studied a Bachelor of Management Studies with Honors, double majoring in Human Resource Management and Strategic Management, with a minor in Political Science. She also topped the Business Management Faculty for a couple of years in a row.
For her, the scholarship wasn't simply a means of financial assistance to achieve her academic goals, but also the beginning of a long-standing, reciprocal relationship with Westpac.
"In my culture a big thing is reciprocity. So, when I received the scholarship, I made it quite clear that I'd be happy to maintain that relationship and give back to Westpac," Johannah said.
She worked at a few different Westpac branches across NZ before doing a joint placement with Wakatū Incorporation and Westpac, where she conducted an economic review on the Māori economy alongside Regional Business Manager – Lorraine Eade.
Johannah found success putting her HR degree to work at Te Rūnanga o Toa Rangatira. "I started with about 180 staff and left on 480, in about 18 months. I left Te Runanga o Toa earlier this year in March and moved down to Wakatū. I now work for Ngāti Tama, tasked with the implementation of the tribal Te Reo Māori Revitalisation Strategy, Tama Kōrero 2050. So, my job is to extend the identity of a tight-knit Iwi in the top of the South" said Johannah.
Its important to share narratives of Māori success
Johannah's long list of achievements are a testament to the value of supporting diversity and investing in rangatahi (youth). She continues to work on increasing visibility of leadership and culture within her communities, understanding the importance of role modelling for young people.
"What's important for rangatahi is to see success as Māori and to see other Māori succeeding. That's why it's important I think to share our narratives, so that when young people see someone that looks like them contributing to the fastest growing economy in the world for example, (the Māori economy that is), they are empowered and inspired to put their best foot forward, with the support of their people," Johannah said.
She is a founding trustee for Te Matarau ā Maui, which is the Economic Development Strategy and implementation across Te Ūpoko o Te Ika ā Māui. An area of priority for Te Matarau, she said, is enabling prosperous pathways for rangatahi.
Change always begins on a small scale
Johannah said she's just playing her part in contributing to the bigger picture.
"We're trying to deconstruct those things. There's beauty in our language, beauty in our culture. Funnily enough, now everyone is knocking on our door to figure out how we do things because I tell you what, if it works for Māori it'll work for anyone!" Johannah said.
She went on to say that initiatives like the Te Waiu O Aotearoa Trust Scholarships are a great enabler to encourage young people to pursuing their academic interests.
"I think, it's fantastic," Johannah said.
Tukua te wairua kia rere ki ngā taumata – all ones spirit to exercise its full potential.
To apply for the 2023 Te Waiu O Aotearoa Trust Scholarships, click on the link to access the application form: