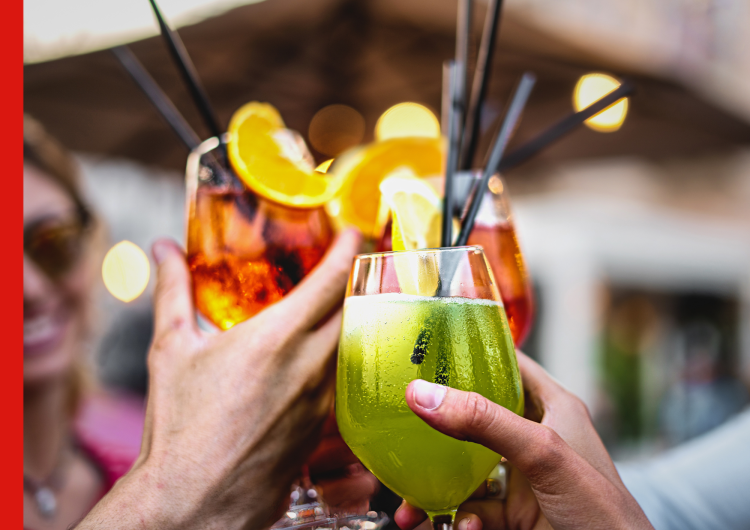 Summer heat means cool drinks long into the evening – but you don't always want to have a beer or a glass of wine. Why not soak up the summer sun with some refreshingly delicious non-alcoholic drinks?
Here are five flavourful non-alcoholic drinks, curated from the worldwide web, for everyone to enjoy!
Apple, elderflower & mint sprinkle
All you need for this floral-minty punch are a few basic ingredients and you are good to go!
Ingredients:
75ml elderflower cordial
1ltr cloudy apple juice
Few sprigs of mint
Sparkling water
Method:
STEP 1
For a grown-up non-alcoholic drink, mix elderflower cordial with cloudy apple juice. Add a small handful of mint leaves, stir well, then pour into a chilled flask.
STEP 2
Pour half glasses of the juice and top up with sparkling water.
Pomegranate mocktail
This one is a spin on the classic mint-lime cocktail, with the added richness of pomegranate.
Ingredients:
3 tbsp pomegranate seeds
Big handful of mint leaves
2 limes, quartered and slices to garnish
1ltr pomegranate juice
500ml lemonade
Method:
STEP 1
A day ahead, divide the pomegranate seeds between the holes in an ice cube tray, top up with water and freeze.
STEP 2
Reserve half the mint for serving and tear the rest into a large jug with the lime quarters. Using a rolling pin, bash the mint and lime to release the flavours. Add the pomegranate juice and lemonade. Put ice cubes in each glass, then strain over the pomegranate mix through a small sieve. Garnish with lime slices and more mint.
Chill-Out Honeydew Cucumber Slushy
This one is a healthy and stylish party starter and an ideal way to cool down on a hot summer day.
Ingredients:
4 cups honeydew, rind removed cut into 1-inch pieces, frozen
2 ½ cups coconut water
1/3 cup mint leaves
2tbsp fresh lime juice
½ tsp salt
6 oz cucumber, peeled & cut into 1-inch pieces, plus slices for garnish
Method:
STEP 1
Blend honeydew, coconut water, mint, lime juice, salt, 6 oz. cucumber, and 2 cups ice in a blender until smooth. Divide among glasses, then garnish with cucumber slices.
STEP 2
Do Ahead: Slushy can be made 1 hour ahead. Store in blender jar in freezer, then re-blend on high speed to reincorporate.
Blackberry Mojito
A perfect twist on the classic mojito, this fruity mojito is summer in a glass, with the tartness of blackberries and the freshness of mint.
Ingredients:
MINT SYRUP
1/2 packed fresh mint leaves
1 granulated sugar
1 Water
MOJITO
1 blackberries
1 granulated sugar
1/2 lime juice
Ice
2cans seltzer
Fresh mint, for garnish
Method
STEP 1
In a small pot using a wooden spoon or using a mortar and pestle, crush mint leaves. Add sugar and water and bring to a boil over medium heat, stirring to dissolve sugar. Let boil 3 minutes. Let cool to room temperature, then strain out mint leaves, pressing with a wooden spoon to help release all liquid.
STEP 2
In a small bowl, add blackberries and sugar, and using a wooden spoon, crush blackberries until broken down.
STEP 3
Divide blackberries between 4 glasses and add 2 tablespoons simple syrup and 2 tablespoons lime juice to each glass. Fill glasses with ice and top off with seltzer, then garnish with mint.
Watermelon lemonade
This is a lemonade with a watermelon twist – simple, sweet, and pink, you cannot go wrong with this one!
Ingredients:
1 large or 2 small watermelons
250ml lemon juice
100gm golden caster sugar
1ltr soda water
1 lime, sliced
Small bunch of mint leaves
Crushed ice
Method:
STEP 1
Cut the top off the watermelon and hollow it out using a large spoon, fishing out any pips along the way. Mash the flesh through a sieve into a bowl. Put the flesh in a blender (or use a tall jug and hand blender) with the lemon juice and sugar, whizz to a purée, then stir in the soda.
STEP 2
Heap some ice into the hollowed-out watermelon and fill it with the lemonade mixture. Serve the rest in a jug with the lime slices and mint. Keep a bowl of extra crushed ice on the side for people to help themselves.
Source: www.bbcgoodfood.com