Eight-digit BINs.
How to get your business systems ready for this global payments industry change.
Prepare your business for eight-digit Bank Identification Numbers (BINs).
Payment innovation is growing at a rapid pace. This means that as an industry we're facing a shortage of available BINs. In response to this issue, the International Organisation of Standards (ISO) is expanding the length of the issuing BIN from six to eight digits. This global industry standard change will take effect from April 2022.
Why are BINs important?
BINs - the first six digits that appear on credit or debit cards - are used by merchants to match transactions to the issuer of the card. They are crucial for the payment process because they allow merchants to accept multiple forms of payments quickly and assess their card transactions.
ISO is already assigning eight-digit BINs to new requestors, which means eight-digit BINs in the payment ecosystem will continue to increase over time. By April 2022, it will no longer be possible to rely on the first six digits of credit or debit cards for authorisation, routing and transaction clearing.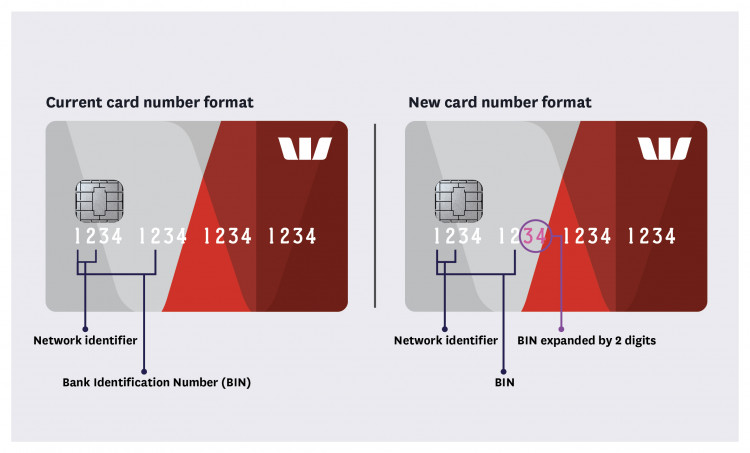 Start planning for this change now.
If you're using six-digit BINs in your business, you'll need to consider how the change will impact your back-end systems. Any logic specific to the six-digit issuing BIN that has been implemented in your processing or downstream systems must be changed, particularly if you:
Manage your own Point of Sale (POS) environment
Share BIN information with any third parties
Use proprietary BIN tables in transaction processing or supplied via third parties
Use hard-coded BIN logic in your POS terminals.
And if you are using BINs for:
Identifying prepaid cards
Fraud and/or chargeback analytics
Fraud or chargeback prevention
Issuer identification
Routing
Unique BIN identification e.g. fleet cards, GSA Cards, others
Optimising approval rates/authorisation analysis
Loyalty solutions
Cash back qualification
Instalment payment qualification
Limited acceptance (credit, debit)
Surcharging
Strong customer authentication (PSD2 related products)
Back office processing: i.e. reconciliation.
What to do next.
1
If you manage your own POS environment, detail out how the issuing BIN is used and replace any logic that is based on the first six digits.
2
Assess downstream system impacts such as billing, reporting or key management and make the necessary changes to accommodate for the longer BIN length.
3
Start engaging with your processors, vendors, service providers and other partners now to coordinate planning and schedules.
4
Conduct testing to confirm seamless operations and downstream processes.
Things you should know.
The content of this page is intended for information purposes only and you should use your own judgment regarding how such information should be applied in your own business.
We make no warranty or representation, express or implied, regarding the accuracy of any information, statement or advice contained in this page. We recommend you seek independent advice before acting or relying on any of the information in this page. All opinions, statements and analysis expressed are based on information current at the time of writing from sources which Westpac believes to be authentic and reliable. Westpac issues no invitation to anyone to rely on this material.
Mastercard® is a registered trademark and the circles design is a trademark of Mastercard International Incorporated.
Links to other sites are provided for convenience only and Westpac accepts no responsibility for the availability or content of such websites.