Ambassadors.
We're working together with some of New Zealand's heroes to support and inspire our communities.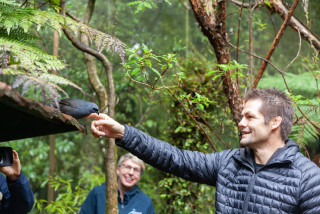 Richie McCaw.
Westpac ambassador since 2007. A two-time World Cup-winning captain, Richie McCaw is one of our greatest ever All Blacks and an inspirational leader. Since his retirement in 2015, Richie has moved his focus to family and business while keeping up his fitness through endurance racing.
Richie loves supporting community initiatives, such as getting his hands dirty on local conservation projects, teaching kids the value of sport in building their character, and working with small to medium businesses to improve their innovation and resilience under pressure.
Sir John Kirwan.
Westpac ambassador since 2013. JK's contribution to rugby as a player and coach has been immense, and by opening up about his off-field struggles with depression he's helped tens of thousands of New Zealanders improve their wellbeing.
Together, JK and Westpac tour New Zealand talking to people about recognising the signs of mental illness, how they can get through it, and where they can turn for help. You can read more about JK's story and his tips and advice (PDF).
Dame Sophie Pascoe.
Westpac ambassador since 2010. Named a Dame Companion in the New Zealand Order of Merit in 2022, Sophie Pascoe is New Zealand's most decorated Paralympic swimmer and one of New Zealand's most successful ever athletes, with 19 Paralympic Games medals (including 11 gold) across four Games. Now she's inspiring the next generation with her words.
In 2023 she launched her Dare to Dream initiative, travelling the country to talk to wahine about finding what motivates them, embracing what makes them different and setting goals – ultimately helping them reach for their dreams.