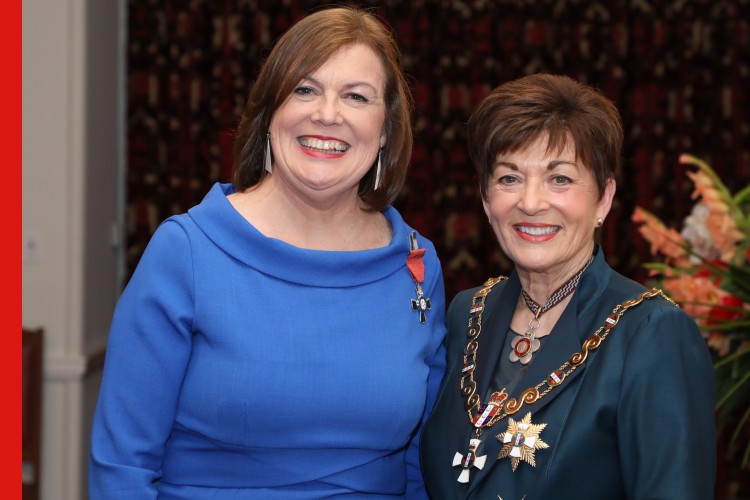 Professor Bronwyn Hayward was born with the environment in her blood.
Her late father worked in hydrology and resource management at Canterbury's Lincoln University, which meant childhood holidays were often spent in heavy rain where he could measure flood levels.
"It wasn't until I was about 8 years old that I realised other families didn't holiday in the pouring rain!" Professor Hayward said.
The University of Canterbury Professor sat down with REDnews after being named the Supreme Winner and Environment category winner at the annual Women of Influence Awards, presented by Westpac NZ and Stuff.
Dr Hayward was made a member of the New Zealand Order of Merit in 2021 for her services to political science, youth and climate; and is a member of the core writing team for the United Nations' Intergovernmental Panel on Climate Change (IPCC).
Despite having been recognised for her work in sustainability, Dr Hayward admits she was totally surprised to win the Women of Influence award.
"The nominees were phenomenal - for example Professor Aroha Te Pareake Mead [who was highly commended in the Environment category] is an exceptional leader as were all the environment nominees. I was also so inspired by CEO for Te Arawa Management, Cassandra Crowley, who won the Board and Management category and showed up to the Zoom presentation just a week after having a baby.
"I was proud however to accept this award on behalf of all the women researchers working in the Intergovernmental Panel on Climate Change. It's a recognition in the wider shift and momentum of climate understanding," she said.
Growing up with a father who worked in flooding and erosion control has given Professor Hayward a broad perspective on just how much public awareness has changed within the past few generations.
"In the past, what was striking to me within political science, for example, is that a lot of decisions were made without thinking of environmental limits.
"When I was a university student, the political and economic landscape wasn't something many were thinking about."
Professor Hayward said she always wanted to work on issues that affected the world, and also wanted to work on the issue of maintaining democracy within big environmental changes.
"We can see now how hard it is to maintain democracy amidst the effects of natural disasters and this will be the issue for children and future generations to come," she said.
Dr Hayward's passion lies in working with and helping youth, with an emphasis on supporting students and Māori and Pasifika youth leaders and their work within their communities.
"One of my proudest moments has been seeing the tremendous courage and commitment of so many young leaders who are seeing significant challenges in their future but are still pressing for change. I find that very inspiring."
The importance of youth in future environmental goals has also led Professor Hayward to drive a discussion about the voting age being reduced to 16.
"The decisions we are making now in parliament impact younger generations and they should have a say in this," she said.
In terms of wider society, Dr Hayward sees banks as also having a crucial role to enable communities, economies and businesses to shift to more sustainable investment opportunities.
"I was delighted to see Westpac was the first bank in New Zealand to produce a climate risk report and has stopped lending to coal, and reduced lending to oil and gas.
"When large organisations make serious commitments to the future, they become the role models of what changes can be made within business and society. Banking is crucial to this shift."
Professor Hayward is about to enter two weeks of intense meetings with the United Nations alongside 250 scientists around the world on Zoom.
She is presenting aspects of a three-year report prepared by a global team of over 200 scientists on the impact of climate change, community vulnerability and how we can adapt.
"We present evidence in front of the UN, and we'll be cross examined by governments line by line in order to examine and therefore strengthen our report."
The report being presented to the IPCC will be released to the public on February 28.
Related articles:
Climate leader Bronwyn Hayward named supreme Women of Influence