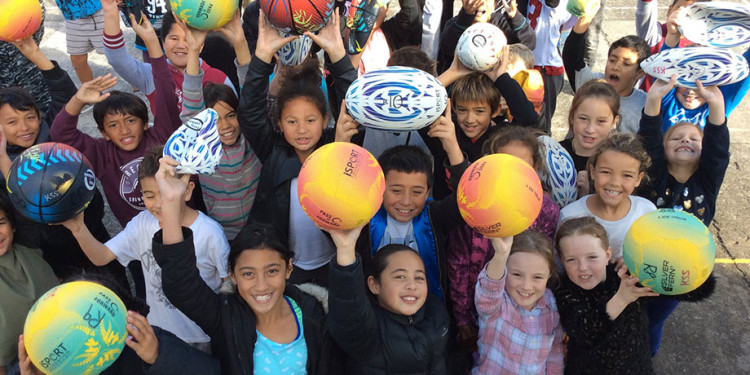 We've chosen the lucky 42 schools who will each receive 25 sports balls courtesy of Westpac and iSPORT.
Thanks to all who nominated, we were overwhelmed with the response – there is a lot of love out there for our schools!
We will be in touch with these schools over the next week to arrange delivery of their prizes, below is the list of winners:
Turaki Primary School, Taumarunui
Rangiora Borough School, Rangiora
West Spreydon School, Christchurch
Holy Cross School, Miramar, Wellington.
St Joseph's School, Nelson
Southbrook School, Rangiora!
Te Pohue School, Hawkes Bay.
Terrace End School, Palmerston North
Tauhara College, Taupo
David Street School, Morrinsville
Crofton Downs Primary School, Wellington
Johnsonville School, Wellington
Waiau Pa School , Pukekohe Hill
Te Kura Kaupapa Māori O Tamaki Nui a Rua, Dannevirke.
Eltham Primary School, Eltham
Netherton School, Paeroa.
Maihiihi School, Otorohanga
James Cook School, Marton
Parawai School, Thames
Bluff Community School, Bluff
Paparangi School, Wellington
Reremoana School, Wattle Downs, Auckland
Ardgowan School, Oamaru
Turua School, Turua
Bromley School, Christchurch
Waihao Downs School, Waimate
Awahono School, Grey Valley
Firth Primary School, Matamata
Greytown Primary School, Greytown
Milton Primary School, Milton
Matarau School, Whangarei
Bellevue Primary School, Tauranga
Kakanui School, Kakanui
Whangara School, Whangara
St Peter's College, Gore
Te Kauwhata Primary School, Te Kauwhata
Taikura Rudolf Steiner School, Hastings
Araheo School, New Lynn, Auckland
Levin Intermediate School, Levin
Tauhei Combined School, Tauhei
Miramar North School, Wellington
South New Brighton School, Christchurch