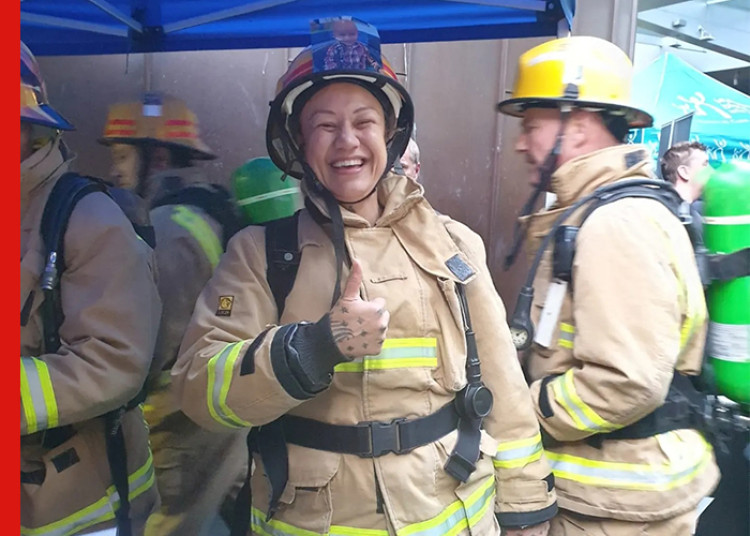 It was four years ago when a personal tragedy spurred Westpac's own Carlene Tui to do her bit in the fight against leukaemia. When her nephew was diagnosed with the disease, there was no better way for the Relationship Consultant and volunteer firefighter to help than raise funds for his treatment.
The Sky Tower Firefighter Climb, which has been running for 19 years now, is a fun and challenging fundraising event for firefighters to raise awareness and funds for Leukaemia and Blood Cancer New Zealand.
Having become a volunteer firefighter eight years ago, Carlene has always been inclined to help not only her family and friends, but also the wider community.
"I did this for my loved one…then I when I did my first year, I saw everybody else that was impacted, so it really didn't come down to being just for him, it was for everybody, all the children, the women and the men, the families that are impacted," Carlene said.
Every year, the Sky Tower sets a goal amount for all the participating brigades, along with the individual goal that every firefighter sets for themselves.
Carlene said that having two volunteer days a year provided by Westpac had definitely helped her achieve her fundraising goals for the climb. She proposed using her volunteer days next year for both the climb and fundraising.
"I do a lot of the fundraising and community work in my own time like on the weekends and sometimes after work, so having the volunteer days contribute towards this [has been great]. Like this year, when I had to prepare for the climb, I used the Friday the day before the event," she said.
She is also immensely excited about the upcoming 'Emergency Services Response Leave' that will allow Westpac employees working in emergency services to take up to 5 days off per annum at manager discretion, to volunteer for their respective emergency services roles.
Carlene plans to upskill by pursuing courses like the senior fire fighter's course, so she can better herself and learn more.