The world has changed a fair bit in the last two years, and so has travel. With the world now opening its doors, REDnews sat down with two travel brokers to figure out how far the Kiwi dollar can take travellers this year.
What is travel looking like this year for Kiwis?
"The world has pretty much opened up!" says long-time travel broker Paul Parkin. While New Zealand still had a few travel restrictions in place, the real issues for Kiwis is the availability of flights and rising air fares.
"We are still only at about 50% seat capacity out of New Zealand compared to pre-Covid times and people want to get away, which has put a lot of pressure on pricing with high demand and little competition."
Donella Buttimore, from HelloWorld Travel in Whakatane shared similar views.
"The earlier you book…the more choice you will have, including dates, times and cost of the travel arrangements. The sales of yesteryear for any Pacific destinations are only available for countries that are newly opened for travel."
Last minute changes to flight timings and prices have become quite common, so travellers need to be flexible with their dates, she said.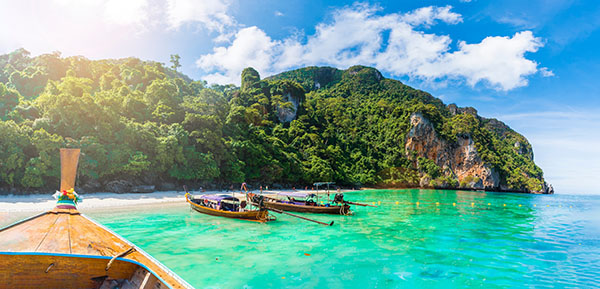 Top Destinations for this year: Southeast Asia & Pacific Islands:
Countries like Australia, the UK, parts of Europe, Rarotonga and Fiji are popular right now, but demand for Southeast Asia is picking up, Paul said.
He said Hawaii is set to be a top destination with Hawaiian Air beginning operations, however, Thailand and Bali remain the most pocket-friendly destinations for Kiwis. Airfares for these destinations might go down further once Virgin Airlines and Thai Airways make a comeback to Kiwi shores, he said.
According to Donella, Thailand and Vietnam take the top spot, but Fiji is not far behind with some great, all-inclusive packages.
And the most budget-friendly destinations are:
Thailand, Vietnam and Indonesia are the most pocket friendly destinations this year, Paul said. Kiwis can expect to have a great holiday in these places for around NZD$30 a day per person, including food and activities, he said.
Donella agreed saying: "Countries that have the most competition between airlines may offer better pricing for the travel costs."
With ticket prices set to stabilise in the coming year, Paul said travellers can benefit from travelling out of season, especially avoiding school holidays.
"The internet isn't always cheaper, especially for accommodation.  Many agents work on dynamic pricing now, similar to how Booking.com or Expedia operate, and pricing is often the same or cheaper with the added protection of a professional having your back should something go wrong."