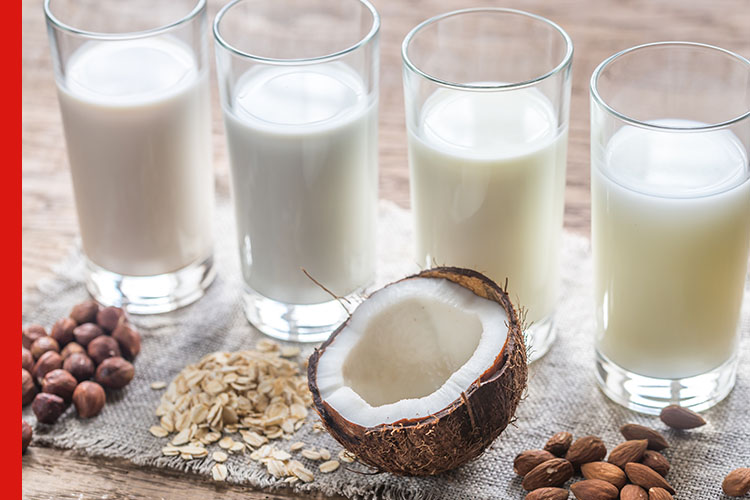 Whether it's for health, for animal welfare, for sustainability, or simply for the taste, consumers across the world are increasingly turning to milk alternatives. From the long-established soy milk to brand new contenders, sales of plant-based 'milks' are growing faster than traditional dairy milk.
The global market for plant-based beverages is forecast to grow by 11.2% over the next five years to reach a total value of US$48.8 billion, up from $23.3 billion in 2021, with the Asia-Pacific region accounting for the largest share of that revenue.
Oat milk proves popular among coffee drinkers
New Zealanders almost tripled their spend on plant-based milk alternatives between 2017 and 2019, increasing from $52 million to $144 million, according to Stuart Nash, Minister for Economic and Regional Development. The Government has given that a boost, contributing $6 million towards the construction of an oat milk factory north of Invercargill, being built by New Zealand Functional Foods.
Once completed, the plant will be able to produce 80 million litres of oat milk each year – a product for which the market seems to be particularly thirsty. Nash says his own café in Napier goes through 10 litres of oat milk each week, up from two litres a few months earlier, "so the demand is definitely there."
Oat is the current cool kid but look out for avocado, pea and hemp
Oat milk has seen a huge surge in popularity, despite reaching consumers long after soy or almond alternatives. Its dairy-like properties and creamy taste have seen it become a favourite among coffee drinkers looking for a plant-based alternative. It now makes up 19% of the alternative milk category in the USA, and here in New Zealand its sales grew 230% in 2021, according to New Zealand Functional Foods.
But oat milk is not the only new contender for this burgeoning grocery category. New Zealand has its own niche player in the US: avocado milk, an award-winning product created by a Kiwi chef who was reportedly "experimenting with mayonnaise". It was picked up by US retailers in 2019, and is now in over 1,000 stores worldwide. You can also buy 'milks' made from pea, barley, cashew, hemp, flaxseed and more.
Precision fermentation could be a disrupter
Another important innovation is precision fermentation, which has the potential to disrupt traditional farming and provide sustainable alternatives to resource-intensive products. In New Zealand, start-up Daisy Lab, recently funded by the Westpac NZ Government Innovation Fund, is working on fermenting milk proteins. Overseas, precision fermentation is already creating novel milk alternatives like NotMilk, which is made from an AI-deduced combination of unlikely plants that include pineapple and cabbage. Whether or not you agree that it tastes just like dairy milk, products made using AI and precision fermentation could be gamechangers for the FMCG sector.
NotMilk costs more than almond or oat versions, and considerably more than dairy milk – the higher price does remain a hurdle for consumers wanting to switch to a plant-based diet. The two other major restraining factors are taste and texture, but as products improve and prices start to come into line with traditional dairy milk, the dairy industry may really have something to think about.