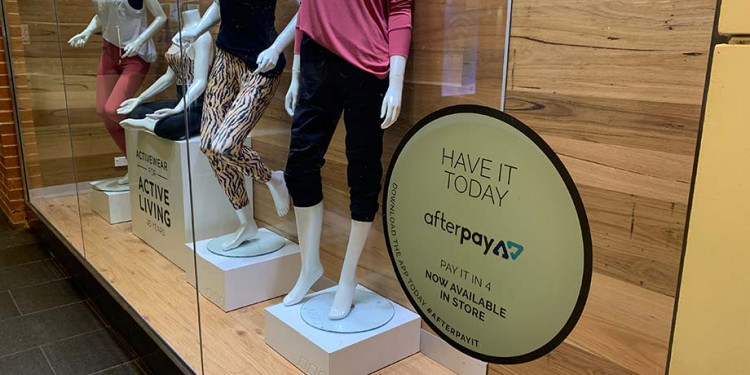 More than 228,000 New Zealanders have signed up to buy-now, pay-later (BNPL) schemes and 70% of those shoppers are women, according to a NZ Post online shopping report.
The deferred payment scheme, which allows customers to take home their purchase while spreading the cost over weekly or fortnightly payments, is a growing trend in New Zealand.
Approximately 20% of all clothing and footwear shopping in New Zealand was bought through BNPL in the past year and 61% of shoppers were women under 45.
Over 1,200 Kiwi businesses have signed up to offer Afterpay alone, while other companies like PartPay, Laybuy and Oxipay offer the same service and are flooding the market.
But, BNPL does not come without risks.
Despite being interest-free if payments are made on time, penalties for late payments do apply, as well as bad credit-ratings.
Late fees range from $8 to $10 for the first default, with maximum late fees reaching up to 25%, according to a cost analysis by Interest.co.nz.
"That's $10 at Afterpay, for the first default and $7 more every seven days from then. It doesn't matter how much the item cost, the fees are the same," financial data provider Canstar says.
"That means if you've bought a $20 item from Trade Me you could easily end up paying double the purchase price or more if you can't pay for a few weeks.
"That's why credit cards may still suit some buyers. Credit cards also have interest free days, and even if you make a mistake and fail to pay the balance of one month, you won't end up paying 100% interest," Canstar said.
Westpac's Senior Manager in Digital Ventures Mike Burke believes that the popularity of BNPL comes down to clever brand marketing but in reality, consumers are still taking on credit just as they would with their bank.
"Many next generation (millennials onwards) customers are averse to debt products, however, have flocked in recent months or years to "buy now pay later" schemes," he said.
"It is materially the same product, but a lesson in packaging these products on the customers' terms, or at least in customer language.
"Terminology like credit, loans and debt are bank lexicon, and terms like this makes these customers' nervous.
"'Buy now, pay later' is a debt or loan product that, through branding or language, gives the perception of empowerment to customers," Burke said.
In the past year, the average spend per online shopper is $2,228 per year, according to NZ Post's report.
But the top 9% of shoppers make an average of 86 purchases per year which total an average of $8,895 annually, the report said.
Although shoppers under 30 are a high growth demographic, with 44% shopping online regularly, the 45-59 age group are making the most expensive purchases, with an average basket size of $117 per purchase.
"Yes, a large proportion of spend is going overseas – especially in clothing, footwear, entertainment, books and stationery sectors where almost 50% of sales go abroad.
"But there are signs the tide is turning – particularly in clothing and footwear, which is the fastest growing domestic sector with 45% growth and now more than half of all online spend (53%) in this sector stays in New Zealand," the report says.