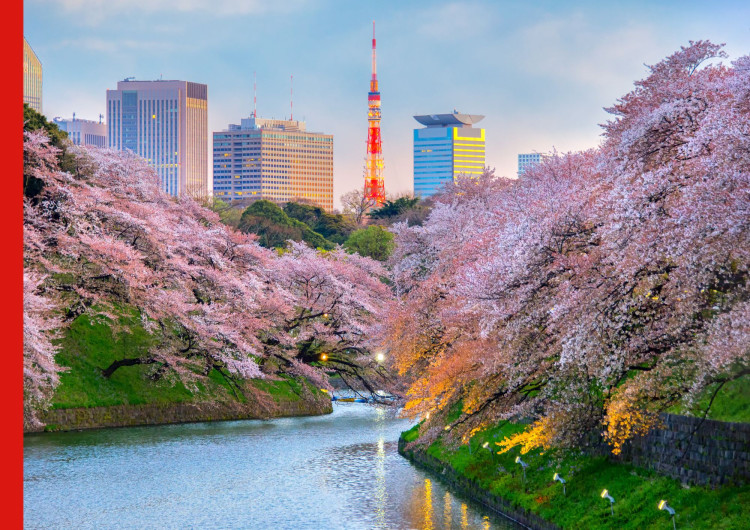 Restriction-free travel is once again a reality for travellers across the world, which means holidaymakers now have an array of destinations to pick from. Regardless of whether you're looking to splurge or save, there is something available for everyone.
Heidi Walker, GM Leisure Brands at Flight Centre, shared some great insights into what travellers can expect in 2023.
Top 5 Destinations for 2023
Tokyo, Japan
Japan is an ideal destination for travellers who seek a unique mix of ancient culture and modern technology at its peak. There is plenty to do in and around Tokyo, from sightseeing at temples, bustling markets, mouth-watering food, shopping, and one day trips. According to Heidi, it is a top destination for families, with Tokyo Disneyland as an attractive option for the kids. For solo travellers, Tokyo is a great option as it is extremely safe.
A good option is to buy a JR Rail Pass that allows travellers to access the world class Japanese Rail Network.
Return Flights to Tokyo: Approximately NZD 1700 for Economy Class
Families: Tokyo Disneyland
Culture: Sensoji Temple - the oldest Buddhist temple in the capital - a five-storey pagoda - will take you back to ancient Tokyo.
Sport: Sumo Tournaments at Ryōguku Kokugikan and Baseball at Meiji Jingu Stadium are a must-do for sporting enthusiasts.
Off-beat: Explore the town of Yanesen, in the far north-east of Tokyo to get a feel of old-world Edo-period Japan.
Luxury: Explore Ginza, Tokyo's high-end neighbourhood that offers shopping, fine dining and more.
Greek Islands
Greece and its popular islands such as Naxos, Santorini and Mykonos are going to draw sun and sand loving holiday makers from near and far this European summer, Heidi said. The country has a lot to offer from rich history, beautiful landscapes, and a vibrant culture.
Travellers looking to beat the harsh Kiwi winter can escape to Greece where they can pick from different islands, depending on their requirements, be it hard-out partying at Mykonos, a romantic getaway at Santorini or a relaxed holiday at Naxos with the option of immersing in authentic Greek culture," she added.
Good news is that food and transport options are quite pocket friendly for those looking to splurge a bit extra on activities like water sports. Accommodation on the other hand can tend to be on the pricier side, however, there are plenty of fairly priced hotel chains, homestays, and Air Bnbs to choose from for those travelling on a budget.
Return Flights to Athens: Approximately NZD 3600 for Economy Class
Families: Different islands offer a range of activities from hiking to mythological tours, something that everyone can enjoy.
Culture: Mythological tours in Athens, Delphi, Little Venice (Mykonos) are only some of the many places across the Greek Islands that give a flavour of the country's rich ancient history.
Sport: Canoeing, Hiking and Scuba Diving are amongst the popular choices for travellers to pick from and can be enjoyed by solo travellers, families, or couples.
Off-beat: Visit the beautiful city of Kastoria, located beside Lake Oerstiada and surrounded by limestone mountains for something different from the usual.
Luxury: Personalised luxury tours are available for different islands; however, Corfu Island tops the list for a luxury-filled Greek experience. You can also add the famous Hellenic Temple to your list of to-dos at Corfu.
London, England
London, as always, is a top destination for Kiwi travellers this year. A melting pot of cultures, there is something on offer for everyone here. Travellers can expect to find some of the best food, wine, and pints in the British capital.
Those itching to explore further can take day trips to Stonehenge, Bath and Oxford amongst other places, Heidi said.
City travellers can visit popular spots and attractions like the Tower of London, Buckingham Palace, the London Eye, Madame Tussauds, and lots more.
Return flights to London: Approximately NZD 1880 (starting price) for Economy Class
Families: Hop-on hop-off bus tour, Warner Bros. Studio Tour and London Transport Museum are some popular choices for families to enjoy together.
Culture: British Museum, tour of Westminster Abbey, Tate Britain and Tate Modern Museums are great options for those interested in the country's history and culture.
Sport: Tours of various stadiums like Wembley, Chelsea, Arsenal, and Lord's are open to the general public. The Wimbledon Tennis Museum makes for another great option. If you're lucky, you may even be able to catch some live sporting action while you're there.
Off-beat: Check out God's Own Junkyard in Walthamstow, a kaleidoscopic maze of neon signs and artwork, housed in an old industrial estate for something unusual.
Luxury: A guided tour of Kensington Palace Gardens with Royal High Tea, River Thames Dinner Cruise, and Blenheim Palace tours are some of the luxury experiences London has to offer.
Vancouver, Canada
With Air Canada now offering direct flights from Auckland, Canada is just tiny bit closer for Kiwis looking to explore its beautiful cities or snowclad ski slopes. Travellers also have the option to visit different cities within Canada if city holidays are more their cup of tea.
Another reason why Canada is a good option, Heidi said, is because Kiwi travellers can be sure to get their dollars' worth here, as options like US and Europe might turn out to be more expensive given that the NZ dollar is dropping.
Return flights to Vancouver: Approximately NZD 1790 (starting) for Economy Class
Families: Vancouver has some fun activities for the whole family, like the hop-on hop-off tours on old fashioned trams, Granville Island water park, Science World and Omnimax Theatre and the Vancouver Aquarium.
Culture: The Vancouver Art Gallery is one of the city's main cultural highlights that tourists can indulge in.
Sport: Vancouver has a tonne of cycling tracks across the city, like Coal Harbour, False Creek Seawall, Fort Langley, and Stanley Park amongst others. There are also a number of hiking trails just outside of the city to satisfy the adventurer in you.
Off-beat: Some of the off-the-beaten track activities tourists can try out in Vancouver include Lynn Canyon Suspension Bridge, and a visit to the Marine Building – a famous film stand-in for some of the most iconic buildings in comic history.
Luxury: If luxury travel is your thing, try out the stunning ski slopes like Whistler or opt for a staycation at some premium properties within the city.
Fiji
As always, Fiji is still amongst the top five destinations for Kiwi travellers. Close to home, Fiji offers a lovely tropical experience for families, couples, and solo travellers.
"Providing a host of unique attractions such as Sabeto Hot Springs and Mud Pool outside Nadi or the allure of tiny islands turned resorts like the Malamala Beach Club. Whatever it is, nothing will beat the quintessential Fijian experience of joining a traditional kava ceremony," Heidi said.
Return flights to Fiji: Approximately NZD 1200 for Economy Class
Families: Fiji has several family friendly attractions like the Kula Wild Adventure Park, jet boating on the Navua River or island hopping across Fiji's stunning waters.
Culture: There is a lot on offer when it comes to Fiji, from village tours and stays, firewalking and kava ceremony or visiting Udre Udre's Grave, a violent reminder of Fiji's past.


Sport: Are you even in Fiji if you aren't going scuba diving and snorkelling? The island has some fantastic spots to enjoy its diverse species of fish and corals. Other sporting activities include wind and kite surfing and sailing.
Off-beat: If you're looking for something unique to do in Fiji, try out activities like Nadi Wonders and Culture Tour, Cannibals Chase, or the Fiji Untold Show.
Luxury: Experience luxury in Fiji at some of its exclusive resorts, spas or private villas making the most of the island's hospitality.
Best value for your buck:
Out of the top 5 destinations for this year, Fiji and the Greek Island are the most pocket friendly for Kiwi travellers.
Heidi said, "Fiji is a great option for those that want to save money due to several hotels offering all-inclusive packages." Travellers can get packages with flights, stay, food and even drinks included, which is not only cheaper but also hassle free.
According to Heidi, the Greek Islands are a good pocket friendly option when covered by cruise. Travellers can cover a lot more when cruising for a one-time upfront fee.
Heidi says that cruising around the Greek Islands has become a rather popular option amongst 18 – 30-year-olds who are seeing this as a smart travel hack.
However, as always, Southeast Asia is still a top contender in the popular budget friendly category for Kiwi travellers looking to save a few bucks yet travel comfortably. With a range of stay options, destinations like Indonesia, Vietnam, Cambodia, and Thailand make for excellent choices all throughout the year.
However, travellers need to be quick, as demand is high and the best time to book for 2023 or even 2024 is now.