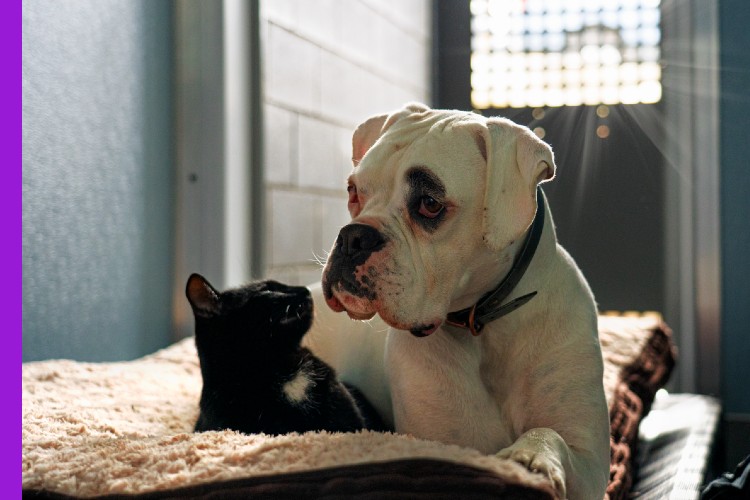 A safe haven for animals escaping family violence across New Zealand has already sheltered 76 pets since opening.
Pet Refuge was founded by Julie Chapman to remove the barrier people face when wanting to leave family violence.
The refuge is a free safe haven where people can leave their pets while they escape family violence and then be reunited once they're back on their feet.
"This is a hidden issue that needs to be brought to light," says Chapman, who also founded charity KidsCan.
Pet Refuge takes referrals from Women's Refuge and Shine - the charity that trains Westpac staff to recognise and deal with domestic violence situations.
The refuge already had a pet waiting to come in when they officially opened on July 15, 2021. Since then, the service has sheltered 42 dogs, 31 cats, one bird, one rabbit and one horse, meaning they were at full capacity for dogs over the Christmas period and sheltered pets at an off-site facility in their network.
The average pet stays for four weeks and the animals have come from Christchurch, Wellington, Waikato, Northland, Auckland and Hawkes Bay so far – made possible through Jetpets and Air New Zealand flights that transfer pets from anywhere in the country to the Auckland safe house.
Chapman said they saw a spike leading up to Christmas - a time of year that saw an 8% rise in domestic violence from the previous year.
"During the first COVID-19 lockdown in 2020, we already had a lot of calls from people seeking help and from police asking when we'd be open," Chapman said.
A 2018 Women's Refuge survey showed that 53% of respondents didn't leave their abuser when they wanted to citing fear for a pet's safety.
More than 900 people, who were mainly women, were surveyed about 'pet abuse as part of intimate partner violence' and the results were harrowing.
Across New Zealand, 45.3% of participants had experienced a partner threatening to harm, kill or get rid of an animal for the purpose of coercing them to do something.
Seventy-three per cent said they would have left sooner if there had been somewhere for their pet to go and 22% had experienced a pet being killed by their abuser.
The pets owned by respondents were mainly cats and dogs, but other animals included rabbits, guinea pigs, fish, birds, horses, sheep, pigs, cows and goats.
Disturbing counts of abuse included psychological, physical and sexual abuse and respondents' stories included descriptions such as: "He strangled my cats on almost a daily basis and wouldn't feed them if I wasn't there."
Chapman owns 10 cats, three dogs, two goats and a turkey. When she heard about stories like these through her work with KidsCan, she felt compelled to help.
"Pets were being tortured and killed and being used as a means of control, so I wanted to help that situation and provide a safe place for them to be until they could be reunited," she said.
New Zealand has one of the highest rates of pet ownership per capita in the world as well as one of the highest rates of family violence in the developed world – two issues which seem to be interlinked in cases like these.
Shine Advocate Team Manager Debbs Murray said there was a "raw vulnerability" to coercive control that involved animals.
"Often animals are the only genuine and honest relationship that an entrapped person has and there is such depth to that connection.
"Anecdotally, about 20-30% of the people our advocates support are in a situation involving coercion through abuse of pets which hinders the person's ability to feel able to move into a place of safety."
Prior to Pet Refuge opening, Murray said Shine's advocates had to do the best they could, and when necessary, work out arrangements with the SPCA or find some other ad hoc emergency accommodation for their clients' pets.
The new refuge is designed to house 24 dogs, 35 cats and 35 other smaller animals.
"Larger animals like horses and cows will be supported by a network of safe farms around New Zealand," Chapman says.
"Some people have already offered their farms as safe havens for horses," she said.
"We were able to raise funds to build the shelter and donations are going well. We've had amazing support and our Christmas appeal raised over $180,000," she said.
"The key thing is we've had caring Kiwis joining our 'Safe Beds for Pets' programme, which is a donation of $25 per month, to cover the cost of pet beds, transport, expert vet care, vaccinations, and behavioural therapy due to trauma. Mars supplies most of our dog and cat food," she said.
"We knew this service was needed through the evidence, research and feedback from Police and Women's Refuge, but we didn't realise just how needed it would be. When we talk to the victims of violence, who after many years can now leave and start a new life because there's a place to take their pets, it's an amazing thing."
The concept for Pet Refuge is based on a similar organisation in New South Wales, Australia, which houses pets for three to four months.
Chapman says her shelter will keep the pets for as long as they need for their safety.
Pet Refuge is located at a protected location in Auckland and the team are investigating opening a second site in the near future.
To learn more about Pet Refuge or to make a donation, go to petrefuge.org.nz