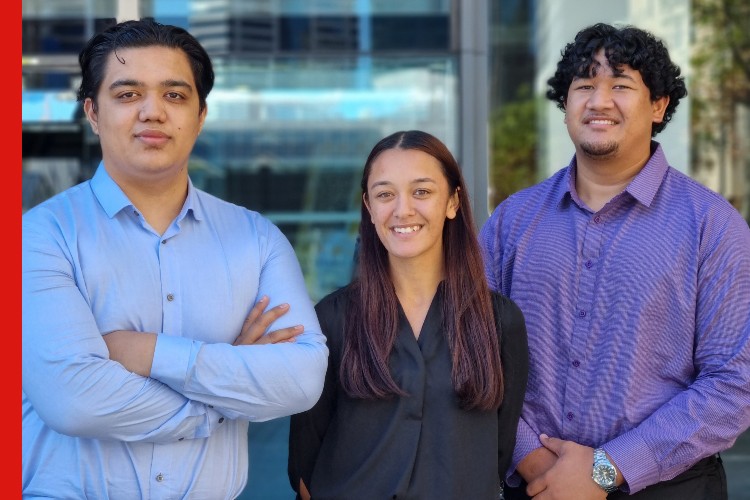 MJ Salelesi's childhood dream was to be a police officer, but now he's found a career path that could see him fighting financial crime instead.
The 18-year-old is one of this year's participants in Westpac NZ's school-leavers programme, which launched in 2019.
After graduating from Auckland's Dilworth School, he was planning on taking a gap year but decided to apply for the programme instead.
"Now I want to stay at Westpac because ever since I first walked in, I've felt the people and environment have been really welcoming and I love the help they're giving to the community – that's what attracted me here," he said.
MJ sees a future for himself in the Financial Crime and Fraud Detection team.
Westpac's school-leavers programme has been running since 2020 and has seen 38 students come into the scheme so far.
The programme disrupts the misconception that professionals need a degree to work in a bank and is attracting new young talent each year. The scheme offers training and career development opportunities and many alumni have already been promoted to other parts of the bank since joining.
"The purpose of the programme is to educate the student market, position Westpac New Zealand as an employer of choice and attract, hire and retain high calibre talent who are leaving school and don't want to attend university at this stage, but have the potential and ambition to become great leaders, innovators and contributors," Westpac NZ's Senior Manager of Talent Acquisition, Clare Montgomerie, said.
Caroline Stowers joined the inaugural school leavers programme in 2020 after graduating from Manurewa High School.
"I was planning to go to university for a nursing degree, but I wasn't sure, so I wanted to look at this programme first.
"I liked it, so I stayed," she said.
Caroline was a Customer Service Representative for 18 months before being promoted to Customer Lifecycle and Relationship Specialist and sees a future for herself in business banking.
"Don't be scared to step out of your comfort zone," she said.
"I was looking at nursing but then I found something I really want to do with my life, which is now banking," she said.
Caroline isn't alone, Lorance Tupai was also in the 2020 programme after graduating from Dilworth
He was planning on taking a building apprenticeship, but his accounting teacher recommended he do the Westpac programme instead.
Within his first 12 months he was promoted to a Banking Specialist role and sees his future in banking too.
"I might study part time in the future, and I'd like to move into project management," he said.
The 2022 cohort brought in 10 school leavers from high schools around New Zealand.
Keana-Marie Carson-Walker, 17, started the programme in February after graduating from Wesley College. She was recommended the Westpac opportunity by the school's Reverend.
"Studying wasn't really for me, I always had trouble focussing. I did apply to MIT [Manukau Institute of Technology] to study social work and was accepted but I also got accepted by Westpac, so I thought I'd work for a while before studying.
"Now I see a career and future with Westpac. When I see the other people who started in the call centre and how far up they are now and all the opportunities they had, it makes me feel like I could build a career with Westpac," Keana-Marie said.
Terenui Notua, 18, also came from Dilworth and joined the programme this year.
He's interested in developing a career in Westpac's IT department and would look at studying in the future while continuing to work.
His advice to high school students?
"The option to study is always there, but you don't know when you'll get an opportunity like Westpac."
Westpac Chief Executive Catherine McGrath said it has been a privilege to meet the 2022 cohort. She said she particularly liked it when she was asked if banking was boring.
"The breadth of career opportunities the team are working towards, from fighting financial crime, to technology and directly supporting customers completely reinforces that banking is anything but boring.
"It is critical that organisations like ours recruit from diverse backgrounds and experiences, as this inclusivity helps us to genuinely understand and support the communities we serve," she said.
Westpac's Head of Operations & Contact Centre, Jason Lock, said the programme has created a pathway into banking and finance for these talented young people that otherwise simply did not exist.
"They come to us with great attitudes and whilst grappling with a new environment and skills, in effect, they've been full-time learners for the last 13 years which means that they are well equipped to succeed in our adult learning training programmes.
"It's been incredibly rewarding to see team members from the first cohort in 2020 develop their careers and take on new, exciting roles within the bank," he said.
Related articles: