Westpac has become a family business for the Shore family, who have spent a combined total of 82 years across three generations working at the bank.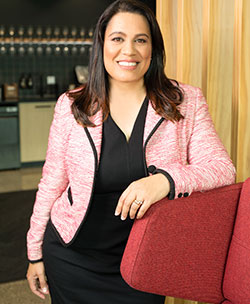 "My mother-in-law worked here for over 35 years before retiring," Kelly Shore, who is a Regional Manager in Auckland's North Shore, says.
"My sister-in-law has been at Westpac for over 27 years and is currently a Senior Product Development Manager for Cards.
"I even met my husband here, while he was working part time at the bank for a couple of years as a student," she said.
Kelly has worked for the company for 16 years and her daughter Chelsea joined Westpac two-and-a-half years ago after studying the first year of Law at Auckland University.
Chelsea, who is a Banking Consultant in Auckland, now works in the Milford branch and her partner works as a Banking Consultant at another Auckland branch.
"I find that working with family gives you that extra level of support when you need to bounce ideas off someone who is totally going to give you their uncensored honest opinion.
"In such a large organisation with thousands of people, that's important," Kelly says.
"I also love working here because it gives me the chance to truly make a difference to the financial well-being of our communities and vulnerable customers.
"Our people do a lot of work behind the scenes to bring this to life," she says.
Daughter Chelsea was drawn to the company for its environmental initiatives as well as being recommended it as a great place to work by her mum.
"I like working at Westpac because it's very inclusive and is really focused on being sustainable," Chelsea says.
"I'm very into being as eco-conscious as possible, so it's right up my alley with all of their sustainable initiatives such as the beehives, worm bins and compostable cups in the head office," she says.
"Having my family and my partner within the business also offers a support system," she says.
The Ryburn family
They say the apple doesn't fall far from the tree, which rings true for David and Ella Ryburn of Whangarei.
David Ryburn has worked at Westpac for 10 years and six months ago his 18-year-old daughter also joined the Whangarei branch to start her career.
Ella was inspired by her father to take up a career in banking, which has led her to become a customer banking consultant.
"I didn't go to university. I finished my schooling and graduated from Whangarei Girls High School at the end of 2018.
"Now I'm a banking consultant, which is a role that's all about the customers.
"While growing up, I always valued my family above anything else.
"Being able to provide family with help and support gives me a feeling of contentment because I can make a positive impact on their lives.
"So, by having my dad around at work makes this achievable every day and getting to see my dad every day is another bonus," she says.
David says he recommended Westpac to Ella as a great place to work because he thought she had great attributes to have a successful career in banking.
"I think Westpac has a great culture too.
"It's the longest I've ever worked in one company and the most enjoyable too, which is why I've stayed for a decade and recommended it to my daughter," David said.
"I started at Westpac in 2010 as a Mobile Mortgage Manager and have since had roles as a Business Development Manager in Whangarei and as Bank Manager in the Paihia branch.
"I was looking for an opportunity to return to Whangarei when the opportunity came up to return to the Mobile Mortgage Manager role based there.
"Home lending is my specialty and it's very rewarding, especially dealing with first home buyers," he says.