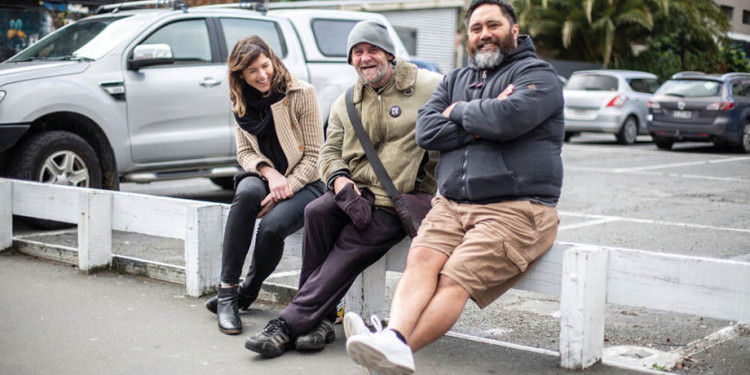 With cashing cheques a tough proposition during the Covid-19 lockdown, Westpac's Wellington team developed a solution for homeless people without a bank account to receive funds through payment cards.
Wellington's Downtown Community Ministry (DCM) works with people who are experiencing homelessness or are at risk of homelessness, supporting them to access and sustain housing, and improve their wellbeing.
DCM, the Ministry of Social Development, and Westpac together came up with a solution.
Many of the people DCM work with have no home, income or ID.
When these people are unable to access a bank account of their own, DCM provides them with a money management service, accesses a benefit for them and pays their bills.
The remainder of their benefit used to be given to them by cheques that need to be cashed at a bank branch.
This not only presented a significant problem during lockdown – with limited bank opening hours – but was potentially no longer a viable long-term option.
Instead of receiving a weekly cheque, these people are now able to use a payment card supplied by Westpac.
"Usually this would take a couple of months to organise, but we expedited it within two weeks so that these people could have their money," said Julia Hopkins, Transactional Solutions Manager at Westpac.
"It works like a debit card but is called a 'prepaid card' so DCM can put the amount of discretionary income they would have previously paid out as a cash cheque on to the card, and the person can spend up to that limit," she said.
DCM's Michelle Scott said the organisation made a number of changes to respond to Covid-19.
"During the Covid-19 period, we have been able to move our practice model in a positive direction – things like providing our people with phones so that they can stay in touch with us rather than relying on face-to-face interactions, manning an 0800 number for them to contact us seven days a week, and now providing them with their own personal debit cards," she said.
"This is a fantastic step change, as we have grappled for some time with the problem of how to continue to deliver our money management service when cheques are ultimately phased out.
"The new initiatives which have enabled us to continue to support the most marginalised people in our city during this difficult period, are likely to be retained as we continue our commitment to ending homelessness when we emerge from the Covid-19 crisis," she said.
DCM works with Kiwis who meet the definition of homelessness or who are at risk of homelessness, supporting them to find and sustain housing, access a benefit and manage their money, and to connect to health, family and other supports.
For success stories, go to https://www.dcm.org.nz/success-stories